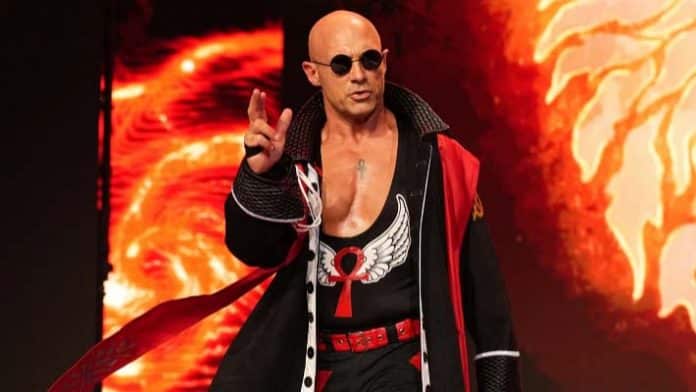 In an exclusive interview with PWMania.com's Scott Mitchell (@ScottsScoop44), AEW star Christopher Daniels talks about his debut in AEW, working as a backstage producer, his hopes for Ring of Honor's future, and so much more.
You got to debut with Frankie Kazarian, and Scorpio Sky (SCU) when you first appeared on AEW Television. What has your time been like with the company, so far?
"It's been a lot of fun to see how successful the company has gotten in such a short period. We spoke about it in the car when it was me, Frankie, Scorpio, and the Young Bucks, hoping it would come to fruition as it has. It's been great though. Seeing all the hard work that guys like the Bucks, Kenny, and Tony have put out, and seeing the fruits of that labor. It's been amazing to see this become one of the most popular promotions in decades. That's a great feeling to be a part of, and I'm glad I've got to have been there since day 1."
How important is it to you that fans have another alternative to watch and be a fan of?
"With my history coming up through the indies and doing as much as I did with ROH and TNA back in the day, I understand the necessity for an alternative to WWE. I'm a fan of a lot of guys in the WWE. There's stuff I like, and stuff I don't. To give fans that option enriches their experience in professional wrestling as a whole. Now they can watch the wrestlers that they like, whether it's in WWE, AEW, IMPACT, or New Japan. Having those options enriches the experience of professional wrestling. Getting to pick your favorites and thinking about what if this guy could wrestle this guy, it's a lot of fun, especially if you're a real wrestling fan."
On top of being an incredible wrestler, you have an amazing mind for the business as well. What has it been like working as a backstage producer and in talent relations, and being able to mentor the younger generation?
"I take a lot of pride when they come to me for anything. That's a badge of honor for me. I'm very happy to give advice. I want to help guys not only succeed but help them to try to avoid the mistakes that I made. I don't think I know everything about professional wrestling. All I can do is give my experience, and my perception of what I think works for a certain talent. In the end, the talents have been great. I tell them all the time that they don't have to listen to me. This is just my point of view and how I feel. If they try it, or even if they don't, it's their choice. I respect their decision as long as they hear me out. So many of the guys respect my decisions, and it's a lot of fun to be able to see guys take advice that I give them, and then when it works, they're happy and decide to keep it in their skillset."
Is there anyone who you see a lot in and think they'll be a star when all is said and done? 
"I feel like a lot of the guys who come through AEW already fit that bill unless they wouldn't be a part of AEW. I've been fortunate to work with people like Jungle Boy, Athena, Action Andretti, and Private Party. I've agented their matches in the past, and they often seek me out and ask my opinion. Those are just the ones off the top of my head. If I sat down and thought about it I could come up with another 20. That's just how deep our roster is right now. We also have a pretty full cast of coaches. The company has talented coaches too like Jerry Lynn, Billy Gunn, Dean Malenko, BJ Whitmer, Pat Buck, and Sonjay Dutt. There's a lot of experience to draw from in AEW, and I'm very glad to be one of those guys to help steer the young talent in a direction."
What was it like working with MJF a couple of weeks ago in the segment you did revolving around Bryan Danielson?
"It was a bit of a surprise. That wasn't the original plan. There was an idea to do something with someone else from Bryan's past. At the 11th hour, it all fell through, and we were in Laredo and scrambled for a backup plan. I remember speaking with MJF and Jerry Lynn, and I told them I've known Bryan since 2001, so I could help out. Once I threw that suggestion out, we kicked the idea around. Max and I took an opportunity to go back and forth about what my relationship with Bryan was, and how we would steer this particular segment. I was really happy. I'm always happy to contribute to the on-screen product."
You've known Bryan Danielson since 2001. You've had some great matches together. What's it been like working with him and seeing his evolution up to his WrestleMania moment and where he is now?
"It's amazing, man. A lot of what I said in that promo was legit. The first time we wrestled he hit me so hard I thought he was going to kill me. He came in with such force, and intensity, that I know he wanted it and meant it. Once ROH became a thing, he joined that locker room in more of a full-time stature. We got to work a lot. He's one of the few guys I had to wrestle with where I feel like I didn't have to do anything in terms of input. I remember being in the ring with him, and we were just wrestling and he had a plan of how he wanted the match to go. I realized then he didn't need me to pitch in. He had a story he wanted to tell. I realized that this guy is a ring general in every sense of the word. He knows what he's doing from the minute he steps into the ring, to the final bell. His mind is moving and he's in control. He's a chess player and thinking moves ahead constantly. It's just amazing how intricate his mind works in terms of professional wrestling. I saw him wrestle as often as he could. I remember doing a 3-day weekend tour of the UK with him. I went home, and he stood around and did the Butlins Camp. You wrestled six days a week, maybe twice or three times a day. You're entertainment for a tourist camp set-up. So, they got young kids and casual fans and you're just there to entertain them. Bryan was just there wrestling in front of 30 people just trying to get another rep and another experience in his toolbox. This all built to the day he became a World Champion. I remember watching him wrestle that three-way and just thinking how much he put in that work and now he's experiencing the great results of all his hard work. It's been a cool ride to see how he stood the same humble guy that he still is."
You, Bryan Danielson, AJ Styles, Samoa Joe, and countless others helped build Ring of Honor up to what it was. With the return of ROH, how important is it to you to help get it back to where it was?
"I think there's an opportunity to cater to that fanbase that was starving for that type of wrestling back when it was sort of desolate on the wrestling landscape. That's one of the reasons ROH was even thought about and brought to life. Those first couple of years that was the true alternative for a lot of wrestling fans. People who were enamored with ECW, guys like Eddie Guerrero, Chris Jericho, Dean Malenko, 2 Cold Scorpio, the luchadors who came through ECW, those were the same types of fans that came to the Murphy Rec Center once a month for the first year and began to follow us elsewhere. I feel like the fact that WWE is still doing strong production, and AEW is now very popular, there is an opportunity to cater to that hardcore fanbase who likes both AEW and WWE, but also wants to know of the young guys coming up, like Blake Christian, Leon Ruff, all the guys who are working in the ROH stuff right now. We're going to try to make ROH reach the levels it had before the pandemic."
News just dropped not too long ago on the AEW All-Access show. What can fans expect from that type of show?
"I wasn't very involved in that show. I was more of a supporting character in it. They were following people like the Young Bucks, Adam Cole, Britt Baker, but the few times I saw them following the Bucks around and they were showing their everyday life. The stuff you don't see every 23 hours and 45 minutes of the day before they walk down the aisle and get into the ring. They want to see that part of it, and what got them there. The drive, the initiative, and all the stuff that got them into that moment before they stepped out on stage. Like any behind-the-scenes peak of professional wrestling, it's going to surprise people. When people get a firm concept of what characters are like, and then they find out who the person playing the character is like, it can be an eye-opener. I think you gain a newfound respect for those people when you see the struggles and hardships they had to go through to get to where they are, and still come out and compete at a top level. The guys put a lot of work into it. The production team, and directors, are all a great group of folks and are very supportive of AEW as a product and I'm looking forward to it as well."
What are your future hopes for AEW and Ring of Honor?
"Nothing specific. I want to get Ring of Honor back to the popularity it had right before the pandemic brought everything to a standstill. I would love to see ROH find life back online. I would love to see a crossover audience that loves both AEW and WWE enjoying Ring of Honor. That would be awesome. I would love to see an opportunity for ROH to return to television. But I also understand the situation we are in with AEW and Warner Broadcasting. Maybe in the future when ROH could be on a Warner affiliate that's not TNT or TBS. But this is just speculation from a guy who falls for a living. If we can continue the upward progress of AEW, continue to grow the fanbase, solidify ourselves, and bring Ring of Honor up to that level as well, I think that would be a great situation for all of us under Tony's lead."