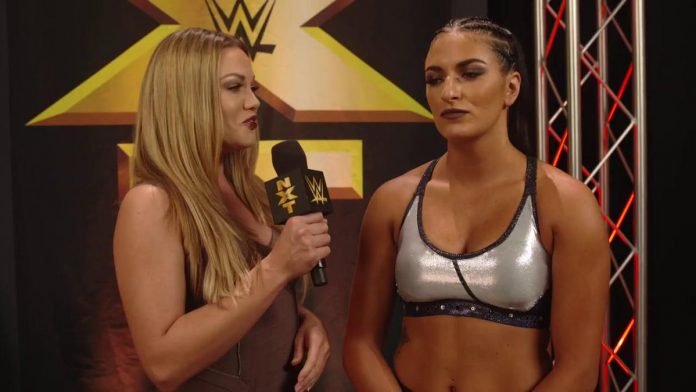 – Below is the intro for the "WWE Unreleased: 1986-1995" DVD that comes out next week, courtesy of WrestlingDVDNetwork.com. The set features 45 never-before-seen matches and hidden gems, hosted by former WWE announcer Sean Mooney and Charly Caruso. You can pre-order the set via Amazon at this link.
– WWE NXT interviewer Christy St. Cloud was recently interviewed by Byron Saxton for the WWE website at this link. Christy, who watched wrestling as a kid, commented on what her average week with the company is like:
"I get to partake in promo class at the WWE Performance Center to start the week. In addition to that, Monday through Wednesday I spend time watching and learning from other hosts and working on my own stuff. I get to work on my craft during shows at the Performance Center as well, which feature some of the newer NXT stars. Thursday, Friday and Saturday are usually the NXT Live shows, which are so much fun. I get to interact with the live crowd, see Superstars have their first match, try new things, meet the fans, etc. On Sundays, I usually work out, grab groceries, do laundry and prepare for the following week."
She also commented on why the opportunity is so important to her:
"It's truly a humbling honor. I know how many people would give anything to do this. My first week here was during WrestleMania, and it nearly brought tears to my eyes. Considering that the year before I was buying a general admission ticket to WrestleMania in Dallas as a fan, being part of the festivities in Orlando made the experience that much more overwhelming. The fact that WWE means so much to so many people and that I have a chance to affect and bring joy to people's lives drives me to work harder every day. I've always imagined myself here, and now that I am here, I feel like I belong."
– As seen below, injured WWE Superstar Bayley returned to Orchard Middle School in San Jose, California today to speak to students. She wrote the following on the visit:
Visited my old middle school to talk with these future costume designers, football players, soldiers, etc, about the importance of staying focused in working towards your goals. Surround yourself with those who bring out the best in you, know that it won't be easy but the hard work will pay off. You'll be amazed how far you can go when you just believe in yourself. Good luck kiddos!