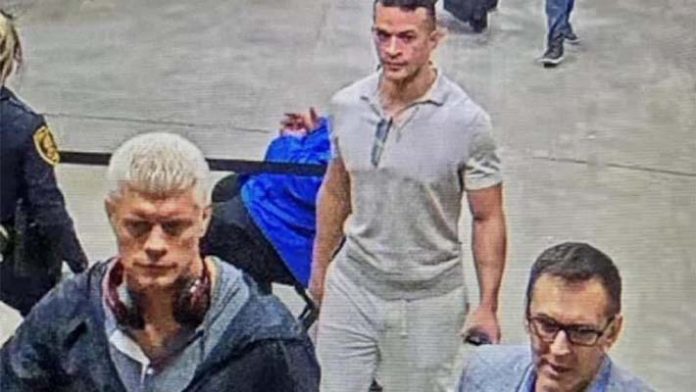 Ricky Starks, an AEW star, went to the WWE Royal Rumble with Cody Rhodes to support him on a big night for Cody, who won the 30-Man Royal Rumble Match, earning the opportunity to challenge Roman Reigns for the Undisputed WWE Universal Title at WrestleMania 39.
Starks and Rhodes were pictured in the stadium in a photo that appeared to have been taken from security footage, and it quickly went viral.
In an interview with Inside the Ropes, Rhodes discussed this and said that in order to avoid upsetting anyone, he should probably stop bringing friends to WWE events.
"Yeah. What an idiot, though, right? Listen, it's one of those things where the locker rooms have crossover. People are married to other people from other locker rooms. People are friends. This is a kid I started on his journey at my former home, and obviously, I want to follow and see his journey, but I will say it's probably best that none of my friends come and visit me at the shows anymore. We don't need security cam footage of that. Poor dude. I hope he didn't get in any trouble. I don't think he did. He was there to support a friend who had been absolutely down and out with a pec injury," Rhodes said.
He added, "Ricky was one of the guys who nursed me through it to a degree and helped remind me of who I can be. I was happy to have him, and I had some other friends there. The other friends stayed on the bus because they were not crazy yayhoos. Hopefully, we can watch each other from a distance. I don't want to cause any strife between any places. We all love the same thing. It's the squared circle, it's the wrestling industry, and I always think I don't have any rules. There are rules, so."
You can check out the complete interview below:

(h/t to WrestlingNews.co for the transcription)