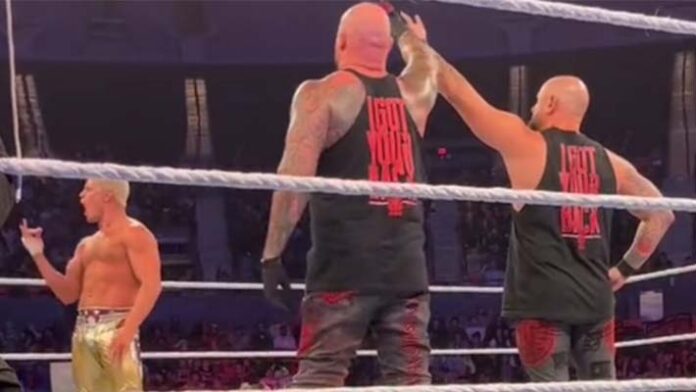 During his two stints away from WWE, Cody Rhodes worked for several promotions, including Impact Wrestling, ROH, and NJPW. He was also a member of The Bullet Club before joining AEW.
After defeating Finn Balor in a singles match, Rhodes was part of a Bullet Club reunion at Saturday's WWE live event in Champaign, Illinois. Click here for complete results.
Rhodes said he wanted to join a club and made the Too Sweet gesture with his hand.
At WrestleMania 39 in April, Rhodes will face Roman Reigns for the Undisputed Universal Title.
You can check out some fan footage and photos from the live event below:
@CodyRhodes rejoins The Bullet Club during WWE Live Event 2/25/23#wwe #WWEChampaign https://t.co/Qp52XIKxzG pic.twitter.com/546P2zj18h

— Vlog Warrior Matt Kempke (@realmattkempke) February 26, 2023
Part was cut off but here is Cody Rhodes talking about his time in the #BulletClub

I loved this so much! All my boys together! Cody faced against Finn Balor too! #wwe #WWERaw #TheOC #WrestleMania pic.twitter.com/8UmB6Ueodc

— Christine (@ShiningPolaris) February 26, 2023
@CodyRhodes hanging out with his #bulletclub brothers after his match here at University of Illinois. Worth the drive from Indy to see. pic.twitter.com/YqgcfpEGY8

— Kristen (@kristensteps) February 26, 2023