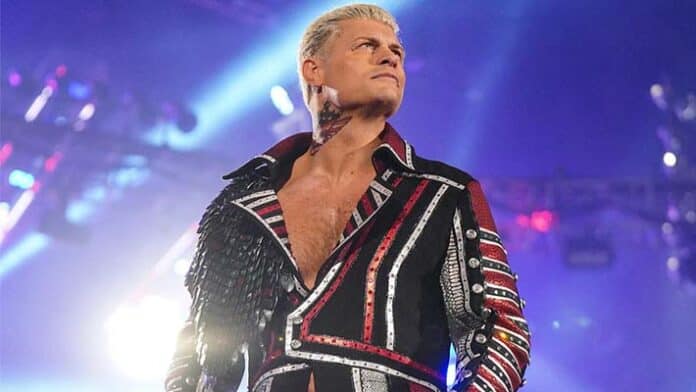 At WrestleMania 39, Cody Rhodes will be challenging Roman Reigns for the Undisputed WWE Universal Championship in a match that will main event night 2.
Rhodes was a guest on SI Media with Jimmy Trania to discuss numerous topics.
When asked about if the pressure in possibly becoming the Undisputed WWE Universal Champion is something he questions himself about, Rhodes admitted that he already feels an immense amount of pressure. Rhodes stated that he believes he has been the face of the WWE, possible dating back to Hell in a Cell when he faced Seth Rollins.
"This answer might come across extremely dickish, as the only way I can put it out there. A little more prickly, this answer. I don't think there's anymore pressure about potentially being the face of the company because respectfully, I feel like for the last four months, I've already been the face of the company. Roman (Reigns) is on a, you know, not a part-time schedule, he's still a full-time superstar and still the champ respectfully. But I make every town, every city and in addition to that, I've already felt like the face of the company since perhaps even Hell in a Cell, even while I was injured and maybe that's just even WWE's seeing this new, shiny toy that's come back and they put The American Nightmare everywhere, but I'd say it's working because we've had some unbelievable nights in terms of the WWE audience who've never been to the show is unique and is a very family-based audience. You've got a dad with two kids and that dad was probably one of those kids, 20 years ago with his parents… I don't wanna be tacky but if you look through the first four rows, there's a lot of belief in what I'm doing and it's visible and all the measurables are there saying that this is working so no, I would feel the same amount of pressure I already feel now, to answer your question, because you can ask every single market rep who works for WWE, you can ask every member of upper management, not only do I ask 'em how we're doing, how we can do better, what'd we do last time, what'd we do per head. Not only do I ask all these questions, I let 'em know how we did that night as well. I try to keep all my receipts in this because who knows, this run, we've been on since Hell in a Cell perhaps, maybe even as far back as last year's WrestleMania, it could end after Los Angeles. You can't take anything for granted in the world of wrestling and sports entertainment, but I wanna make sure it doesn't end. I wanna do all I can, I'm not winding down by any means. But again, you don't know how long you have doing this and no I don't think I'd feel any more pressure than I do now and to be fair and honest, I already feel an immense amount of pressure."
Rhodes gave credit to Roman Reigns and mentioned that it was huge for Reigns to look at him as an asset and not an enemy when he made his return to the WWE.
"I almost feel like it's important and it's not a conversation I've ever had with Roman (Reigns) and if we were friendlier, maybe I would have this conversation with him. Him looking at me like an asset and not an enemy when I came back is huge. I mentioned this the other day. This is such a big gamble. The guy who broke the throne, poked fun, did all these things. Coming back, my life could have been made a living hell. Now I was gonna do everything to (go out) and deliver and the fans are ultimately the barometer here, we're going off what the fans give us. But, by no means was that the case. Everyone understood it, happy to have me back, treated me like an asset and here we are."
Here is the full SI Media with Jimmy Trania interview with Cody Rhodes.
(H/T to Post Wrestling for the transcribed quotes)