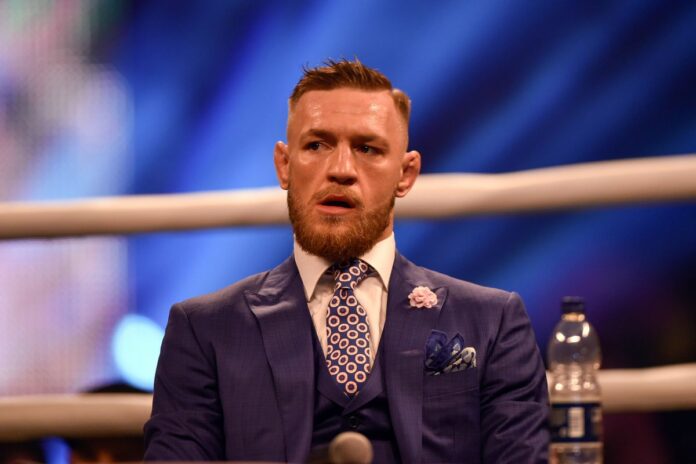 Conor McGregor knows how to get people talking, and over the past few years, a lot of people have been talking about Conor McGregor possibly working with WWE. Triple H and Stephanie McMahon have been pretty open about the fact that they would like to see Conor make an appearance on WWE programming someday, and now it seems that it could happen next year.
The Sun is reporting today that Conor McGregor is close to signing a deal with WWE that would see him work a match at WrestleMania.
A source said, "Conor is a huge wrestling fan. His entire persona on stage he has developed from watching performers like Ric Flair and The Rock.
"These are the top dogs at self-promotion and trash talk. He watched these guys when he was younger.
"This is something he's always wanted to do.
"The WWE guys have asked him to do shows before with them but the timing was never really right.
"But this time it looks like a deal is going to be locked into place.
"He has some things to tie up in the UFC before he can do anything else but this is a big money deal so I can't see him turning it down."
During Stephanie McMahon's media tour of the UK last week, she welcomed the idea of McGregor appearing for WWE.
"I think Conor would be a perfect fit for WWE," she said. "He certainly has the personality, the athletic ability, the appeal. He speaks his mind, he is very genuine and authentic and he has a hell of a Vince McMahon swagger."
In February, McGregor revealed the WWE had been chasing him to appear in the ring but he turned them down as he was lining up his fight with Floyd Mayweather Jr.
He said, "Never say never. I'd love to go into that WWE and have a real knock.
"Let one of them have a real knock and see what's what.
"But we'll see. There's conversations ongoing. I've turned down some things, the conversation's still ongoing."
Who should McGregor face if he appears at WrestleMania? Leave a comment below with your thoughts!