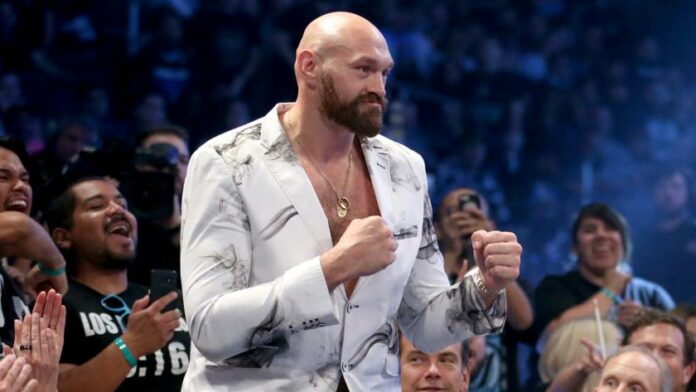 He's the biggest name in heavyweight boxing, but many are now wondering if Tyson Fury will be making a return to the WWE. It certainly seems likely with the two-time world titleholder teasing a fight against current WWE superstar Drew McIntyre. After a devastating eleventh-round knockout of Deontay Wilder at the tail end of last year, in a fight that has since been dubbed one of the greatest in heavyweight boxing history, and a sixth-round TKO against Dillian Whyte in his homecoming fight at Wembley, Fury insists that he is retiring from professional boxing (although nobody is too sure whether he'll stick to his promise). What does seem highly likely is a return to the WWE following his 2019 antics against Braun Strowman. Should Fury feature again in the WWE, fans at home will have an abundance of ways to get it in on the action themselves. Leading bookmakers and pundits are already feverishly generating tips and analyses ahead of the bout, insights that fight fans can make use of when taking advantage of the free bet offers hosted on comparison platform oddschecker to back their favourites. The match will also likely be broadcasted both on TV, and online – so expect social media to be jam packed with comments on Fury's performance. Only time will tell if Fury has what it takes to become the next big superstar of the WWE. But he has everything on his side to do so.
Runs in the family
From the very moment of his rather immaculate birth, the odds were stacked against Tyson Fury. Born eleven weeks early, he was given the name Tyson by his fighting father, John Fury, because he knew that his son would go onto defy the odds and be a boxing icon. Now, Tyson stands at a monstrous 6ft9, and is recognised by many, not only as the greatest living heavyweight, but as one of the greatest of all time. He was the first man to beat reigning champion Wladimir Klitschko in eleven years, back in 2015. Then Fury went off the rails, ballooning up to 28 stone, before coming back and knocking out the reigning WBC champ, Deontay Wilder, not once, but twice.
Big Personality
Now, following yet another knock out against Dillian Whyte in the UK, Fury has cemented himself as the face of boxing in the United Kingdom and in the history books as one of the best fighters of all time. But it isn't just his fighting skills and legacy that would make Fury a perfect contender for the WWE. He's also an exceptional showman. Everything Fury does is for the crowd. He's an actor. He's hilarious. He's unpredictable. When he went up against Klitschko, the reigning champion was well known for his brutality and speed, yet Fury put his hands behind his back and taunted him. When he knocked out Dillian Whyte, Fury grabbed the microphone and got the 94,000 people in the Wembley audience to join him in singing American Pie. In fact, Fury's fights are equally as entertaining as his walk outs. You just never know how Fury will come out into the ring. In the past he's strutted his stuff dressed as Apollo Creed, as a Roman Soldier, and once as a King. His press conferences are also jam-packed with entertainment, once rocking up to one dressed in a full Batman suit. The point here is that Fury is the full package.
He's got the backstory. He's got the brutal fighting excellence. And he's got the showmanship. He's a singer, a dancer, an entertainer, a comedian, and a warrior. What more could the WWE need? It's no coincidence that his show against Braun Strowman was a fan favorite, and if he does end up challenging Drew McIntrye, we believe that Fury would be an excellent full time addition to the WWE.