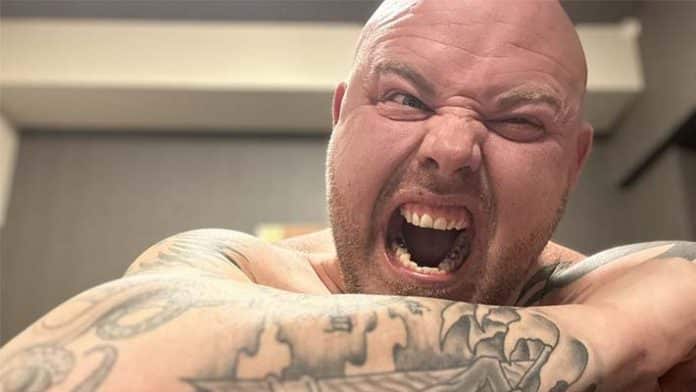 On April 8th 2023, the annual and prestigious All Japan Pro-Wrestling Champion Carnival will get underway at Korakuen Hall in Tokyo, Japan. The winner of the Champion Carnival 2023 tournament will earn a shot at the AJPW Triple Crown Heavyweight Championship which is currently held by the legendary Yuji Nagata.
The Champion Carnival will consist of two blocks, an A Block and a B Block, each with 8 participants. The winners of each block will face off in the tournament final on May 7th at the Ota Ward General Gymnasium in Tokyo to see who will challenge for the AJPW Triple Crown Heavyweight Championship.
The A Block of the Champion Carnival consists of Yuma Aoyagi, Kento Miyahara, Yoshitatsu, Ryuki Honda, T-Hawk, Jun Saito, Cyrus the Destroyer & TBA.
The B Block will be made up of Suwama, Shuji Ishikawa, Shotaro Ashino, Naoya Nomura, Hokuto Omori, Rei Saito, Yuma Anzai & TBA.
Cyrus the Destroyer, who is originally from Georgia, will be making his Champion Carnival tournament debut as he has been placed in the very tough Block A. Cyrus considers it is an honour to have been named a participant in the 2023 Champion Carnival Tournament.
"I am super pumped and very honoured to be in this tournament. I consider it a great accomplishment and great honor to participate in it", said Cyrus.
Cyrus, who will be looking to make a splash at Champion Carnival 2023, knows it won't be easy with talent such as Kento Miyahara, Yuma Aoyagi, Ryuki Honda and the rest of Block A all standing in his way of reaching the finals.
When asked about the tough competition in Block A, Cyrus said, "I've wrestled these guys a few times now and I've learned more about their skill set and they've learned mine. I pretty excited about the opportunity to get in there and throw people around."
While Cyrus is confident he will win the A block, he isn't getting over confident and understands that he can't overlook anyone.
"I wouldn't overlook anybody in block A or block B. I'm 100% confident I will get through Block A." said Cyrus.
Cyrus made his debut for AJPW back on July 14th 2022 with a crushing victory over Black Menso-re at Korakeun Hall in Tokyo. He was also featured in a few two on one handicap matches, one of which he won in 8 seconds.
When you watch Cyrus the Destroyer, you can't help but think of Big Van Vader. Cyrus moves very well in the ring and is capable of performing off a top rope moonsault which, due to his size, never fails to amaze people.
Cyrus has competed in two other AJPW tournaments since his debut. Cyrus got to the second round of the Royal Road Tournament in August 2022. In that tournament he scored a major win over Shuji Ishikawa in the first round but lost to one of the best wrestlers in the world, Kento Miyahara, in round 2.
In the AJPW Real World Tag League 2022, Cyrus fared much better than the Royal Road Tournament. Cyrus teamed with Shuji Ishikawa and they made all the way to the finals of the Real World Tag League 2022. Unfortunately, they lost to the team of Kento Miyahara and Takuya Nomura in the final match of that tournament.
With a second round defeat in the Royal Road Tournament and losing in the finals of the Real World Tag League Tournament, Cyrus is ready to take the next step.
That next step would be to win the Champion Carnival 2023 Tournament and earn a shot at the legendary Yugi Nagata and the AJPW Triple Crown Heavyweight Title. If that opportunity does occur for Cyrus he said he will pull out everything in his playbook to win that title. He also said it would be surreal stepping into the the ring with Yuji Nagata.
"It would be surreal, if I get that opportunity and I'll give it 110%. I got step to in there with him (Nagata) one time during tag league, when I was tagging with Ishikawa, to be able to step in there with him (Nagata) and have a singles match would be a whole other level. Just the two skill sets going at each other, there's a lot of difference there, his version of the strong style and my version of a bruiser. It would be fun. I would pull everything out of my playbook to win that belt" Cyrus commented.
Cyrus indicated that he has been getting in more training since he found out that he will be in the Champion Carnival 2023.
"I found out 3 months ago and got the message asking if I'd like to participate in it and compete for it and I was pretty stoked. Then I buttoned down a little bit more on getting some training done to get ready for the tournament." said Cyrus.
With less than a month left before the opening night of the AJPW Champion Carnival 2023 one thing is certain, Cyrus the Destroyer will be ready for the tough competition that stands before him and an opportunity at the AJPW Triple Crown Heavyweight Championship.
Yuji Nagata should watch and study Cyrus very closely because he could very well be defending his Triple Crown Heavyweight Championship against him after the Champion Carnival 2023 tournament concludes in May.