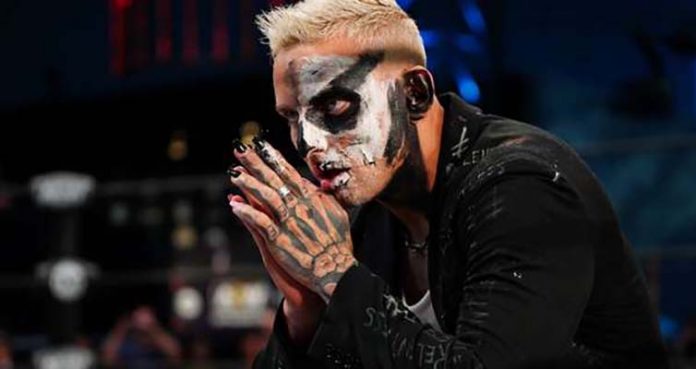 Darby Allin is one of the four pillars of All Elite Wrestling.
Even if he doesn't particularly care for the term pillar in the first place.
The charismatic AEW performer recently spoke with Fightful for an interview promoting the AEW Championship main event of AEW Double or Nothing 2023 on Sunday, which features the four pillars of AEW — MJF, Darby Allin, Sammy Guevara & Jungle Boy — competing for the AEW Championship.
During the discussion, Allin was asked how he feels the performers known as the four pillars have evolved in the few years that AEW has been in existence.
"Man, I don't know," Allin said. "It's weird because I feel like everybody's almost the same. It's strange in that when I wrestled MJF down in Maine for the first time, it literally feels like the same guy. When I wrestled Sammy at Black Label for the first time, it literally feels like the same guy. When I wrestled Jungle Boy in the no ring match in L.A., it literally seems like the same guy. It's kind of interesting and I think that shows the beauty of what AEW gives us. We ain't a bunch of manufactured people."
Also during the interview, Darby spoke about how he has never been fond of the "pillar" tag in the first place.
"I don't know. I never liked that term, pillars," he said. "Never liked it, never liked it. I think it sounds like a cute catchphrase Max came up with. To me, pillars, it feels like we're above people when we call ourselves pillars and I honestly feel like whoever is ride or die with this company is a pillar in my eyes. So it takes more than just four guys and you got a guy like MJF, how can you really call yourself a pillar when you don't even know if you want to be here in 2024?"
Allin continued, "So, like I said, man. Instead of making a shirt with four dudes on it, put the whole roster. Put everybody. 'Cause we're all pillars, man. We're all gonna grow this company. It's so new. I don't like calling myself a pillar. But I do like the fact that we are four homegrown talents getting in that spotlight. That's awesome. But a pillar? No."
Check out the complete interview at Fightful.com.