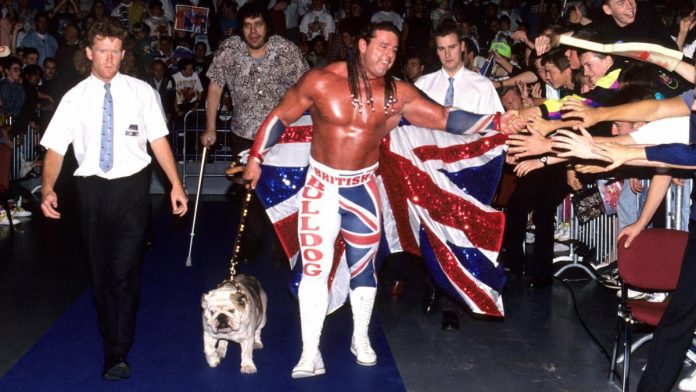 It was 17 years ago yesterday when "The British Bulldog" Davey Boy Smith passed away at the age of 39. Smith had two children, Harry and Georgia, and they were remembering him yesterday.
Harry, who wrestles under the name Davey Boy Smith Jr. for New Japan Pro-Wrestling, posted this message on Twitter remembering his father:
Thank you to everyone for the posts and thoughts regarding the 17 year anniversary of my Fathers passing. ? Although it feels like yesterday, time sure does fly, and not a day goes by where he's not thought of and missed dearly. Thanks for all the great memories!?❤️???????? pic.twitter.com/WFUEpb2pSD

— Davey Boy Smith Jr. (@DBSmithjr) May 18, 2019
Likewise, Georgia tweeted the following:
I think of my dad not only today but everyday. However, today marks 17 years since my dad passed away. I miss and love my dad everyday. I've had to get on with my life, but I'm still deeply hurt and affected by his absence to this day. Thanks for everything you gave all of us♥️ pic.twitter.com/NALcPe0jhR

— Georgia Smith (@georgiasmith87) May 18, 2019
Smith died after suffering a heart attack while on vacation in Invermere, British Columbia, Canada with his girlfriend Andrea Redding, who was Bruce Hart's estranged wife. An autopsy revealed that past anabolic steroid use may have played a part in his death, but no certain reason was found. Bruce Hart claimed, "Davey paid the price with steroid cocktails and human growth hormones." Two funeral services were held, one by Andrea and the other by the Hart family.