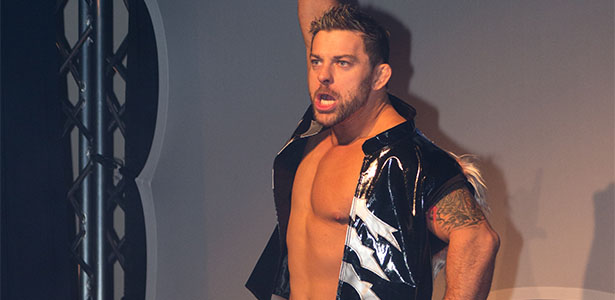 In part one of a two part interview, one half of TNA Impact Wrestling's The Wolves, Davey Richards recently took some time to participate in an exclusive interview with PWMania.com. Richards discusses answering the call of The Dirty Heels, what to anticipate at Slammiversary and training under Paul Orndorff. Check out part one of the interview below:
The Wolves will address the Dirty Heels recent actions in the best of 5 series for the TNA Tag Team titles. What could fans anticipate from The Wolves as they address Roode and Aries?
Just that they wanted to go the low road last time and live up to their name. We aren't going to fight fire with fire were going to fight it with water. We have a nice surprize lined up for them and I think a lot of people are going to enjoy it.
TNA Slammiversary will be taking place live on Pay Per View June 28th live from Orlando Florida. It will be an epic three hours of Pay-Per-View starting at 8pm eastern. What can we anticipate from The Wolves on this night?
We are going to do what we always do and go out there and deliver the best package of professional wrestling match that we can on the planet today. For this one, I don't want to spill the beans but we're going to have something truly special and something that hasn't been done in a very long time and it takes a very unique blend and a lot of trust from a company to do and they are going to allow us to do it. It's going to be something that I think we are going to be remembered for a very long time and something I'm very proud to be a part of. So definitely don't miss it.
Discuss your training with "Mr. Wonderful" Paul Orndorff and Tony Kozina and the difference between them.
Paul was real old school. When I say old school, people always say what does that mean. He was really just get in there and do the basics over and over and over again I have a lot of respect for what you do where you had to have it perfect because you were taking someone's life in your hands. I learned all the basics and a real good fundamental grasp of wrestling and Tony really helped me out with getting out there and getting my name known and getting out there and travelling and being recognized and really sacrificed a lot of things for himself to really help me get out there and make my name. I wouldn't be where I am today without either one of those guys so I'm eternally in debt both are great guys. Paul was a little more scary and a little more stern and Tony is definitely the funniest person I have ever met so it's very unique blend of guys.
Check back next week for part two as Richards opens up about his his time in ROH, his and Eddie Edwards experience with NXT and his future moving forward.