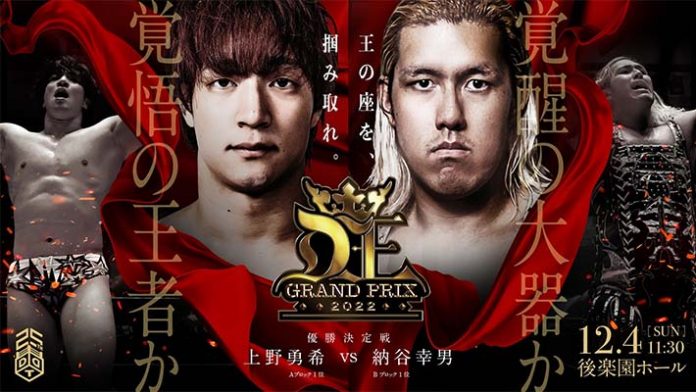 On December 4th, DDT Pro-Wrestling presented its 2022 D-Oh Grand Prix Tournament Finals Event from Korakeun Hall in Tokyo, Japan.
The main event of the show saw tournament winner of the A Block Yuki Ueno taking on the B Block winner Yukio Naya in the final match of the tournament. In addition to a gorgeous trophy, the winner of the final match will earn a shot at the KO-D Openweight Championship currently held by Kazusada Higuchi.
The 2022 D-Oh Grand Prix Tournament began on November 1 with 12 entrants that, in addition to Yuki Ueno and Yukio Naya, included Testsuya Endo, Kazusada Higuchi and Joey Janela.
Yuki Ueno won Block A with 6 points and Yukio Naya finished atop Block B with 8 points setting up the final match on December 4th at the legendary Korakuen Hall.
Here are the DDT Pro D-Oh Grand Prix Results and highlights.
D-Oh GRAND PRIX 2022 Grand Final: Yuki Ueno (Block A Winner) defeated Yukio Naya (Block B Winner) to win the tournament.
DDT EXTREME Championship (TLC Match): Jun Akiyama defeated Joey Janela (c) to become the new DDT EXTREME Champion. (After the match, Akiyama was challenged by Super Sasadango Machine for the DDT EXTREME Title on 29th December)
Kazusada Higuchi & Yuji Hino & Chris Brookes & Ricky Shane Page defeated Daisuke Sasaki & Minoru Fujita & MJ Paul & KANON
Naruki Doi & Toru Owashi & Kazuki Hirata defeated HARASHIMA & Yukio Sakaguchi & Kazuma Sumi
Tetsuya Endo & Kotaro Suzuki & Yusuke Okada defeated MAO & Shunma Katsumata & Toi Kojima
Soma Takao & Hideki Okatani & Hikari Machida defeated Yuya Koroku & Yuki Ishida & Takeshi Masada
Yuki "Sexy" Iino & Danshoku "Dandy" Dieno defeated Akito & Antonio Honda
🔴📺 #wrestleUNIVERSE で独占生配信スタート!https://t.co/ZrdqhL0Le0

👑D王 GRAND PRIX 2022 the FINAL

○メインイベント D王 GRAND PRIX 2022優勝決定戦 時間無制限一本勝負
上野勇希<Aブロック1位> vs 納谷幸男<Bブロック1位>#D王GP2022 #ddtpro pic.twitter.com/HQAUaMPDq7

— DDT ProWrestling (@ddtpro) December 4, 2022
🔴📺 #wrestleUNIVERSE で独占生配信スタート!https://t.co/ZrdqhL0Le0

👑D王 GRAND PRIX 2022 the FINAL

○セミファイナル スペシャル8人タッグマッチ 30分一本勝負
樋口和貞&火野裕士&クリス・ブルックス&RSP vs 佐々木大輔&藤田ミノル&MJポー&KANON#D王GP2022 #ddtpro pic.twitter.com/WSudL1C8Rl

— DDT ProWrestling (@ddtpro) December 4, 2022
🔴📺 #wrestleUNIVERSE で独占生配信スタート!https://t.co/ZrdqhL0Le0

👑D王 GRAND PRIX 2022 the FINAL

○第五試合 DDT EXTREME選手権試合~TLCマッチ 60分一本勝負
<王者>ジョーイ・ジャネラ vs 秋山準<挑戦者>#D王GP2022 #ddtpro pic.twitter.com/WtqeMkWK28

— DDT ProWrestling (@ddtpro) December 4, 2022
🔴📺 #wrestleUNIVERSE で独占生配信スタート!https://t.co/ZrdqhL0Le0

👑D王 GRAND PRIX 2022 the FINAL

○第四試合 スペシャル6人タッグマッチ 30分一本勝負
土井成樹&大鷲透&平田一喜 vs HARASHIMA&坂口征夫&須見和馬#D王GP2022 #ddtpro pic.twitter.com/ggWJNuJ3wn

— DDT ProWrestling (@ddtpro) December 4, 2022