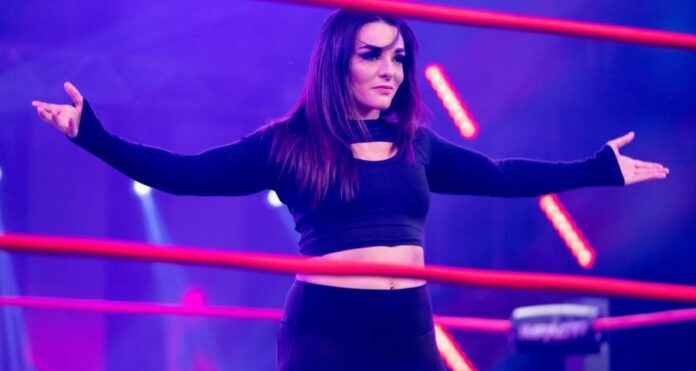 Game represents game.
And "The Virtuosa" can "FEEL THE GLOW."
Deonna Purrazzo recently appeared as a guest on the Straight Talk Wrestling podcast for an interview, during which she offered high praise for Trinity for coming to IMPACT Wrestling.
Featured below are some of the highlights from the interview where she talks about this, as well as her belief that the IMPACT Knockouts division is the best women's wrestling division today.
On respecting Trinity for taking a chance on herself and looking forward to wrestling her in the future in IMPACT Wrestling: "If you ask me who my 'fight forever opponent' is, 100 percent, hands down, it's Jordynne Grace. But, yeah, I mean Trinity (Fatu) coming in really throws our mix of women and elevates us all completely and I said to Trinity live in the ring, 'I know exactly how you're feeling' and I do. That was genuine, because it's scary to go out and myself prior to IMPACT didn't know if I wanted to wrestle anymore or didn't know if this was for me or if did I have a passion for this and I really feel like she chose the right place in coming to IMPACT Wrestling because there's no right and wrong here. You're out here getting opportunities and making history and getting opportunities to be whoever you want to be and I'm so excited for Trinity to see who she chooses to become and how she elevates our division and eventually if we do meet down the road, whether it's for the Knockouts World Championship or not, how in turn she's going to elevate me because she will without a doubt."
On her belief that the IMPACT Knockouts division is the best women's wrestling division today: "I've not been shy about women main eventing. I said it during the pandemic, I said it last year, I want more women to be main eventing pay-per-views and we saw myself and Mickie James do it for the very first time, Hard To Kill 2022 in the Texas Death Match and then it took a whole other year just to see women main event on a pay-per-view again, Jordynne Grace and Mickie James at Hard To Kill in January. So Jordynne and I getting to do the main event at Rebellion was only the third time that women have main evented a pay-per-view for the Knockouts World Championship and my goal is to have that be a consistent thing. So we've seen it three times with only three women. I'm interested to see and I want someone to do it, step up to the plate and say, I'm gonna take that spot from Deonna, I'm gonna take that spot from Jordynne or when Mickie's healthy, I'm gonna take it from Mickie because we're the only three women to do it and I think we've seen tremendous talents come into our Knockouts division; KiLynn King, Killer Kelly, Masha (Slamovich), Taylor Wilde has reinvented herself again, Trinity just debuted. Who is gonna take that spot from one of the three of us and consistently main event? That's my goal, it's always going to be my goal, elevate women's wrestling and our Knockouts division but, I want someone to dethrone me. I can't wait to see who that person is gonna be."
Check out the complete interview at TuneIn.com. H/T to POSTWrestling.com for transcribing the above quotes.