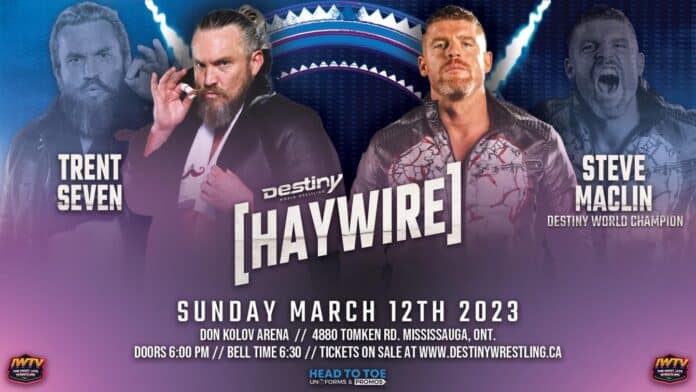 On March 12th, the Don Kolov Arena will once again play host to Destiny Wrestling's next big event.
The event, which has been named Haywire, will feature a huge main event as the current Destiny Wrestling World Champion Steve Maclin defends the title against former WWE/NXT star Trent Seven.
#ITSOFFICIAL – World Champion @SteveMaclin will put his newly acquired title on the line against none other than @trentseven at #Haywire!

Will #BritishStrongStyle prevail or will Maclin #TagEmAndBagEm?

Early Bird Tickets Available viahttps://t.co/AmgtIjMOAU until Sunday! pic.twitter.com/4vRrOhQqrG

— Destiny Wrestling (@DestinyWrestle) February 10, 2023
This will be Steve Maclin's first defence of the Destiny Wrestling World Championship. He defeated Aiden Prince for the title back on January 29. His first defense will be a very tough one as Trent Seven has an impressive resume that includes being a former co-holder of the NXT Tag Team and NXT UK Tag Team Championships as well as a former ICW World Champion.
PWMania spoke with Destiny Wrestling Owner Emilio Albi about the main event and he said:
"The fans can expect the hard hitting British Strong Style of Trent Seven vs the tag-'em and bag-'em and mayhem approach from Steve Maclin."
WWE Hall of famer D-Von Dudley will be making a special appearance at Haywire and he is bringing his sons Terrence and Terrell along.
Terrence and Terrell Dudley AKA TNT will be participating in the Destiny Wrestling Tag Team Championship Tournament which begins at Haywire on March 12. They will have their work cut out for them as they will be facing one of the hottest tag teams in Canada in Justin Newhook and Matt Connors AKA Sabotage.
There are 6 other teams that are in the tournament to determine new Destiny Wrestling Tag Team Champions including Air Strike, For The Glory, Puf and Hayden Backlund, KPK, Dynasty and Zak Patterson and Clay Wilson.
At Haywire, the Rebelution Women's Title will be on the line as the current champion Beaa Moss attempts to turn back the challenge of Ashley D'Amboise.
IMPACT Wrestling's Dirty Dango is scheduled for the event as well as a Destiny Wrestling New Era Title defense by the current champion Ren Jones.
Here is the full card for Destiny Wrestling's Haywire event on March 12:
Destiny Wrestling World Championship: Steve Maclin (c) vs Trent Seven
Rebelution Women's Championship: Beaa Miss (c) vs Ashley D'Amboise
New Era Championship: Ren Jones (c) vs Evan Greenaway
Destiny Wrestling World Tag Team Championship Tournament: TNT vs Sabotage
Destiny Wrestling World Tag Team Championship Tournament: Air Strike vs KPK
Destiny Wrestling World Tag Team Championship Tournament: Zak Patterson and Clay Wilson vs Dynasty
Destiny Wrestling World Tag Team Championship Tournament: For The Glory vs Puf and Hayden Backlund
Tarik vs Dirty Dango
Scramble Match: Dylan Davis vs Sheldon Jean vs Flex Whitney vs Ricky Shane Page vs Rajan Husher vs TBA
Special appearance by D-Von Dudley
Destiny Wrestling Haywire will be taped for future release on IWTV.