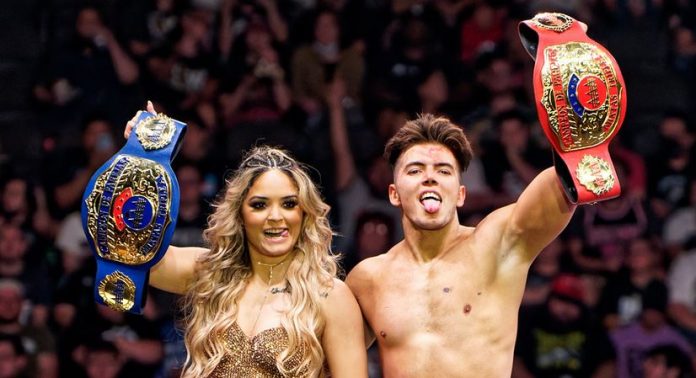 As PWMania.com previously reported, Tay Melo and Sammy Guevara were set to defend their AAA World Mixed Tag Team Titles on December 28th at the AAA Noche de Campeones. They did not appear on the show, so the titles were declared vacant and new champions were crowned.
Tay competed in the AEW Dynamite: New Year's Smash special on Wednesday, but Guevara did not appear on Dynamite or the Rampage episode that was also taped on this night.
Konnan stated on the most recent episode of K100 w/ Konnan & Disco that AEW President Tony Khan had Tay fill in for someone on the AEW roster who had COVID. He does not, however, understand why Guevara was pulled.
"Tony [Khan] pulled Tay [Melo from AAA Noche de Campeones] because some girl, I don't know who had COVID. I'm not sure why Sammy [Guevara] was pulled because he didn't even appear on the f*cking show [AEW Dynamite]."
Konnan confirmed a comment made by his co-host, Disco Inferno, that this was not the first time the married couple missed a AAA show, claiming the first time they blamed it on missing their flight. He wondered how that could have happened. Konnan explained that the second time was due to Tay's visa problems.
"They sent me a video, everything was cool and then the next thing I know, Tony [Khan] pulled her because somebody had COVID. What I don't understand is why he didn't just send Sammy? Because Sammy didn't do sh*t on the show [AEW Dynamite]. "
You can listen to the complete podcast below:

(H/T to POST Wrestling for the transcription)