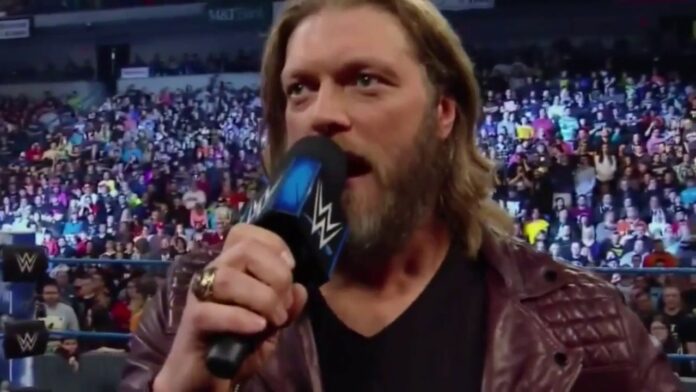 The following was sent to us:
E&C'S POD OF AWESOMENESS RETURNS ON WESTWOOD ONE PODCAST NETWORK

Adam "Edge" Copeland and Jay "Christian" Reso End Podcast Hiatus With New Shows and a New Network

New York, NY – November 13, 2018: The wait is over! Adam "Edge" Copeland and Jay "Christian" Reso are back as their podcast returns with a new home: Westwood One Podcast Network. Get ready – new episodes of E&C's Pod of Awesomeness start Friday, November 16th. E&C will make their return with a new episode featuring a revealing conversation with one of wrestling's most gifted and notorious figures, Shawn Michaels.

The innovators of the TLC match, the five-second pose and the masters of reeking of awesomeness, WWE champions Edge and Christian's podcast takes listeners behind-the-scenes of the wrestling industry as the hilarious duo interview wrestlers and entertainers they've met over the years, share fun stories about life after the business and being dads, and, sometimes, they even play the kazoo. Some have called them the Lennon/McCartney of podcasting. Others have called them the Milli Vanilli. Edge and Christian say if you understand either of those references, their show is for you.

Edge and Christian are excited to get back in the groove with their pod fans. Edge said, "The most decorated champion in WWE history, me… and Christian, are back with more E&C Pod of Awesomeness on our new home, Westwood One Podcast Network. Our team just got mightier. Look out Hosers, this Pod will even surpass awesomeness now!"
Reso added, "I know all of our Hosers have missed me and maybe Edge just a smidge. Well, the auditory idiocy is about to get real. We're back Brother Brother on the powerful Westwood One Podcast Network! And of course, Paul Smackage and Flip Sunset are coming with us… pppfffffttt here we go!"

"Edge and Christian have been named the greatest tag team in WWE history, and their chemistry is just as electric on the mic as it is on the mat," said Suzanne Grimes, EVP Marketing for CUMULUS MEDIA and President, Westwood One. "Their unique insight combined with their connection with fans are just two of the reasons why this pod oozes with awesomeness."

E&C's Pod of Awesomeness drops new episodes every Friday. Listen and subscribe to the show now on Apple Podcasts, Google Podcasts, WestwoodOnePodcasts.com, or the Westwood One Podcasts App for iOS or Android.

About Jay Reso

Jay Reso, also known as WWE Superstar Christian, is a retired professional wrestler, actor, and host. Reso had a 20 plus year career in the ring where he entertained fans and gained notoriety worldwide having captured the WWE World Heavyweight Championship on two occasions and winning 20 total Championships in WWE. Reso became the twenty-third Triple Crown Champion and only the twelfth Grand Slam Champion in history. As an actor, Reso most recently played Leonard Stoker on the long-running Canadian TV series Murdoch Mysteries on CBC and had a recurring role as McHugh on the SyFY TV series Haven. His film credits include the New Line Cinema production Shoot 'Em Up and independent films Supergrid and Medium Raw. Reso, under his WWE persona Christian, has been a playable character featured in WWE video games including the WWE 2K franchise since 1999. In WWE 2K15 Reso voiced One More Match, a showcase storyline based on his 2011 journey to winning the WWE World Heavyweight Championship. Reso has appeared on several WWE Network programs. He co-wrote, produced, directed and starred in The Edge and Christian Show That Totally Reeks of Awesomeness with his best friend Adam "Edge" Copeland. Season two is in post-production. Reso has a dedicated fan base with a social media following of 3.5 million. Born in Canada, Reso lives in Tampa, Fl. He is an avid hockey fan and enjoys cooking, exercise and spending time with his family.
About Adam "Edge" Copeland

Adam Copeland, formerly known as WWE Superstar Edge, is an actor and retired professional wrestler, who is also known for his roles as Dwight Hendrickson in the television series HAVEN, currently Kjetill Flatnose on the popular television series VIKINGS, and many more shows. Canadian born, Copeland's life in wrestling spanned two decades, and through his long and decorated career as "Edge," Copeland entertained millions of fans internationally while winning 31 championships overall in WWE – the most by any wrestler ever – including 11 world heavyweight championships. Copeland became the youngest wrestler ever inducted into the WWE Hall of Fame in March 2012. Copeland's autobiography, "Adam Copeland on Edge", is a New York Times bestseller, and he is currently in the process of writing a second book. Copeland has a massive and dedicated international fan base, with a social media following of over 7 MILLION followers, and growing daily. He lives in the mountains of Asheville, NC, where he spends his time hiking, biking, and cuddling with his family.

About Westwood One Podcast Network

Westwood One Podcast Network is the fastest organically growing podcast network in America, engaging listeners with original content in political talk, sports, and entertainment powered by a massive, multi-platform engine to grow this business. Westwood One Podcast Network's content and advertising partners tap into the passion, energy and creativity of a start-up within an audio powerhouse, capitalizing on our enormous promotional reach, established national sales team, and preferred relationships with major podcast buyers, as well as high-quality production capabilities across the country. It was the first to launch multi-platform extensions with monetization at scale in the commercial segment, most notably with The Ben Shapiro Show.