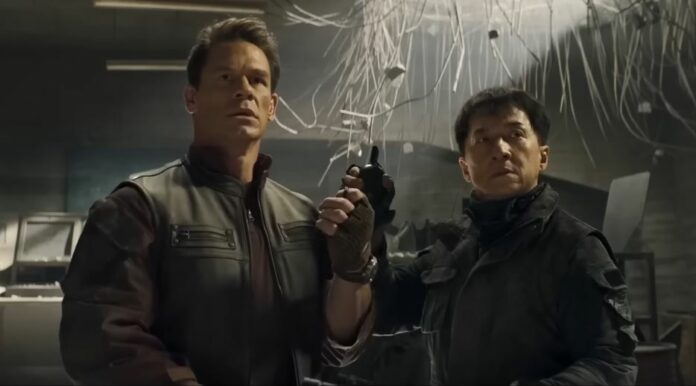 The first trailer for the "Hidden Strike" action-comedy-thriller starring Jackie Chan and veteran WWE Superstar John Cena has been released.
The big-budget action-adventure film set in the Middle East was actually shot in 2018, but its release date was pushed back due to COVID-19. According to IMDB Pro, the film had an estimated budget of $80 million. The running time is 1 hour and 42 minutes.
The film's original title in the United States was "S.N.A.F.U." "Project X-traction" was another working title, but "Hidden Strike" is the new global title. The release date in the United States is listed as "coming soon," but it will be available in Turkey and Saudi Arabia on July 7th.
"Hidden Strike" will center on Luo Feng (played by Chan), a retired Chinese military man turned private security contractor who is called in to rescue oil workers after a Chinese-run oil refinery in Baghdad, Iraq is attacked. When he discovers that the attackers' true goal is to steal a fortune in oil, he joins forces with a former Marine named Chris Van Horne (played by Cena) to stop them. According to another synopsis, the characters played by Cena and Chan must accompany this group of workers through Baghdad's "Highway of Death" to the safety of the Green Zone.
Sylvester Stallone was originally attached to the film, but backed out due to commitments with the "Creed 2" sequel. Cena then took over for Stallone in the role. The project was funded by the Chinese government and shot entirely in China with local crews, but with Cena as co-star and Hollywood's Scott Waugh (Act of Valor, Need for Speed) directing from a script written by Arash Amel (Grace of Monaco, Erased, The Titan).
The trailer and poster for "Hidden Strike" are available below: