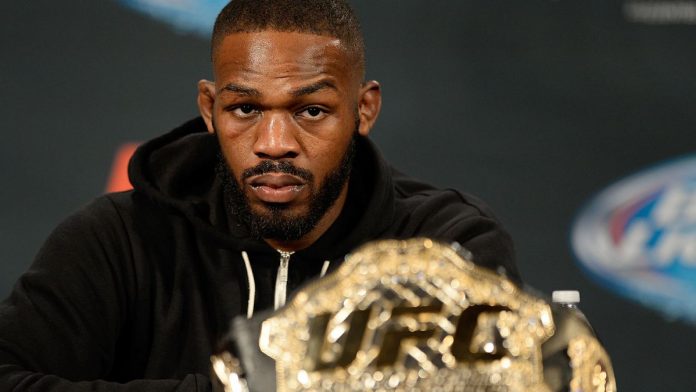 Tonight, UFC 285 will be held at the T-Mobile Arena in Las Vegas, Nevada and the event will see the return of former Light Heavyweight champion, Jon Jones after a three-year absence from the octagon. The 35-year-old vacated the 205 LBS belt, a title he was previously stripped of three times, in May of 2020 after a contract dispute with the company.
"Bones" Jones made the move to heavyweight, adding almost 40 LBS to his frame before he returns to the cage, but does any of this matter?
The issue surrounding this UFC Heavyweight title fight is two-fold. Former champion, Francis Ngannou was officially stripped of the belt in January and released from the promotion because of a contract dispute. Reportedly, Ngannou wanted health insurance and the ability to get sponsorships of his own, which would conflict with the exclusive Rebok deal the organization has that pays the fighters a fraction of the sponsorship money compared to the deals they could get on their own. Ironically, his last fight in the UFC was against Jones' opponent tonight, Ciryl Gane. Francis won a unanimous decision in January 2022 despite a knee injury before the bout. A few months prior to that Gane won an interim belt when he beat Derrick Lewis via TKO in the third round at UFC 265. However, that was more to be able to put a title fight on pay-per-view than anything else, as Ngannou claimed he wasn't ready to defend the title so an interim was created for more or less no reason since the original Ngannou/Gane bout was only delayed a few months.
Ngannou stated in interviews that he wants to pursue a big payday in boxing against either Deontay Wilder or Tyson Fury. While it's doubtful that Fury would risk his status as heavyweight champion against a novice boxer, considering a fluke punch is possible with the power that Francis brings to the table, a major bout with Wilder might be realistic since the hype and a win could bring enough spotlight back to him that might allow him to secure another rematch with Fury. For Francis, he more or less has nothing to lose in either scenario since there's no shame in a loss to a former or current heavyweight champion as an opponent without any pro boxing experience, and would allow him to make exponentially more money than he did in the UFC. You can't blame Francis, either. If he thinks he can get paid better money outside of the UFC, that's capitalism, and a fighter only has a certain time frame to maximize their earnings for as much financial security as possible.

That being said, his exit disrupts the lineage of the heavyweight title, and very similar to other divisions in the UFC, the rankings don't have much credibility. Since the ESPN deal pays the company a guaranteed amount regardless of the number of buys for pay-per-views or how many people watch the fight night cards, compelling match-ups are traded for superficial title fights. With the divisions being built on depth through those compelling match-ups, the domino effect is not nearly as many money-drawing stars have been made for the organization. Instead of key fighters getting signature wins to build hype for an eventual title shot on PPV, a potpourri of names get lost in the shuffle of the countless fight cards that are held because of the ESPN contract.
Somehow a guy can be on a four-fight win streak and he gets a title shot, but the vast majority of the audience hasn't heard of him because three of those fights were on the prelims of a random fight night card. It's worth noting that putting almost all of the UFC content behind a paywall in some form or fashion also had an impact on its ability to create new stars for the organization.
To even have the option to order a UFC pay-per-view, customers have subscribe to ESPN+ the streaming service that cost $9.99 a month before the hefty PPV price tag. Keep in mind, the fight that is almost unanimously praised the most important fight in UFC history because it helped spark the surge in popularity was Forrest Griffin vs. Stephan Bonnar. The fight was on Spike TV and the ratings for the bout indicated that viewers called others to tell them to tune into the fight. MMA finally becoming easily accessible on cable TV after years of being shunned by networks is what allowed for the sport to flourish. The casual fan isn't going to subscribe to ESPN+ for the fight night cards that have the names that they haven't heard of, even if the diehard fan base knows how talented some of those competitors are in the octagon.
Perhaps, that's why tonight's heavyweight title fight seems so superficial.
Jon Jones is one of the very few fighters left from the original surge in popularity, and management is more or less using this chance to actually get him into the cage as a money grab. Jones hasn't fought in three years and hasn't looked impressive in a fight since he defeated Alexander Gustafsson in 2018. There was a very valid argument to be made that Thiago Santos should've been awarded the decision when he fought Jones in 2019. Quite frankly, I think all the discussion of "Bones" Jones as possibility the greatest MMA fighter of all time is nothing more than marketing hype. Did he have the potential to be the greatest? Absolutely, but the reality is that he fell very short of that. He tested positive for PEDs four times so that alone should eliminate him from the conversation. We don't have how many fights he used PEDs and we don't know if he would've won the fights he tested positive for if he didn't take steroids. When you take into account that Jones wasn't available to fight because of failed drug tests or several arrests, it takes eliminates him from the discussion even more since he didn't fight the top competition at the time. When you consider that he had so much legal trouble that it's too lengthy to discuss, it's obvious that the story of Jones' career is wasted talent. Finally, his most recent trouble with the law was a domestic violence incident, and during the arrest Jones damaged a police car. The bottom line is, anyone that hits a woman is a coward.
The point being, Jones' reputation of not being available to fight more often than not at 205 LBS doesn't justify a shot at the heavyweight championship. It's a strategy for the short-term money. UFC management did the same thing to shoehorn Connor McGregor as a double champion, and it more or less ruined two divisions that still haven't been rebuilt. Ciryl Gane held an unnecessary interim belt before he lost to Ngannou. Gane knocked out Tai Tuivasa in the third round last September, but does one victory justify a title shot?
Don't get me wrong Ciryl Gane is a powerful puncher and a dangerous opponent, but he's a one-dimensional fighter. Ngannou, who is primarily a striker, was able to use the take down to win a decision so Jones, a fighter with a lot of wrestling experience, already saw him to defeat Gane. Jones isn't going to take any chance with someone that has knockout power, and he shouldn't so he's going to close to distance relatively quickly and use take downs to win the contest. Sure, it's possible that Gane has a puncher's chance, but the sportsbooks have it right that Jon Jones wins the heavyweight title.
But does that matter if the odds also say that it's a matter of time before Jones gets stripped of the title?
What do you think? Share your thoughts, opinions, feedback, and anything else that was raised on Twitter @PWMania and Facebook.com/PWMania.
Until next week
-Jim LaMotta
E mail drwrestlingallpro@yahoo.com | You can follow me on Instagram & Facebook @jimlamotta89