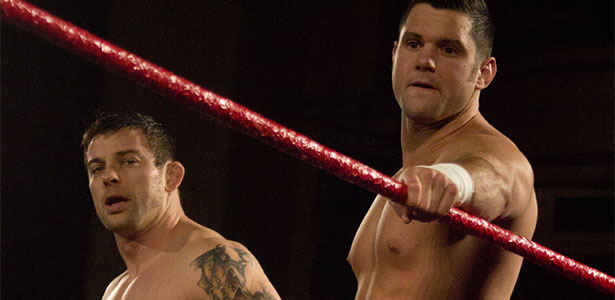 Last week on Impact, former Ring Of Honor champions, Davey Richards and Eddie Edwards debuted for TNA during a backstage segment with Dixie Carter. There has been much speculation about the duo for the past few months after they did a few tryout matches for the WWE at an NXT taping, but they weren't signed to deals and continued to make appearances on the independent scene so it was somewhat surprising that they would show up on Impact. It's somewhat ironic that two former ROH champions debut for the company just a week after AJ Styles' seemingly last match for the promotion aired on TV and he's already wrestling for ROH, but that's another column for another time.
As for the Wolves, the signing itself is good for the company, as Davey and Edwards are two of the top talents on the independent circuit, but considering all the turmoil that currently surrounds TNA and their track record for minimizing independent talent they've signed previously, it seems doubtful that the Wolves will be a major team in the company. If anything, I wouldn't be surprised if Richards eventually quits the promotion after they fumble booking the team, which is something he has a history of doing in ROH. Davey also tends to be outspoken at times when perhaps he shouldn't be, which is what led to his most recent dismissal from ROH. Basically, as rocky of a road as ROH has been in recent years, TNA isn't exactly stable either so I don't know if TNA will be an upgrade for Davey, aside from potentially more money, but that really depends on the contract structure. However, the contract the Wolves signed probably isn't for major money, simply because of the amount of wrestlers TNA has recently released to cut the budget. So if it's not for just money, why would the Wolves sign with TNA?
Richards and Edwards are the only ones that know the answer, but if I had to guess, I think they Wolves decided to sign with TNA specifically because they weren't signed to WWE contracts. Davey was dismissed from ROH and if WWE isn't an option, where is he going to work? Sure, Richards can probably make decent money on the independent scene, but someone with his skills should be on a major stage and TNA could at least guarantee a certain amount of money for a contract and exposure on national TV, which is something that smaller promotions don't offer. For Davey, unless he wants to return to Japan, which is slightly rebounding after years of decline, TNA is his only option for main stream exposure in the United States. He mentioned during interviews that he has other goals besides wrestling, which makes sense, but with other career options on the table, will Davey retire after a TNA run?
Despite not being signed a few months ago, I think Eddie Edwards still has the potential to eventually sign a WWE developmental deal. Edwards is the more well rounded wrestler and his style might be more adaptable to the WWE. The reasoning for Edwards to sign with TNA is probably similar to Richards, if he wasn't going to sign with the WWE then TNA offers the most exposure instead of the independent scene. Dixie Carter and the Wolves on the same show probably had the smart marks heading for a bridge, but wrestling on national TV for some type of guaranteed money is a better option than wrestling for a crowd of a few hundred fans on the independent scene.
Until next week,
That's My Story and I'm Sticking To It!
Post your thoughts, opinions, feedback and comments below! Follow me on Twitter @jimlamotta.