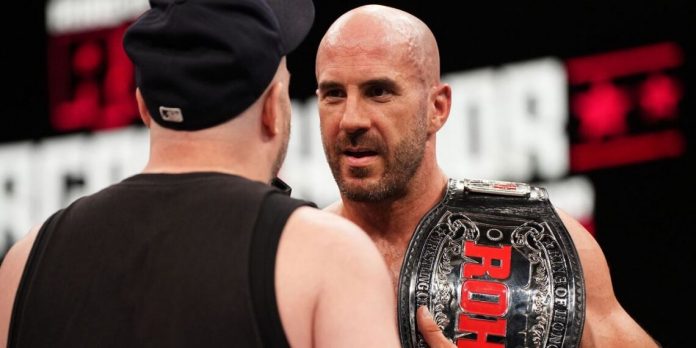 Eddie Kingston has challenged ROH World Champion Claudio Castagnoli to a match.
Kingston "quit" AEW after Wednesday's Dynamite, as PWMania.com reported at this link earlier this week. This was thought to be a storyline exit to allow Kingston to resume his ROH singles run.
In an update, Castagnoli retained the ROH World Title over AR Fox in the main event of Thursday night's ROH TV return. Kingston came out to the ring after the match to confront Castagnoli.
Kingston stated that he promised Jon Moxley that he would not face Castagnoli in AEW, but this is ROH, not AEW. Kingston declared himself an independent contractor, then challenged Castagnoli to a title match. Castagnoli, on the other hand, blew off Kingston to boos from the crowd and left without responding.
There is no word on when Kingston vs. Castagnoli will take place, but it will most likely take place at ROH Supercard of Honor on March 31 from Los Angeles.
The match will be the first between Kingston and Castagnoli since March 13, 2011, when Castagnoli defeated Kingston at CHIKARA's Creatures from The Tar Swamp event. From 2004 to 2011, the two veterans competed in numerous singles and tag team matches for CHIKARA and CZW. Kingston defeated Castagnoli at the ROH HDNet tapings on November 6, 2009, but Claudio reclaimed the victory later that month.
Here are related shots from Thursday night's show:
#ROH World Champion @ClaudioCSRO defends the title against @ARealFoxx in the main event of the first episode of the New Era of Honor!

Watch #ROH Honor Club TV, streaming at https://t.co/DK9iup9M57! pic.twitter.com/w3IJOU38dw

— ROH – Ring of Honor Wrestling (@ringofhonor) March 3, 2023
Following a spectacular main event in the first episode of the New Era of Honor, the #ROH World Champion @ClaudioCSRO gets an unexpected visit from a familiar face

Watch #ROH Honor Club TV, streaming at https://t.co/DK9iup9M57! pic.twitter.com/HocOAGlWt9

— ROH – Ring of Honor Wrestling (@ringofhonor) March 3, 2023
Things just got VERY interesting.@ClaudioCSRO @MadKing1981

Watch #ROH Honor Club TV, streaming at https://t.co/DK9iup9M57! pic.twitter.com/h9sEjyca2S

— ROH – Ring of Honor Wrestling (@ringofhonor) March 3, 2023