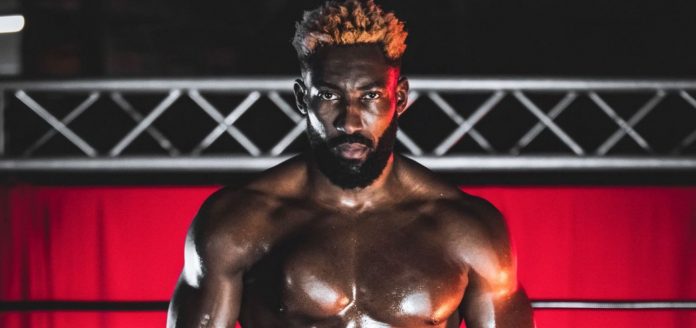 EJ Nduka recently appeared as a guest on the Grapsody podcast for an in-depth interview covering all things pro wrestling.
During the discussion, the wrestling veteran spoke about the Battle Riot crowd reaction, his run in Major League Wrestling thus far and more.
Featured below are some of the highlights from the interview where he touches on these topics with his thoughts.
On how he feels about his run with MLW: "It's been dope. Off the rip, they believed in me and have given me a lot of opportunities. Y'all gotta realize, I sitting around over there at WWE with my thumb up my butt. Nobody knew who I was. I'm just coming in every day, early, trying to grind, work, and learn the industry. Then, out of nowhere, I get let go and there are a number of companies hitting me up. MLW, they came with a plan. They weren't asking me, 'what happened?' They were like, 'Look, we got a plan,' and I had a plan too. It coincided, and my first actual match was a TV match, it was Battle Riot and I went off. I had to learn like 40 spots. You're talking to a dude that went from having practice matches, a couple of Coconut matches with quality people at WWE, then all of a sudden, we're going to hit the ground running. That's exactly what I wanted to do. I wanted to get thrown into the deep end. I knew I could do it, I just wanted a platform to show that I could do it."
On how MLW told him they wanted him to be a focal point of their Battle Riot match: "That day was a very memorable day because it was my first TV match and of course, I get 40 spots that I have to learn. At first, I tried to blank it out. I don't let the moment consume me, but I like the feeling of nerves because it makes me feel alive. I feel like pressure creates diamonds. I was excited and at the same time, 'You have to knock this out. All these people looking at you, you ain't no bust, you're that guy, you better knock this out.' I made it a point to go meet everybody, and even before the matches, I tried to watch as many people on the MLW roster as I could to learn their wrestling style, what they were good at, what I could do with them, that way we could make some magic. Coming into the deal, I had no idea what I was going to do, but I remember them saying, 'We want to make you the focal point of the Riot.' With them saying that, I was like, 'I know what that means. That means I'm going to have to do a lot.'"
On the crowd reaction he received at Battle Riot: "I wanted to make sure that every single person, I had an idea of how they worked, I would go watch their indie stuff and previous stuff at MLW, that way I'm prepared. The best way to execute is to be prepared. Sometimes, you can wing it, but for a moment like that, I had a chip on my shoulder…I still have a chip on my shoulder. I came from the WWE, thinking I was doing everything right and then what happened, happened [being released]. 'If I come over here, I'm going to show them exactly what they missed out on. I'm going to show the fans exactly who I was.' When I got released people were like, 'I didn't even know EJ was wrestling.' A lot of people remember me from either football or bodybuilding, but people were like, 'I didn't know he was wrestling.' I was like, 'I must not have been doing enough. I'm going to make that change right now.' It was an incredible day. The biggest thing I was surprised about was the response when I came out from Philly. They were nuts. I was training at D-Von's [D-Von Dudley] school and he was like, 'Philly is a tough crowd, that's the old ECW Arena.' I was like, 'Damn, this is about to be tough.' I was thinking I was gonna have to do eight backflips to get these people to chant my name. When I came out, I stood in the moment, and they were roaring."
Check out the complete EJ Nduka interview by visiting Fightful.com.