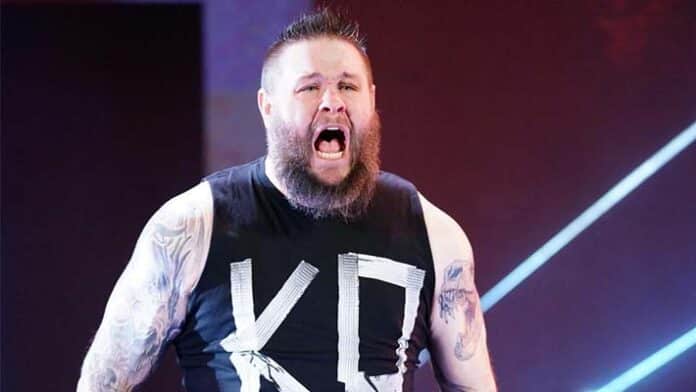 For many years before signing with WWE, Kevin Steen was known on the independent level as a 'toolbox guy' or a 'good hand'. He was one of those wrestlers who you could count on to have a good match with just about anyone. And despite critics who maligned him because of his physique, no one could argue his in-ring work ethic.
Now enjoying the fruits of that labor as Kevin Owens, he's become one of WWE's biggest stars while basically doing things on his own terms. He's reached the very top of the promotion in that time, as one of the few men who has captured both the WWE and Universal Championships. (The others are Roman Reigns, Seth Rollins, Brock Lesnar, and Bray Wyatt.)
But despite being draped in gold on numerous occasions, KO remains the guy you might see punching someone out at your local bar. He's an 'everyman', the guy who punches in before 8 AM and then might work a double shift – just to make a little bit of overtime.
Right down to his appearance, Kevin Owens is relatable to the WWE Universe
While at first glance he may be just the guy down the street, Owens has earned the nickname, 'The Prizefighter', for a reason. He may possess plenty of skills in the squared circle, but he can throw hands with the best of them.
His t-shirt has the sleeves torn out, and his fists are taped up. Every time KO walks out on Monday Night RAW, he gets a huge response, even though his appearance is a simple one. The people love him for being a prouder and more powerful version of themselves. And in many ways, they live vicariously through this bare-knuckled brawler.
One of his most endearing qualities has been how scrappy he is. In When portraying a babyface, Kevin Owens is great at fighting back as the underdog. When he fires up, so does the live audience, and it just sets the whole house on fire.
KO's role as a blue-collar babyface is reminiscent of his former WrestleMania opponent, Steve Austin
Although he was the clear heel when he squared off with the WWE Hall of Famer, Owens' masterpiece against Stone Cold Steve Austin last year really illuminated comparisons between the pair. While the French-Canadian and the Texas Rattlesnake don't have a lot in common in terms of their backgrounds, their characters are similar.
Austin played his role as the guy who 'fought the law' better than anyone possibly could. It led to a worldwide phenomenon that shot Stone Cold into mega-stardom, launched the Attitude Era, and likely saved WWE, as a whole.
While KO will never reach those stratospheric levels, he is definitely an anti-hero for the modern era. As his popularity reaches the highest of highs, he's got the perfect antagonist on the other side of the equation at this month's Royal Rumble.
Owens' feud with The Bloodline is the classic story of an unlikely hero battling against an evil empire
On one side of the ring stands the king of the wrestling world, Roman Reigns. He's been the champion longer than anyone can remember, and he's assembled his royal court around him in The Bloodline.
Adding insult to injury – Owens' former best friend, Sami Zayn, is now The Tribal Chief's jester. The entire deck is stacked against him.
That's why his challenge at the Rumble makes for such an intriguing angle. Many fans and observers will tell you that he has no chance against the Undisputed Universal Champion and that Reigns must carry the title into WrestleMania 39.
But Kevin Owens is gaining a lot of momentum. And if there were ever a time to do a crazy, surprise finish? The people wouldn't be too upset with it, either, as he's gained their respect. Both in the ring and as an overall performer and WWE Superstar.
If anyone has earned the right to pull off a shocker against the most dominant personality in all of professional wrestling, it's Owens.
Vince McMahon, himself, was once quoted as saying that WWE "makes movies".
Well, a victory for Owens could be a Rocky-type story just waiting to happen. It would be the ultimate KO… if The Prizefighter can somehow turn out the lights on Roman's reign.
What do you think? Share your thoughts, opinions, feedback, and anything else that was raised on Twitter @PWMania and Facebook.com/PWMania.