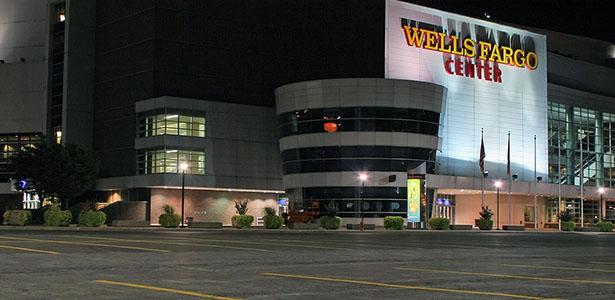 – PWMania.com reported that a fan sent word that other fans were blocking the parking lot at the Wells Fargo Center in Philadelphia last night, not allowing WWE talents to exit after the Royal Rumble. Fans were upset over the Rumble show. Another fan, Nate Albright, was in the back parking lot after the show and passed along his account of what happened:
Most fans were very excited and happy to catch a glimpse of the talent. Unfortunately, there were a few morons who ruined it, the type who give wrestling fans a bad name.
One such guy was banging on the Usos car with his souvenir metal folding chair from the floor seats. The driver slammed on the brakes and an Uso got out from the passenger side while the heckler TOOK OFF. The Uso yelled, "Come on, man! This ain't no wrestling shit! Let's go!" People cheered for this and laughed as the idiot with the chair ran away.
There was one doofus in particular who was really making a scene, and the car carrying Fandango caught the worst of it. This "fan" set up his souvenir chair directly in front of Fandango's SUV and wouldn't let him pass. Some other idiot was slamming a Hulk Hogan poster against the passenger side windshield and yelled, "Welcome to Philly! Hulk Hogan rules the universe! This is Philly and you ain't shit! We don't like WWE's bullshit!" Fandango, to his credit, stared straight ahead, but he looked really annoyed.
The same guy with the chair set up in front of the car JBL was driving, but JBL swerved and went around him, blaring his horn. Byron Saxton was in the passenger seat laughing.
Paige was super cool. Her driver beeped the horn as Paige rolled down the window and slapped hands with fans.
Ryback was also awesome. He rolled down the window of his truck and pumped his fist as the crowd chanted "Feed me more!" He was laughing and smiling.
Cameron was driving a red Camaro. She rolled down the window while stopped in traffic to talk to fans. Very cool gesture.
Other superstars and divas waived politely and smiled as they drove by, including Cody Rhodes and Eden, Lilian Garcia and Tyson Kidd and Nattie.
Some were just stone faced and stared straight ahead, including Luke Harper (who was traveling alone), Erick Rowan (Mizdow was in the passenger seat using his phone), Ziggler (ignoring the chants of "You got screwed!), Kane (who looked hilarious in a tiny Mazda) and J&J Security.
For the most part, everyone (fans and talent) were pretty cool, but there were some bad apples in the bunch causing a scene and annoying the superstars and divas.