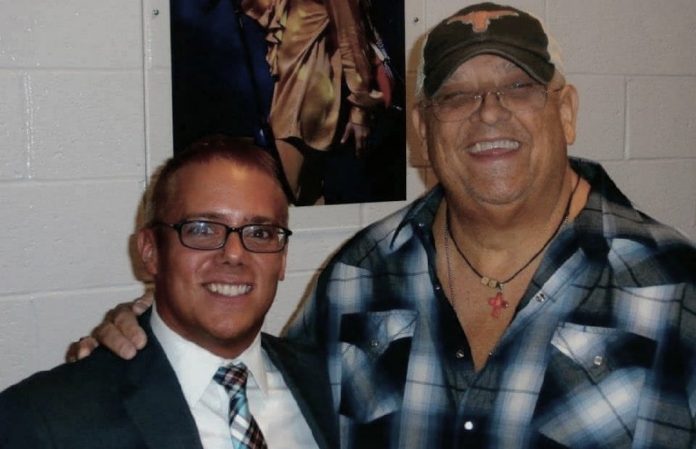 In the age of social media, it seems as though many look to focus on the negative aspects of sports, society, or politics. However, when "Thank You Naylor" trended on Twitter in 2013, it was a sign of acknowledgement for the work of a dedicated professional to the sports entertainment industry. It marked the conclusion of a Rob Naylor's two-year stint for WWE's developmental system, a tenure that saw him work alongside one of his childhood heroes, the legendary Dusty Rhodes. That social media appreciation stretched far beyond those two years in the Florida Championship Wrestling offices. For Rob Naylor, it was a shining accomplishment that had a lifetime of passionate fandom behind it.
But, how did the diehard wrestling fanatic find himself in the same office as "The America Dream"in 2011?
Despite his very unique path in professional wrestling, the Pennsylvania native discovered the sport in a very ordinary way during his childhood, surfacing through the channels on an early Saturday morning.
"Most striking thing I recall was having watched other sports prior, was when Boris Zhukov hit a referee in midst of attacking Sgt . Slaughter. Officials were never attacked in other sports so I immediately was drawn to the unpredictable nature of TV wrestling. Mayhem was an expectation every week," Naylor explained.
After the genre of theatrical violence became a regular part of his weekend, he began to search for more options beyond the limits of TV, an aspect that wasn't an easy task in the early 90s when Sega Genesis was considered a technological advancement. After a friend passed along a bootleg compilation tape of Great Muta matches, the impressionable Naylor was astounded at the grainy Japanese footage that was beamed through his VCR. Wanting access to more information from around the globe, he subscribed to Dave Meltzer's Wrestling Observer newsletter and added his name to its tape trader list, a decision that took his enthusiasm to another level.
"The earliest tapes I recall getting are a best of Sabu tape in 93 that complete blew my mind and almost made everything I saw in wrestling prior tame by comparison. Also, the classic Dr. Death vs. Kobashi match from 1993. ECW TV tapes would follow and I was hooked. Getting VHS tapes in the mail in days where footage was not readily available and pre-internet was the biggest thrill for a fan in those days," Naylor said.
He spent the rest of the decade collecting and consuming as much of the industry as he possibly could, learning as much about the athletes and the history of the squared circle as he could. At the start of the millennium when the business was at the peak of the Attitude era, independent cards became a more regular occurrence to capitalize on the surge in popularity of the sport. The chance to attend more live matches played another important role for him, opening the door to yet another side of professional wrestling.
"Seeing Low Ki hit an Orihara moonsault 15 minutes from my house was like culture shock. I never knew indies could be so exciting. That led to an obsession with the indies ever since. Some of my best wrestling memories are live ROH shows and more recent PWG BOLA shows. Just the best seeing top flight talent with no restrictions."
Naylor became such a familiar face at live events and a presence online with his well thought-out reviews of shows that he forged a friendship with many he watched in the ring at the time, often exchanging online messages with those he connected with through the shared passion for the ring.

"I love wrestling just because the volume of great wrestling will always be there, whether past or present. I don't think I will ever not be a fan of wrestling, simply based on knowing there is always something fresh and new to check out. Even if what main stream TV wrestling isn't of any interest to me at points, there's always old tapes and DVDs to watch or some fresh new federation streaming," he said.
Eventually, his vast knowledge of the action inside the ring ropes earned him some valuable recommendations from his peers, and he was given the chance to test his skills behind the mic as a commentator. After just a few years of polishing and valuable advice from such luminaries as Missy Hyatt and Kevin Kelly, Rob found himself at the desk to call matches under the WWN umbrella of Dragon Gate USA and Evolve by 2010.
"I was okay at it. I feel my best commentary work is more recent for Queens of Combat from 2017 and 2018. My Favorite match I ever called where I also felt I did a good job commentary-wise was Zack Sabre Jr. vs. Will Ospreay from Evolve in Dallas. I owe so much to Lenny Leonard for really helping me along the way on commentary. He's the best," Naylor commented.
In 2011, on a whim, Naylor gave a sample of his work to the well-respected WWE producer, Joey Mercury without any expectations from it. Describing it as surreal, Rob received a call a short time later to tryout for a role as a creative assistant for the company's developmental system. Still in shock at this opportunity, he boarded a plane for Tampa and within weeks of his tryout, he was hired to work under the direction of the previously mentioned Dusty Rhodes.

"Working with Dusty was the apex of my time there. It was great working for WWE, but for me, even greater working directly with Dusty. Dusty was my childhood hero so winning him over and overcoming countless obstacles was a huge achievement for me. Him endorsing me both while there and on my way out in a very public manner is unreal to me. The times spent in a small office with Dusty and often Byron Saxton were great. Dusty had so many stories and was truly a one of a kind human being. As much of a legend and luminary as there ever was in wrestling. I was proud to call him my boss and honored to call him my friend," Rob remarked.

After two years of working in every facet of a developmental wrestling office under the wing of a legendary Hall of Famer, Rob's time with the organization concluded as the previous FCW made its full transition to the NXT brand that is a staple of the WWE network today. Still very dedicated to media, Naylor plans to continue his work in print newsrooms, citing the ability to learn diverse aspects of culture and meeting new people as enjoyable aspects of his work outside of the professional wrestling industry. When he's not wrangling stories in the newsroom, Naylor finds relaxation through retro music,TV, or video games of the 80s and 90s. He cites Clearwater beach as his favorite place to spend his spare time. But, his passion for sports entertainment remains a part of the fabric of his life, even occasionally as a host for the Highspots Network.

"As far as within wrestling, I honestly am very happy being on the outside of it all once again. I can check things out here and there from time to time, and not put too much energy into it all. I still keep friends in literally every league possible in wrestling and value those I remain close with," he explained.
So, how did Rob Naylor achieve this dream job?
The sum total of Naylor's story in professional wrestling can seen through a combination of enthusiasm, passion, and hustle. His dedication to the industry made him a valuable assets among his peers while fans could identify with his infectious passion for the squared circle. In a sometimes cynical form of entertainment, Rob represented an overwhelming sense of positivity. More than anything, Naylor showed what can be possible when someone dares to pursue their dream job.
What do you think? Comment below with your thoughts, opinions, feedback and anything else that was raised.
Until next week
-Jim LaMotta
E mail drwrestlingallpro@yahoo.com | You can follow me on Twitter @jimlamotta