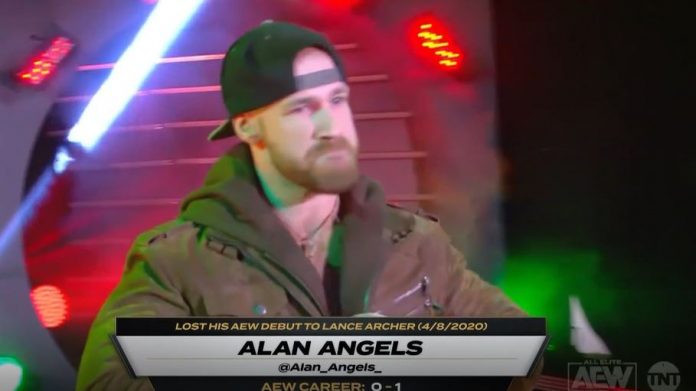 At a time when the world is experiencing unprecedented circumstances with a global pandemic that has impacted virtually every aspect of society, these are stressful and uncertain times. But, last week on All Elite Wrestling's Dynamite broadcast, an unknown grappler had the chance to stand across the ring from one of the best wrestlers on the planet on national television. With all the negatives that go along with the economic and health concerns on the revolving door of the news cycle, a gritty newcomer had the opportunity to flip the script on the gloomy situation in the world and showcase the skills that he learned along the way as he pursued his dream to be a professional wrestler.
When the bell rang inside the scaled-down venue and with Pineapple Pete next to Billy Gunn watching at ringside, Alan Angels, a 22-year-old hopeful originally from Atlanta found himself scheduled for a bout against Kenny Omega, who is considered by many to be one of the greatest wrestlers of the modern era. Truth be told, on the surface, this match-up didn't appear to be much of a challenge for the incredible athlete dubbed, "The Best Bout Machine" in Japan. When Omega was building his reputation, thrilling audiences with absolutely tremendous matches on the other side of the globe, Angels was literally learning the ropes, as he embarked on the tedious process of repeatedly landing on the stiff canvas as safely as possible at the WWA4 training center under the guidance of AR Fox just a few months after he graduated high school in 2016.

Kenny Omega was promoted in Tokyo as "The Cleaner" when Angels was actually cleaning up venues after independent shows. The usual professional wrestling playbook suggested that the three and a half year pro might last three minutes in the ring with the man that worked the main event of last year's Wrestle Kingdom. History tells us that "Iron" Mike Sharpe just wasn't going to get a near fall on Randy Savage.
I thought it'd be a good time to post this.

Thank you for the opportunity @AEWrestling This won't be the last you'll see of me. pic.twitter.com/2DXBO2s9gy

— ALAN (EAGLES) ANGELS (@Alan_Angels_) April 23, 2020

But, Angels has a drive to continue to push himself forward and considers the chance to hone his craft an evolving process. Citing influences such as Shawn Michaels and Rey Mysterio, he came to the realization early on that there are multiple levels and layers to the professional wrestling genre. So, after his debut in the squared circle in late-2016, he worked some of the minor league cards around the Georgia circuit to get an introduction to the industry that fascinated him with its spectacular athleticism and flare for the dramatics.
So I was on @AEWonTNT which is great! But what's next?…

Prove myself. 🥀💀🥀 pic.twitter.com/tNlhnOxa0S

— ALAN (EAGLES) ANGELS (@Alan_Angels_) April 24, 2020

The dirt-stained mats of the regional circuit were a harsh reminder that the journey to stardom is anything but glamours. Angels wanted to chase his dream and give himself the best possible chance to be successful, with the ambition to add more variety to his skill set so he packed up his belongings and moved to Norcross, a suburb outside of Atlanta to train with QT Marshall, a prominent member of Cody's Nightmare Family. While many have recognized QT for his energetic performances on Dynamite, he's a longtime veteran of the sport that has an extensive list of accomplishments as a trainer. Marshall is known among pro wrestling pundits as a bright mind that can provide insight into the nuances of the sport that can really take a performance to the next level. One of the many reasons for that is the expansive facility where QT teaches his students, a complex with multiple wrestling rings, a weight room, and space for conditioning exercises. After his arrival there in mid-2018, Angels cites The Nightmare Factory as one of the best decisions in his time as a wrestler so far.
With live attendance and the number of possible venues limited, All Elite Wrestling decided to use a venue in Georgia to produce its TNT show, which created an opportunity for the young Angels, who always hauls his gear bag in the trunk of his car, a golden rule among aspiring performers. While the bell-to-bell action went roughly six and a half minutes, the process to broadcast a national television show is a much more lengthy scenario.
"It was an all day thing. I've been at a few AEW shows, and it's always a big production and super impressive looking at how much goes into the show. You get there super early in your dress clothes, are told what you are going to do, and when it's gonna be. After that, you just chill in catering until it's time to get changed. It gets super intense around the time the show is about to start. Everyone is rushing around trying to get everything done. When it's time for your match, you get a little pump and then go out there. It's always funny to me that you spend all day just for those ten minutes or however long you are out there, but they are so worth it," Angels explained.
As he laced up his boots and secured his kick pads, Angels knew that this was new territory for him and this was his chance to make an impression on a national audience. With the esteemed Tony Schiavone and "Le Champion" Chris Jericho on commentary to call the action, the match began with a technical exchange that saw the former IWGP champion get the better of the youngster. Jericho, who has put himself in a league of his own in many respects with the accomplishments he had in New Japan and AEW in recent years, got a little flustered when Schiavone questioned the accuracy of his record against Omega. The Fozzy front man was so enthusiastic about his undefeated status against Omega that he accidentally called Angels, "Alan Eagles" instead, which might've been an unintended reference to the 70s rock band. Similar to most that saw this opening exchange, Jericho assumed that this "Tijuana taxi driver" wouldn't have much of a chance against one half of the AEW tag team champions.
However, "Eagles" surprised the leader of the Inner Circle when he not only mounted an offense against Omega with an array of impressive aerial maneuvers, but kicked out of the V-trigger knee, a signature strike from Omega that usually seals the deal. Eventually, a second knee put Eagles down for the three count, but the once-skeptical Jericho expressed how impressed he was with the effort of the previously unknown wrestler. For the athlete unintentionally nicknamed Eagles, he took the experience as a way to test himself and continue to grow as a performer.
"I am my biggest critic. I always think I can do better but, feedback from everyone else has been pretty good, aside from the people saying that I'm just a job guy and didn't need to last that long with Kenny. Doesn't bother me one bit though. I lived my dream and am super grateful for the opportunity It was kind of a reassurance that I should be in that spot. I feel like I was able to hang with one of the best wrestlers in the world and was just a confirmation to me that even though I might not be there yet, I'm on the right track. It also really made me realize that if you just keep grinding that good things will happen," Eagles explained.
With aspirations of traveling the independent scene to new places and work with new opponents and hopeful to one day make his own mark in Japan, it remains to be seen how far Alan Angels will go because these are only the opening chapters of his story. Still, the narrative of his match against Kenny Omega goes beyond just those six minutes in the squared circle. It's an example of what's possible when someone chases their dream and takes a shot to make a name for themselves. Only time will tell if national stardom is in the cards for him, but one thing is for sure, fans will take notice the next time Alan "Eagles" Angels steps into the squared circle again.
For more information about Alan Angels, you can follow him on Twitter @Alan_Angels_
What do you think? Comment below with your thoughts, opinions, feedback and anything else that was raised.
Until next week
-Jim LaMotta
E mail drwrestlingallpro@yahoo.com | You can follow me on Twitter @jimlamotta