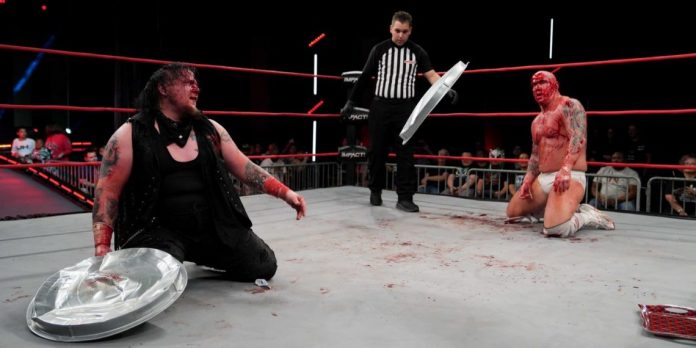 The first-ever Death Machine's Double Jeopardy match, won by Sami Callihan over Eric Young, headlined Thursday's Over Drive go-home edition of Impact Wrestling.
To win the Double Jeopardy match, you must first cause your opponent to bleed before pinning them. Everyone was barred from ringside while Young and Callihan settled the score once and for all.
The match was bloody, and it began when Violent By Design attacked Callihan on the stage before the bell rang, with Young watching from the ring. Trash can shots, headbutt exchanges, biting, eye rakes, choking, and a paper cut to Young's mouth were all part of the action.
Impact has released footage from the match, which can be seen below, but has stated that the conclusion is too graphic for YouTube and Twitter. Fans are encouraged to subscribe to Impact Plus or Impact Insiders on YouTube to watch the entire match.
"Believe it or not in the grand scheme of things this is a massive WIN! A master piece in every sense of the word! #VBD #deathmachine #impactwrestling," Young wrote on Twitter after the match. 
"Bleed for a living," Callihan added. 
Here are the related video and tweets:
The conclusion of the @TheEricYoung vs. @TheSamiCallihan match is too graphic for social media, subscribe to @IMPACTPlusApp to see the match in it's entirety – including more of the bloody angles that were not seen in the tv broadcast.

➡️https://t.co/n362K4LmZg#IMPACTonAXSTV pic.twitter.com/FbDnLvyqMU

— IMPACT (@IMPACTWRESTLING) November 18, 2022
Bleed for a living.@IMPACTWRESTLING #IMPACTonAXSTV pic.twitter.com/sDldMa9sbC

— Death Machine (@TheSamiCallihan) November 18, 2022
Believe it or not in the grand scheme of things this is a massive WIN! A master piece in every sense of the word! #VBD #deathmachine #impactwrestling https://t.co/kpKz6xpBZT

— Eric Young (@TheEricYoung) November 18, 2022