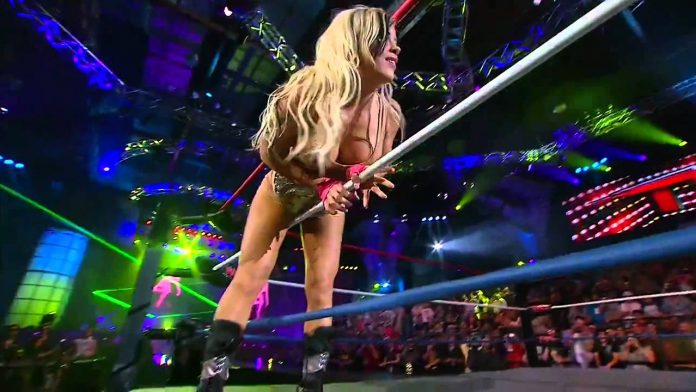 It would appear that Madison Rayne is gone from GFW.
Following Slammiversary on Sunday, the promotion updated its roster section on ImpactWrestling.com and Rayne is no longer listed as an active Knockout.
This does not look to be an oversight as her profile page was also deleted.
She is also not listed in the Alumni section.
Rayne has only wrestled once for the promotion this year. On January 8, she lost to Angelina Love in a match taped for the One Night Only: Rivals pay-per-view that aired in March. She has not wrestled at a TV taping since last October.
As of late, Rayne has been co-hosting With This Ring… with her husband, Josh Mathews. Here is their last show, which hyped Slammiversary.
Rayne has not publicly addressed her status with GFW. She continues to wrestle independently as she is making her return to the all-female promotion SHIMMER this weekend in Berwyn, Illinois. She is wrestling under her pre-Knockout name, Ashley Lane.
Rayne became a Knockout in January 2009, aligning herself with Angelina Love and Velvet Sky as part of the villainous "The Beautiful People." In April 2010, she won her first of five Knockouts Championships.