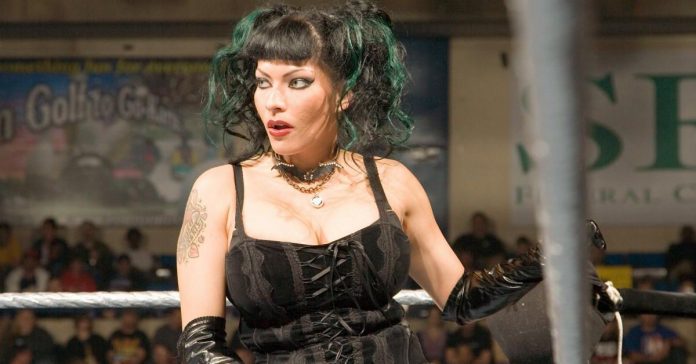 Shelly Martinez, who was known as Ariel in WWE, has opened up about an attempted rape that took place during her time in the company.
It all started when Pro Wrestling Sheet's Ryan Satin mentioned a story Vince Russo brought up on his podcast on Friday . Russo claimed that during his time in WWE, a female wrestler (who he did not name) told him that she got raped by another wrestler on the roster.
An audio clip featuring the exact moment when Russo brought up the issue was posted below.
On Vince Russo's latest show, he claims while working at WWE a female wrestler came to him saying one of the male wrestlers on the roster raped her. pic.twitter.com/n4lh82Eglr

— Ryan Satin (@ryansatin) December 8, 2017
Russo did not go into whether or not he reported the sexual assault claim. Not long after Satin's tweet went up, Martinez revealed that she almost suffered the same fate. She also claims that "others have shared with [her] that they were raped."
I almost got raped while on a over seas tour. Since then others have shared with me they were raped. So sad. https://t.co/JyHbTlKysY

— Shelly Martinez (@ShellyFromCali) December 8, 2017
She then tweeted the following, which clarifies that this happened during her time in WWE.
I appreciate those who are concerned about me after I tweeted about almost being raped in WWE I'm totally fine. I've lived with all this since then so it's nothing new. I was just chiming in on my experience to help raise awareness…

— Shelly Martinez (@ShellyFromCali) December 8, 2017
…This isn't the 1st time I've mentioned it. I've done an audio diary on it before. Maybe people are paying attention this time due to what going on it Hollywood.

— Shelly Martinez (@ShellyFromCali) December 8, 2017
Martinez was under contract to WWE from 2005 to 2007. In April 2005, she signed a contract with WWE and was assigned to their developmental promotion, Ohio Valley Wrestling (OVW). While in OVW, she used the ring name Shelly and managed several wrestlers, including Aaron Stevens (aka Damien Sandow), Paul Burchill, and Seth Skyfire. She joined WWE's ECW brand in June 2006 and using a gimmick of a tarot reader, managed Kevin Thorn under the name Ariel. She was released from her WWE contract in May 2007 during a talent purge.
During a 2013 interview, said a backstage incident with Batista led to her departure from WWE.
"Batista and I had an aggressive conversation backstage and he said something that were unnecessary and uncalled for," Martinez said. "If it was outside of wrestling, I'm pretty sure it could have been a legal problem for both Batista and WWE. But this is wrestling, and it's a man's business, so I fired back and they fired me. I was just a vampire girl in the fake ECW; he was Batista, and they wanted to accommodate him."