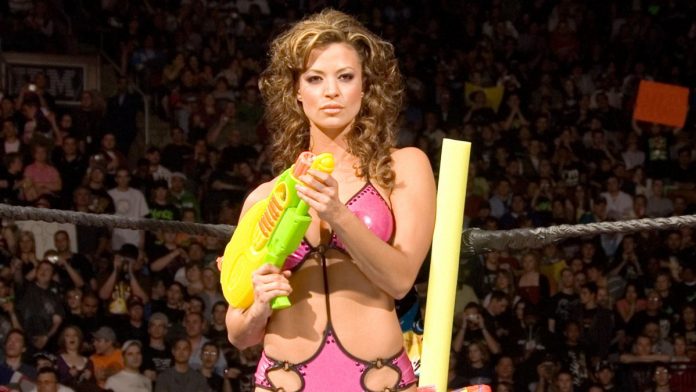 Former WWE Women's Champion Candice Michelle is returning to the ring.
The one-time Playboy cover girl will be stepping back into the ring one more time on Saturday, December 2 in Waukesha, Wisconsin for Tommy Dreamer's House of Hardcore promotion.
Candice made the announcement on social media.
This will be Candice's first match since her departure from WWE in 2009. She last wrestled on February 2, 2009, on Monday Night Raw in a loss to Beth Phoenix.
In April 2009, Candice was drafted to the SmackDown brand as part of the 2009 Supplemental Draft. She, however, never reappeared on the brand and was released from her WWE contract on June 19, 2009.
Candice retired from wrestling following her departure from WWE and transitioned into motherhood. She is now the proud mother of three daughters: AkiAnne Rose, born May 23, 2010, Ryumi Grace, born October 20, 2012, and Aloha Von Ehrlich, born July 17, 2015.
"For me, it's been an awesome transition," Candice said about becoming a mother in a 2011 interview. "I think it's because I loved my time at the WWE. I loved the people I worked with, and I felt blessed there. And then when my released happened, I think it came at a perfect time in my life. I don't think I was quite ready to say 'I'm done,' but when they released me, I realized that my life had a new venture. And then when motherhood came along, it was the best thing in the world."