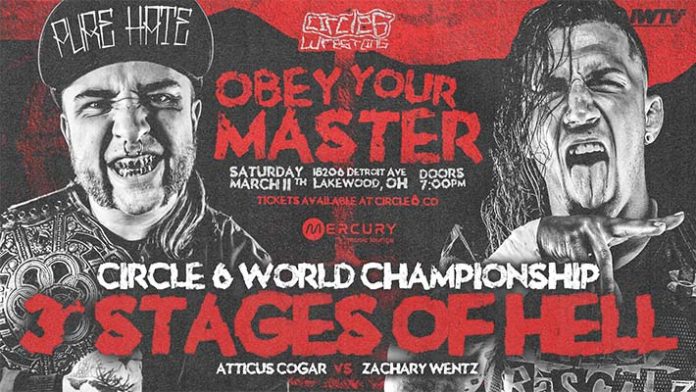 The following press release was sent to PWMania.com:
Atticus Cogar (c) vs. Zach Wentz 3 STAGES OF HELL match for the Circle 6 Championship
[Los Angeles, CA]
When Zach Wentz returned to the Indies from his stint in WWE. Atticus Cogar was the first man to welcome him back to the independent wrestling scene back in May of 2022 at Circle 6 "It's Not What You Think".
What was supposed to be a one time meeting sparked a feud that would carry on over 10 months. Atticus Cogar risked his career leaving a top independent to be the face of a new start up company in Circle 6 and after 2 months Zachary Wentz shows up to Circle 6. With his international star power and proclaimed Circle 6 as his home. Neither man was willing to step to the side or share the spotlight with the other.
Zach and Atticus have met in 2 singles matches splitting victories in each of those and stand at 1 win a piece. For both men to be able to move on, a decided victor needs to be crowned. Which leads us to March 11th in Cogar's home town of Cleveland, OH. For the final time Wentz and Cogar will Face off in a 3 Stages Of Hell Match with the hope of putting a definitive end to this rivalry.
3 Stages of hell is a best 2 out of 3 falls match with increasingly dangerous stipulations as you reach the 3rd fall. The first fall will be a lumberjack match where the Lockeroom will surround the ring to keep both men and the action inside the ring. If they happen to go to the outside, the wrestlers outside the ring are free to do as they will with either man. The Second fall will be a Strap Match. Both men will be tied together by the wrist with a 12ft leather strap that they are able to use as a weapon in anyway they can imagine. If the match makes it to the 3rd fall, that fall will be contested under Last Man Standing rules. No pinfalls, No Submissions. The only way to win is to incapacitate your opponent to the point where they can not stand to their feet by the time the referee reaches the count of 10.
Circle6 presents OBEY YOUR MASTER Saturday March 11th – Cleveland, OH Tickets are available at Circle6.co & the event will stream live on IndependentWrestling.tv at 8pm EST.