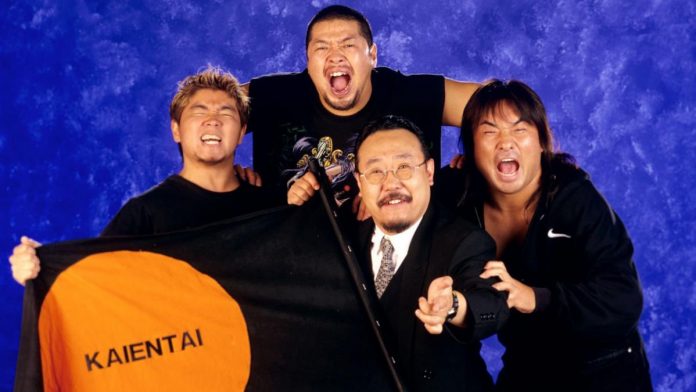 Former WWF manager Yamaguchi-San (real name Yusuke Yamaguchi) — who was paired with Kaientai during the Attitude Era — has been hospitalized after suffering a stroke.
Shunsuke Yamaguchi, who is the 59-year-old's brother and a member of WWE's Japanese announce team, posted an update on Facebook revealing the unfortunate news.
He explained, "Some of u might have heard but my brother Yusuke aka Yamaguchi Wally or Yamaguchi San had a stroke. This is a pic from 1 am est. Don't know how long he has. Some of his friends from school and Gong Magazine have visited him. Love you brother!!!"
Funaki, who was managed by Yamaguchi-San in Kaientai, tweeted afterward offering his prayers.
Prayers ?? to Yamaguchi-san and family #Kaientai pic.twitter.com/be2PvGegYf

— FUNAKI (@shofufu824) December 14, 2017
We'll keep you updated as more information becomes available.
Kaientai was a stable made up of Japanese wrestlers Shiryu, Dick Togo and Mens Teioh, later joined by Funaki and Taka Michinoku. The group debuted on Raw on March 30, 1998 and Yamaguchi-San arrived a few weeks later as their manager. Kaientai was originally referred to by the announcers as Club Kamikaze, but Yamaguchi-San announced their actual name upon his debut.
Their most infamous WWF feud was with Val Venis, who had a porn star gimmick at the time. Yamaguchi was enraged when he was shown a pornographic video of his (on-screen) wife, sleeping with Venis, and threatened to punish both of them. Mrs. Yamaguchi-San was brought to the ring for what was going to be a spanking by Yamaguchi-san using a wooden paddle, but she was rescued by Venis. A week later, just as Venis had finished a match, Yamaguchi and Kaientai showed up with a salami on a table. Yamaguchi proceeded to chop the salami while shouting at Venis, "I choppy choppy your pee pee!"
The following week, Venis teamed up with Taka Michinoku to take on Togo and Funaki in a tag team match. Taka made a swerve, however, by turning against Venis, proclaiming that Mrs. Yamaguchi-San was his sister. Venis was dragged backstage by Kaientai to have his member amputated, though the audience did not see what happened next. Venis returned after a week, explained that Yamaguchi's sword narrowly missed his genitalia, due to the lights being turned off by John Wayne Bobbitt, broke up his relationship with Mrs. Yamaguchi-San and thus ended the feud.
Teioh and both Yamaguchis left the WWF at the end of 1998 and Togo left in early 1999. Michinoku and Funaki then began wrestling as a tag team using the name Kaientai.