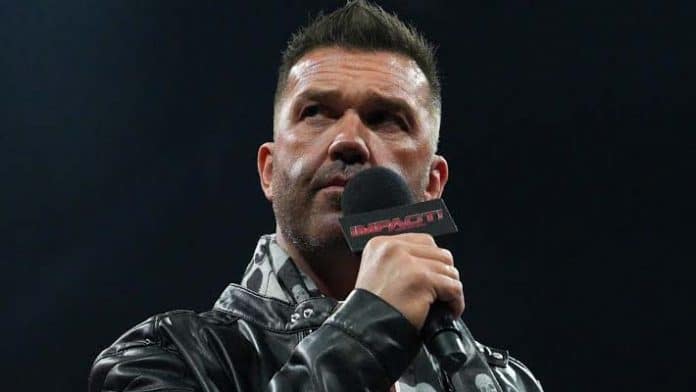 IMPACT Wrestling recently secured the talent of Frankie Kazarian full-time as the former X Division champion called time on his tenure in AEW and returned to the company during their recent event, Hard To Kill.
During a recent press pass with IMPACT's Tom Hannifan where the company announced some major new dates, Kazarian spoke about what brought him back to IMPACT and his ambitions to grow the company, both in and out of the ring. PWMania.com were at the press pass, and here's our exclusive recap:
On leaving AEW for IMPACT Wrestling:
My contract came to be rolling over, I had 2 years existing on my deal, but this was my opportunity to say I have other goals and aspirations I'd like to do. We spoke on the phone and in person at a live Dynamite taping and I voiced my concerns, frustrations, aspirations and had a long talk and I said I want to better myself. I'm not wired to sit on the sideline. I wanna do this at the highest level, and this is my peak window to do it. If my trajectory is to keep going up, I wanna go elsewhere. I can't fault them as they did right by me and on Dec 31st, I was free to go where I wanted and IMPACT was where I wanted to go.
When I was here last year for a short time during the crossover, IMPACT gave me the opportunity to show I could still go against the best, like Mike Bailey and Josh Alexander. Those are the best in the game and all I ever wanted was an opportunity to be in there with the best, as I am one of the best.
While being here that short time, I fell in love with this locker room as it's so passionate and hard working. It made me think, if I could be here full time, not a visitor, I want to try that.
Taking on Bailey and Alexander last year did a lot for my confidence, it showed I could take them on. My time is valued here at IMPACT and it was a huge factor in making this decision.
On his ambitions for 2023:
Well, I have a lot of goals inside a wrestling ring. I want a jersey and I want to be in the game and I wanna lead the team down the field. I feel I bring a lot of in ring skill to the table and a lot of knowledge to the locker room.
I have a lot of goals that concern many opponents, major championships and I want to help make IMPACT grow to the highest it can be as it is very important to me, especially early on in my career, so, now that I'm more experienced, I want to help management and the locker room in every way I can.
His view on IMPACT Wrestling in 2023:
I wanna see the growth of this company, more eyeballs on the amazing product we produce. What we are doing right now is second to none. We've got interesting characters, amazing in ring action, a fantastic all round product. So, I want to help in any way I can to get a maximum audience watching us.
The fans really like wrestlers such as Mike Bailey, MCMG, Rich Swann. They should be household names so I am going to try to do everything I can to excel that process.
We know a lot of people turned away due to the changes in management at one time, the product not really being what it should, but now, we are firing on all cylinders and it's great. I believe we can be really big else I wouldn't be here, so to help behind the curtain and especially in ring is massive for me.
On his stand out moments in IMPACT Wrestling:
There are so many firsts during my first run in impact. The first ultimate x was huge. To be one of the first 3 guys involved in something so unique was special.
Winning my first X Division title and winning it live on ppv was amazing. Then winning tag titles with Daniels was amazing. The first time we broadcast on Fox Sports, then on Spike, going prime time, these are all so special to me, so as you can see, there are many firsts that happened for me in my career during my run in TNA and IMPACT that I hold so dear to my heart.
In terms of people I wanna wrestle, man, I wanna fight everybody. Eddie Edwards, I've known him for 15 years yet never fought him in singles, so that's on the list. Rich Swann, same goes with him. Rematches with Josh Alexander, Mike Bailey, I mean there's so many I wanna get in the ring with, I cannot wait.
Participating in another Ultimate X match:
I'm not necessarily pushing for it but August 20th marks the 20th anniversary of that very first match, so there wouldn't be a better time if you ask me to celebrate that match and have one more. If I have one more, that will be the one.
Is this a homecoming or a new chapter?:
I think it's both in a lot of ways. Although it has similarities, it also feels very different. It's a different locker room of some amazing new talent, real hungry young men and women that wanna show the world what they can do. It reminds me of the old TNA when I was the young guy who wanted to prove my worth to the wrestling world.
The similarities are in that I know everyone involved in management now, and they are so cool. Great minds that bring so much to the table. We have that history of TNA and IMPACT merged together in that way and now its cool to be back to write some new history as so much of my past history was here.
IMPACT Wrestling has many amazing dates and events occuring in the near future, including a return to Canada for the first time in 3 years, as well as the biggest show of the year, Bound For Glory, taking place in Chicago this October. More info and tickets can be found here.
If you use any portion of the quotes from this article, please credit Impact's Press Pass Podcast with a h/t to PWMania.com for the transcription.