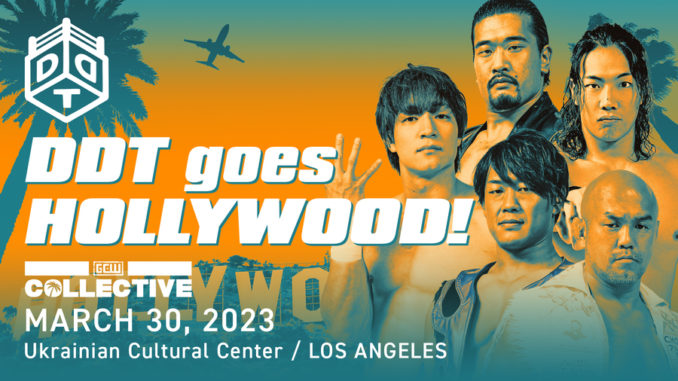 On March 30th, DDT Pro-Wrestling will head to the USA as part of WrestleMania weekend as they present its DDT Goes Hollywood event. The show is scheduled to take place in Los Angeles at the Ukrainian Culture Center.
📢3月30日ハリウッド大会全カード決定!

🇺🇸咲くやこの花同級生対決、竹下vs上野!
🇺🇸秋山がエディとタッグ結成!
🇺🇸AEWと契約した17歳の新鋭ウェインが初参戦、エヴァレットとのタッグで樋口&正田と激突!

🔽詳細https://t.co/sukhuq9nA8
🔽チケットhttps://t.co/JTWwUaQmJy#ddtHOLLYWOOD #ddtpro pic.twitter.com/XST134hveO

— DDT ProWrestling (@ddtpro) March 15, 2023
This show will be part of the GCW Collective series of events scheduled for WrestleMania weekend.
The main event of the show will see two top DDT Pro stars face off as DDT Pro/AEW star Konosuke Takeshita will meet Yuki Ueno.
In addition, AEW's Eddie Kingston will team with Jun Akiyama as they face Daisuke Sasaki and KANON.
In another featured bout, Tetsuya Endo faces Joey Janela.
Here is the full card for DDT Pro Goes Hollywood:
Main Event: Konosuke Takeshita Vs Yuki Ueno
Jun Akiyama & Eddie Kingston Vs Daisuke Sasaki & KANON
Tetsuya Endo Vs Joey Janela
Kazusada Higuchi & Takeshi Masada Vs Andrew "The Giant" Everett & Nick Wayne
MAO & Shunma Katsumata Vs Chris Brookes & Yoshihiko
Yuki "Sexy" Iino & Danshoku "Dandy" Dieno Vs Sanshiro Takagi & Michael Nakazawa
Saki Akai Vs Vert Vixen