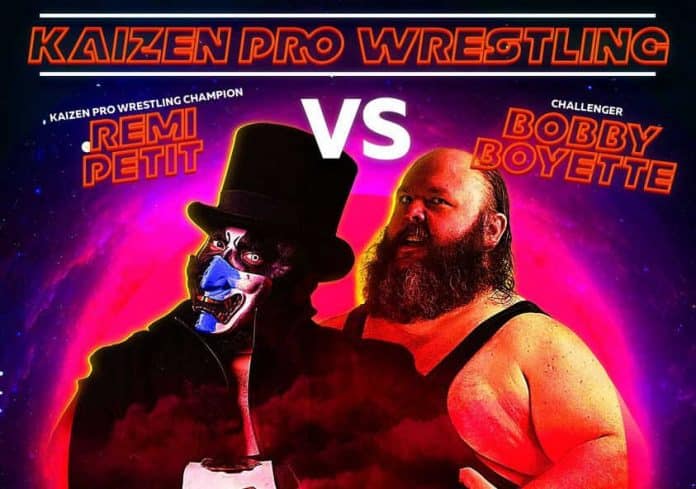 On March 4th, Kaizen Pro Wrestling heads back to the Alderney Landing in Dartmouth, Nova Scotia for another big event.
The current Kaizen Pro Wrestling Heavyweight Champion Remit Petit will be defending his title against Bobby Boyette. Boyette won a #1 contender Battle Royal back on January 7th to earn this opportunity.
Bobby Boyette has worked hard to become the #1 contender and has championship aspirations but will have to get past the very tough Remi Petit if he wishes to take the title home.
In another featured match, Mya Malek will face off against Benoit Gravel. This will be the first match back at Alderney Landing for the very popular Mya Malek since recovering from her injury.
In addition, Covey Christ has promised that he will be laying down a challenge in March 4th. What that challenge is remains a mystery. One could speculate that is has something to do with Mya Malek as the two have been at odds over the past few months. You could also speculate that it could be a challenge to the winner of the Remi Petit/Bobby Boyette match.
Here is the full card for the March 4th Kaizen Pro Wrestling Event:
MAIN EVENT Kaizen Pro Wrestling Championship: Remi Petit (c) vs Bobby Boyette
Andrew Love vs Ryan Cleary
Submission Match: Draven vs James Ryder
Mya Malek vs Benoit Gravel
Scramble Match: Justine Ward vs Joey White vs Daniel Wall vs Ryan Dennim
Covey Christ lays down a challenge
This event is expected to be released on IWTV streaming service. All previous Kaizen Pro Wrestling events are currently available on IWTV.