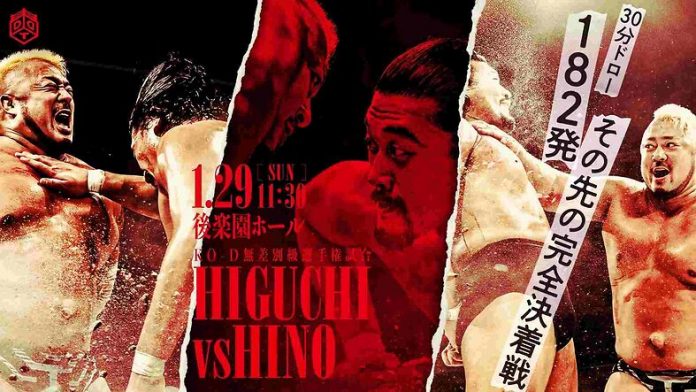 The legendary Korakuen Hall in Tokyo, Japan hosted DDT Pro-Wrestling Sweet Dreams 2023 event on January 29th in front of a capacity crowd.
The headliner of the show featured the KO-D Openweight Champion Kazusada Higuchi attempting to turn back the challenge of Yuji Hino. This was Higuchi's 6th defense of the KO-D Openweight Title.
In a hard fought battle that saw over 200 combined chest chops, Yuji Hino defeated Kazusada Higuchi to become the new KO-D Openweight Champion.
After Yuji Hino's victory, both Yukio Naya and HARASHIMA confronted the new champion, each wanting to be Hino's first challenger. Naya and HARASHIMA will meet on February 26th to determine the who will challenge Hino for the KO-D Openweight Title on March 21st at Judgement 2023.
There were two other title matches on the event and the D Generations Cup Tournament kicked off with A and B Block action.
Here are the full results and highlights for DDT Pro-Wrestling Sweet Dreams 2023:
Main Event KO-D Openweight Championship match: Yuji Hino defeated Kazusada Higuchi (c) to become the new champion.
KO-D Tag Team Championship match: MAO & Shunma Katsumata (c) defeated Makoto Oishi & Shiori Asahi to retain
KO-D 6-man Tag Team Championship match Tetsuya Endo, Kotaro Suzuki & Yusuke Okada (c) defeated Yuki "Sexy" Iino, Danshoku "Dandy" Dino & Koju "Shining Ball" Takeda to retain
HARASHIMA, Chris Brookes & Yukio Naya defeated Naruki Doi, Jun Akiyama & Soma Takao
Yuki Ueno, Shinya Aoki & Toui Kojima defeated Tanomusaku Toba, Yukio Sakaguchi & Hikaru Machida
D GENERATIONS CUP B Block Match: Keigo Nakamura defeated Takeshi Masada
D GENERATIONS CUP A Block Match: Hideki Okatani defeated Kazuma Sumi
🔴WRESTLE UNIVERSEで生配信中!

樋口と火野の対戦に小細工はいらない! 力と力の真っ向勝負! このチョップの音を聞け! これがDDTのヘビー級対決だ!

🔽今すぐ視聴!https://t.co/4ylCR7hFGj#ddtpro pic.twitter.com/pNXw6DBKVW

— DDT ProWrestling (@ddtpro) January 29, 2023
🔴WRESTLE UNIVERSEで生配信中!

ついに火野のチョップで樋口が崩れ落ちる! 勝負と見た火野が樋口の巨体をぶっこ抜くと、豪快すぎるFuckin'BOMBで叩きつけた! 

🔽今すぐ視聴!https://t.co/4ylCR7hFGj#ddtpro pic.twitter.com/Fn9ymEdBZN

— DDT ProWrestling (@ddtpro) January 29, 2023
🔴WRESTLE UNIVERSEで生配信中!

4者入り乱れての乱戦に! 一瞬も目が離せない攻防の中、勝俣が渾身のバズソーキックを叩き込む…が、次の瞬間、大石が電光石火のトルネードクラッチ!

🔽今すぐ視聴!https://t.co/4ylCR7hFGj#ddtpro pic.twitter.com/U3tdCTPirt

— DDT ProWrestling (@ddtpro) January 29, 2023
🔴WRESTLE UNIVERSEで生配信中!

高尾が連携攻撃をしようとしても秋山は「自分でやれ!」。仕方なく土井が入ってきてDOI555から、高尾がトラースキック!

🔽今すぐ視聴!https://t.co/4ylCR7hFGj#ddtpro pic.twitter.com/Xls51PcWXR

— DDT ProWrestling (@ddtpro) January 29, 2023
🔴WRESTLE UNIVERSEで生配信中!

D GENERATIONS CUPに優勝してハリウッド大会に出ることしか見えていない正田は怒涛の攻撃! しかし勝負を賭けた正田の三角蹴りをかわした中村が…

🔽今すぐ視聴!https://t.co/4ylCR7hFGj#ddtpro #ddtDGC pic.twitter.com/l0nbYqVF03

— DDT ProWrestling (@ddtpro) January 29, 2023
🔴WRESTLE UNIVERSEで生配信中!

優勝候補の岡谷としては、後輩の須見が相手のこの初戦を落とすわけにはいかない! エグい角度の逆エビ固めで追い込む!

🔽今すぐ視聴!https://t.co/4ylCR7hFGj#ddtpro #ddtDGC pic.twitter.com/Q4HCLTmgtr

— DDT ProWrestling (@ddtpro) January 29, 2023