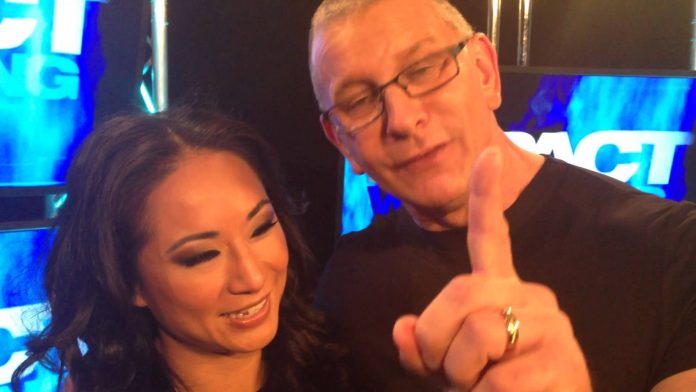 – Above is video of celebrity chef Robert Irvine getting physical with Josh Mathews and Scott Steiner at the Slammiversary pay-per-view last night before Jeremy Borash made the save. As noted, Irvine's wife Gail Kim was backstage for the pay-per-view. The Impact Hall of Famer is expected to make her return at the TV tapings this week.
– Al Haft sent word that the cheerleaders for Impact Grand Champion Moose and NFL player DeAngelo Williams at Slammiversary were Team Vision Dojo talents Mila Naniki and Amanda Keiner. Team Vision's Kaci Lennox, Raegan Fire and Shaniah Arlyana also worked the show as members of Rosemary's entourage.
– Social media stars "Swole Mates" Andy Velchich and Freddy "Partyboy" Hardy are backstage at today's GFW Impact TV tapings in Orlando. No word yet on if the bodybuilders will be appearing on Impact but as seen below, they do have a special airing on POP TV after Impact goes off the air on Thursday, July 20th. It's possible that the two film an appearance to promote their special.