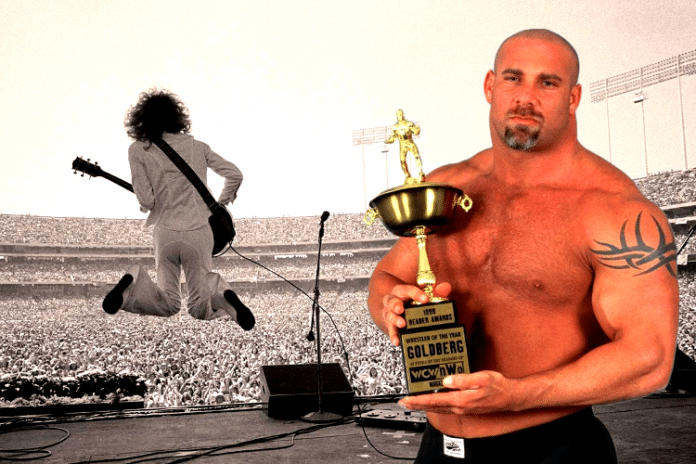 The meteoric rise and measured re-entry of The Legendary Ax Man & The Master of the Jackhammer have more in common than you may think

"Shooting stars are not stars at all. They're just rocks that enter the atmosphere and catch fire under friction. What we wish on when we see one is only a trail of debris."
— Author Jodi Picoult
On July 6, 1998, when the referee's hand came down for the three-count to cap off Bill Goldberg's WCW World title win over Hulk Hogan, the intensity was enormous. Standing in front of 41,412 rabid fanatics in Atlanta's Georgia Dome, the new champions star would shine more brightly. In fact, that singular snapshot would forever be etched in history as the defining moment in his professional life.
For months, the hype around Goldberg had been building, but it reached its apex that night in Atlanta. As he held two titles over his head in the same city where his corporate overlords made their home, he was the king of the castle. A former Georgia Bulldog, he was the prodigal son who returned home. But this time? There was no doubt who the franchise player was.
However, the newest emblem of the empire was also an enigma – a mystery to most observers. While he had burst on the scene with a flair all his own, he had done so in a non-traditional manner. He hadn't 'paid his dues' by toiling in obscurity for years. That, along with a lack of polished skills, made him an easy target for critics. Because of those issues and (quite frankly) flat-out jealousy on some people's part, he wasn't endorsed by a lot of old-school veterans.

It can be argued that some of the criticism was warranted, despite the fact that he was the fastest-rising phenomenon his industry had seen up to that point. And arguably, the only star in his genre who could match him in popularity and profile was Stone Cold Steve Austin.
He had been put on a fast track to success, much to the dismay of his contemporaries and the detriment of his own skills. It also didn't help that in his first stint in WWE, he was essentially behind enemy lines.
That made his brutal style unique but appealing. His awesome presence would hypnotize a crowd, and his physicality provided a powerful punctuation mark. Indeed, it was often hard to discern where the sick smack of his spear ended, and the roar of the crowd began. They just blended together in violent symmetry.
Goldberg shot to the top of the charts, despite not always being a darling of the critics. Because of that, he's often viewed unfavorably in terms of history. Much like a young rock star who followed the same type of roller coaster ride to the top that the former football star did.
Guitarist Peter Frampton exploded like a firecracker on the music scene in the late 70s with one of the most influential albums and signature style ever. And much like Goldberg, he was a guy who 'wasn't supposed to be' there.

His majestic performance, Frampton Comes Alive was the named 1976's "Album of the Year" by the readers of Rolling Stone magazine. It took the world, and the charts by storm, as fans were hypnotized by the musician's unusual use of technology. Frampton's 'talking-box' guitar was his calling card, and he got out of it every good note it could muster.
Frampton had been on the scene for a while, playing with bands like The Herd and Humble Pie. But this rocket-like rise to the top is really what made him a household name. The album went on to become one of the best sellers ever. Unfortunately, it also brought with it a lot of criticism of Frampton's overall skills.
While many hailed him as a bit of a prodigy, some music elitists scoffed at him as a one-note guitar picker. Those same people dismissed him as a teen idol, particularly when his audiences began to be mostly women. And when he never reached the success of his massive live album again? It only gave the naysayers more ammunition.
In the same way that Goldberg was often held up as a pariah amongst his peers, Frampton always found himself being ranked behind lesser-known stars. Goldy was ridiculously labeled as a Stone Cold Steve Austin knockoff. On the flip side, Pete was sometimes chided for not having the same playing prowess as fellow guitarists like Eric Clapton and Jimmy Page.
Also like Goldberg, Frampton spent a lot of years where people didn't love their way. And they both stayed out of the public conscience for long stretches of time. However, both men would have a renaissance later on in life. For the wrestler, it was a chance to return to WWE in late 2016 to mend some fences. And for the rock star, it was overcoming health and an addiction to 'white sugar'.
"I knew I would make it back," Frampton told The Guardian in a 2020 interview. "It just took a lot longer than I thought."
And in a lot of ways, Big Bill probably knew he would end up floating through the WWE Universe at some point. Even while he was on his decade-long sabbatical from the promotion, he always hinted that he felt like he had 'one more run' left in him.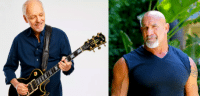 Goldberg's successful comeback tour and huge matches with Brock Lesnar were music to many fans' ears. Even some of those who thought he was a one-hit-wonder, a blip on the radar in the midst of the explosive Monday Night Wars.
Both men also reinvented themselves later on, with television appearances and interviews, often even making jokes at their own expense.
Unfortunately for the two of them, their amazing accomplishments will always carry an asterisk in the eyes of many fans. Which is a shame, and begs an even bigger question.
Why do we – especially in terms of pro wrestling – tend to find the weaknesses of an entertainer or performer, rather than focus on their larger-than-life performances? How big of a star do you have to become before you have reached the status where you're no longer considered a flash in the pan?
Because both of these men prove that just making it to the top of the charts isn't enough sometimes. It's staying there that matters to many, even though most of their dedicated followers don't seem to care. Due to their lack of sustained success, many critics will never 'feel how we do' about these two legends.
Ryan K Boman is a sportswriter whose previous work has appeared at The Miami Herald, SB Nation, Fansided, and Yardbarker, as well as several other print & digital media outlets. Follow him on FACEBOOK | TWITTER | INSTAGRAM
What do you think? Share your thoughts, opinions, feedback, and anything else that was raised on Twitter @PWMania and Facebook.com/PWMania.