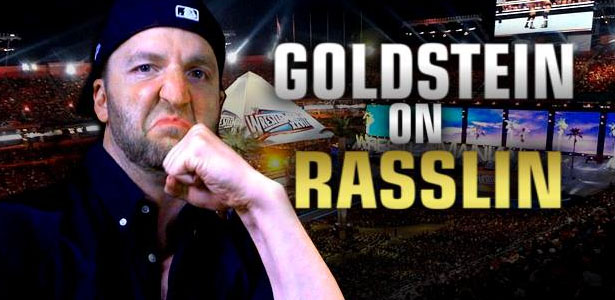 WWE WrestleMania 31 Predictions
Fatal 4 Way for the WWE Tag Team Titles
The Usos vs. Los Matadores vs. Big E and Kofi Kingston vs. Cesaro and Tyson Kidd (c)
Same great mish-mosh, same bad taste. In one match we have one fully-formed tag team here with the Usos, another cohesive unit that couldn't get over in the decade they look like they came from – the 80's in Los Matadores, an undefined swing-and-a-miss of a tag team concept that's just a tad bit racist in the New Day, and a fun tandem of disparate, discarded mid-card parts, full of potential if they could just get some matching gear and a team name in champs, Cesaro & Kidd. Because of the rise of cousin Reigns and the induction of pops Rikishi into the HOF, I lean towards a Mania moment for the Usos, if only to keep the island boy love theme going this weekend. Usos.
Ladder Match for the WWE Intercontinental Title
Dolph Ziggler vs. R-Truth vs. Dean Ambrose vs. Luke Harper vs. Stardust vs. Daniel Bryan vs. Bad News Barrett (c)
I can't hate on this match too much since I'm the one who's been beating the drum for the return of the MITB ladder match to Wrestlemania but I will say the paradigm shift away from Mania being the season finale to a year's worth of storyline into a mish-mosh, catch-all card full of crowded gimmick matches just to get every worker on the roster a WM payoff has me down on this match. That said, the smart money is on the WWE giving Daniel Bryan his runner up to Miss America Wrestlemania moment by having him rip down that IC title at the end of the match. If not Bryan then I go with Ziggler here but one thing is for certain, this match – regardless of winner – will steal the show. YES! YES! YES! Daniel Bryan will be victorious.
Andre the Giant Memorial Battle Royal
See above comments about crowded, gimmick, paycheck matches over-populating recent Mania booking… Aside from that, I'm confident all signs point to the triumphant return of the Great White warrior Sheamus. That's my pick, fella!
Seth Rollins vs. Randy Orton
Man I want to root for Randy Orton so badly as he's by far one of the top three workers in the business right now… but WWE always just finds a way to book him down the drain.. Or is it his one-note, droll personalty's fault? Either way I think the WWE missed a Big Show sized opportunity to capitalize on the viral sensation that is the "RKO out of no where" upon Randy's return to action. But like Ryder, Punk, Fandango (and anyone else who's had some morsel of individuality organically catch on with the mainstream) before him… if the WWE didn't give birth to it, it never existed. As a result, unfortunately all we get is regular old, boring Randy Orton on Sunday instead of a revitalized, Austin-like, anti-authority aas-kicker. Give me Rollins, with an assist from the MITB Samsonite, and the best act in wrestling today, J & J Security.
AJ Lee and Paige vs. The Bella Twins
The #GiveDivasaChance movement is firmly upon us with some killer 10-15 minute matches on RAW the last month among these four talented ladies. But the recent in-fighting between AJ and Paige lead me to believe that the WWE's version of the Kardashians maintain their status atop the headlines with a victory at Wrestlemania.
Bray Wyatt vs. The Undertaker
Like Phillies' starting pitchers, Taker's best years are behind him and just because he lost last year doesn't mean he can't lose again this year – I mean look at Cliff Lee's elbow! He can't disappoint us again, can he? Yes he can! And yes the Undertaker can lose two years in a row without it damaging his legacy. Unlike with last year's surprise loss to Brock, this year WWE will use the power of the Undertaker to realize Bray's manifest destiny of becoming the company's new face of fear. (Apologies to the Barbarian) With few tricks left up Taker's trench coat sleeve, one of his final acts no doubt must be putting Bray Wyatt over and solidifying him as WWE's new monster heel. Follow the Buzzards to a Bray Wyatt win.
WWE United States Title Match
John Cena vs. Rusev (c)
This year of dominance by the Bulgarian Brute has to come to some kind of an end. All streaks must end (see Taker, Goldberg, Chip Kelly's silence etc…) What better way to finally beat the monster who has literally made everyone on the WWE roster quit over the last year than to have him lose to the guy who tells anyone who will listen that he "never gives up"? The story writes itself. And I owe you a Philly cheese steak if Cena doesn't go over.
Triple H vs. Sting
You need only ask one question with regard to this once-in-a-lifetime spectacle: "Why bring Sting in after 14 years just to lose to HHH?" Unfortunately when you deal with HHH, it's never that simple. Part of me would love to see WWE troll the internet wrestling community by having HHH go over and add another name to the pantheon of contenders they believe HHH has buried over his illustrious career. But the IWC is not indicative of the reality in which we find the Icon Sting in a WWE ring. In that reality, I can't see any reason not to put Sting over. HHH certainly doesn't need the win and it just solidifies Sting's new WWE presence going forward for DVD's, merchandise, and promotional appearances. STINGER
WWE World Heavyweight Title Match
Roman Reigns vs. Brock Lesnar (c) with Paul Heyman
I am completely confounded by this match. With the news that Brock is done with the UFC and committed to the WWE for the forseable future, the possibilities in this match are now endless. The smart mark in me sees some kind of Rollins/Authority interruption with a potential for a MITB cash-in attempt. But then the logical side of me reads the tea leaves the last six months and recognizes the WWE's mission. To crown Roman Reigns as the next franchise talent in the WWE. All that being said, I still have no idea how this match ends but if I'm booking, I keep the title on the most credible, believable, mainstream appealing champion WWE has had since the 90's. Brock.
What do you think? Comment below with your thoughts, opinions, feedback and anything else that was raised.
About Andrew Goldstein: Andrew is a former WWE creative writer who is now a morning TV producer and comedy writer.