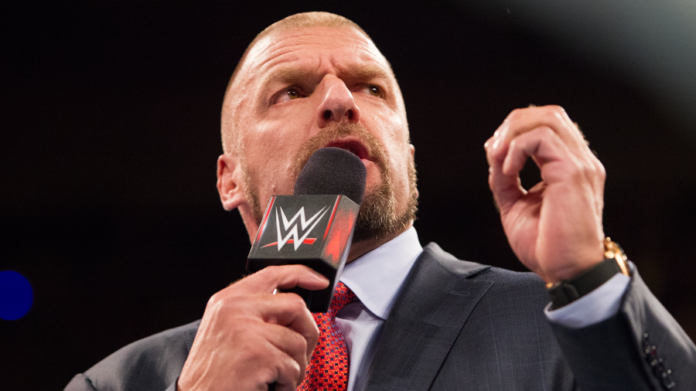 – As noted, IGN announced another 37 playable Superstars for the WWE 2K18 video game today. You can see the current confirmed roster on the main page. Above is video of WWE NXT Superstar Ember Moon's entrance.
– Triple H recently did a brief interview with NBC Sports to promote The Mae Young Classic at this link. He commented on who were some of the competitors that really stood out when he saw them in person as opposed to watching videos of them:
"Jazzy Gabert from Germany was a real standout performer. I'd seen tape of her and was obviously aware of her, but when I saw her go in person, it's one of those things where sometimes when people see talent in other places they'd say 'Oh yeah we knew she was great too,' but when you bring them up for a big opportunity it's like the prizefighter that's really good, but when he gets in the pressure of a world title match, he's just not what he should be. That level of pressure is different.
Some of these girls did better, some didn't do as well, but certain ones thrived and Jazzy Gabert was one that really thrived. Bianca Belair, who hasn't been doing this for very long, has a level of poise that just blew me away. Shayna Baszler is somebody that I've seen begin to make the transition from MMA into what we do and sometimes that can be a rough transition.
Xia Li is someone that a year ago didn't even know what WWE was, but when I saw her perform I was blown away. When she came back [through the curtain] she was balling because I think she amazed herself.
So there were a lot of those stories. People who came in that you knew had the ability, but when you saw them in person, they just came into their own. Some have been doing it for a long time. Mercedes Martinez is another one who I knew was good, but when I watched her go I was thoroughly impressed."
– Lilian Garcia took to Instagram today and posted the following to mark 18 years since she first debuted with the company. Lilian has worked for WWE a few times over the years, her last departure coming on August 1st of 2016. She wrote:
18 years ago today I started my 1st day on the job with @WWE on Monday Night #Raw . Little did I know what an adventure I was about to embark on. I traveled the world, worked with the most amazing Superstars, worked with an incredible behind the scenes staff, and got to create an unbelievable bond with you, the @wweuniverse ! Now I am off on my new venture of my podcast #ChasingGlory on @podcastone and I can't thank you enough for coming along with me and sharing this new experience. I'm loving getting your reviews on the interviews I'm conducting and how positively they are affecting you! It makes me real happy that we can continue this ride together. So thank you for all the incredible memories thus far! I #LOVE YOU! #grateful #newventure