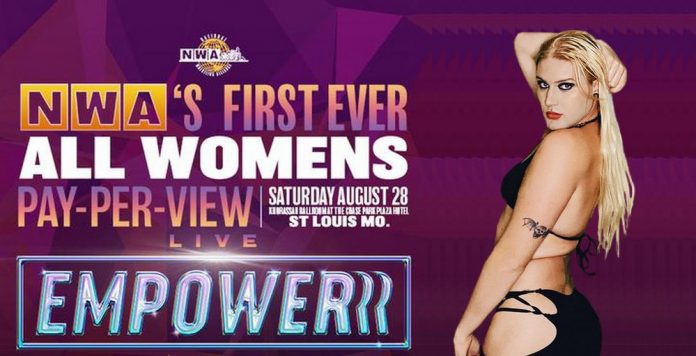 The legacy of the National Wrestling Alliance famously goes back 1948, a time when a group of promoters formed the most powerful organization within the genre of sports entertainment for the next few decades. As we know, the names of Thez, Gotch, Funk, Race, Flair, Steamboat, and Aldis decorate its storied history. With 73 years behind it and one of the oldest professional wrestling groups in existence, nearly everything has been accomplished in some form or fashion under the NWA banner.
After Smashing Pumpkins front man, Billy Corgan, someone that has as much passion for sports entertainment as he has talent on the guitar, rescued the initials in 2017 with a purchase of the promotion, the NWA had a true resurgence, and since that time has not only restored the prestige of the letters, but also provided a platform for numerous talented individuals to make a name for themselves.
One of the avenues to a bigger stage for deserving talent is next month's NWA Empower, an all-women pay-per-view that will be held August 28 the day before the organization's 73rd anniversary event in St. Louis, a territory with its own lengthy NWA history under the direction of legendary promoter, Sam Muchnick. The same city hosted the famous Bruiser Brody vs. Ric Flair bout that is still a topic of conversation nearly 40 years later. Tag team action thrilled fans of the Jim Crockett Promotions territory in North Carolina when the Rock N' Roll Express battled The Midnight Express. In Mid-Atlantic, "The American Dream" Dusty Rhodes talked about "hard times" and inspired a generation.
Without a doubt, so much has been accomplished under the NWA umbrella that it's very, very rare that there's an opportunity to witness a first-ever happening within the National Wrestling Alliance. However, on that August night in St. Louis, history will be made when Jamie Senegal, an independent wrestling standout for a little over six years, will make her debut for the promotion on the Empower pay-per-view as the first transgender athlete in the extensive history of the National Wrestling Alliance.
hi my name is Jamie Senegal. i love:
– water
– helping animals
– women's wrestling
– my ferret, 3 dogs, and cat
– ATVs & motorcycles
– horror
– whoopin' ass
– getting booked
u should book me too. pic.twitter.com/1moYgqu6jc

— 𝖏𝖆𝖒𝖎𝖊 (@thejamiesenegal) April 29, 2021

Breaking into the sports entertainment world in 2015, Jamie began her journey toward the squared circle when she started learning at the Atomic Championship Wrestling training center, a group that was originally established in 2000 and also promotes Rogue Women Warriors cards in eastern Pennsylvania. Senegal knew that knowledge was power and wanted to make the most of the chance to learn the ring ropes so she studied different styles at the Combat Zone Wrestling academy as well.
Describing wrestling as "an unsolvable rubix cube," Jamie explained the training process saying, "Training was fun, but super hard. I loved learning and still do."
In June 2015, Jamie nervously laced up her boots and secured her kick pads just moments before her first pro match, something she dreamed about for more than a decade when she first saw the sport beamed through her television screen. Jamie recalls that a noticeable amount of skin was chopped off of her chest before the final bell in the bout against her original trainer, Tate Hammer, but her sister and late cousin, Jared were in the audience to voice their support.
Aside from welts that looked reddish and a few shades of purple of her chest, it was also very noticeable that Jamie had a natural athleticism and poise inside the ring ropes. Her skills on the canvas in her formative years of competing were well beyond her experience level. But, it should've been no surprise, though as she was a three-sport athlete in high school, competing as a cheerleader, gymnast, and diver. An acrobatic and fast-paced style that blended elements of her previous sports background into the grappling arts made for an innovative presentation that made Senegal stand out.
Woohoo https://t.co/tqnvJvQn11

— Lisa Marie Varon (@REALLiSAMARiE) July 22, 2021

As we know, the over-the-top world of professional wrestling meshes the athleticism with the spectacle of drama, something that Senegal embraced with a style all her own. Inspired by performers like Mickie James, Ashley Massaro, Victoria, Daffney, and Shelly Martínez just to name a few, Jamie took part punk rock and mixed it with some classic glitz and glamour to produce an in-ring persona that was uniquely her.
"They were major influences in my life," she said enthusiastically.
In an industry built on show business, the ability to be an original is often cited as a major factor for success, and from as early as her rookie year, Senegal found a way to be an original. While getting her start near her home turf outside of Philadelphia, Jamie knew the way to truly make a name for herself was to expand her territory, and her skills in the ring garnered her the chance to zigzag across different states for a variety of promotions. Industry pundits know the valuable experience gained through traveling as a wrestler, and it was a challenge that Senegal was more than willing to accept, but it was also a sign of the next stage of her career as it was another aspect of the profession to prepare for with each match.

"Traveling has taught me how to work in front of different crowds. No two crowds are the same and different places have people who aren't used to the same stuff. The toughest part was the initial shock of the hard working days, long travel, and lack of sleep," Jamie explained.
As she became more comfortable in the ring, Jamie became more comfortable in her own skin and began the transition as a transgender female, a process that she continues today until medical supervision. The professional wrestling community, comprised of flamboyant, hardcore, brawlers, berserks, grapplers, and the myriad of personas in the sport, embraced Jamie's decision with their support. But, Senegal sees her role as a transgender wrestler as something more than just a personal achievement, and understand the opportunity to inspire others. She exclaimed, "to spread representation" when asked about being known as the NWA's first transgender athlete.
The late-night car trips, gas station food, and gathering just enough energy to make it home before she fell a sleep paid off on a number of levels. Through her efforts in the squared circle, Jamie not only had the chance to get to know one of the performers that inspired her to pursue the sport, but also gained a mentor from it. Dubbed "The Scream Queen" for her days in both WCW and TNA, the eccentric lady known as Daffney audibly etched her name in the pages of wrestling history with her own unique career. Jamie affectionately calls the former WCW Cruiser weight champion her "wrestling mom" and it was a photo of the two of them that caught the attention of the legendary Mickie James, an executive producer for the Empower event that has legitimately recruited talent based on her recommendation. It's quite ironic that another of the female athletes that Jamie idolized as a youth would be the one to extend the biggest opportunity of her career, an invitation to compete on the historic pay-per-view card.
I can't wait to see you shine!!! It's official. @thejamiesenegal will be in the @nwa #WomensInvitational accompanied by @TheGlamazonPDM !! See you at #EMPowerrr https://t.co/8YKliw6Hmo

— Mickie James~Aldis (@MickieJames) July 21, 2021

"This is the most amazing blessing that has came upon my life. The last couple months have been very hard, especially with COVID-19 effecting the world the way it has. I am so grateful for Mickie and NWA for pulling the trigger on such a historic event," Jamie remarked.
The 23-year-old athlete knows the Empower pay-per-view next month is a major stage, but looks to use this opportunity to continue to pursue even more goals in the sport and to inspire others.
"The most rewarding is getting to have the most intense high you'll ever have, being in that ring, in front of a super hot crowd. I want to wrestle everywhere. I want to wrestle everyone. I want to make a difference for queer wrestlers and help everyone make their dreams come true," she said.
Professional wrestling is such a unique genre. It's sport, theater, and drama. Athletes from every part of society can excel if they have the talent, and thus fans from every aspect of society can find performers that they can identify with and cheer to victory. For Jamie Senegal, pro wrestling was a part of her path to discovering who she was and gave her the chance to represent others. She will make history next month on pay-per-view as the NWA's first transgender athlete, not only because of her transition, but the talent she brings to the table. That talent will give her the opportunity to make history on pay-per-view next month. Most importantly, that NWA stage will make Jamie Senegal truly empowered.
For more information about Jamie Senegal, you can follow her on Twitter @thejamiesenegal
What do you think? Comment below with your thoughts, opinions, feedback and anything else that was raised.
Until next week
-Jim LaMotta
E mail drwrestlingallpro@yahoo.com | You can follow me on Twitter @jimlamotta