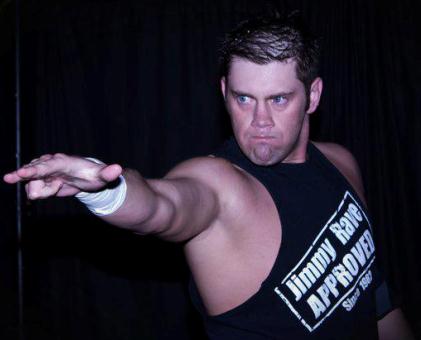 Most middle school kids are focused on a science project, a book report, or they avoid all scholastic responsibilities and spend their time conquering levels on the newest video game. However, when Jimmy Guffey was a youth during the peak of the "Attitude Era," the biggest boom in popularity of professional wrestling, he didn't concern himself with winning fictional titles in "career mode" on Playstation or Nintendo 64, but rather a goal that saw him actually step foot into a real wrestling ring. At just 14, Guffey began a journey, a path that saw him quite literally grow up inside the squared circle.
A fan since before his days in elementary school, Jimmy Guffey had always enjoyed the athleticism and the theatrics of sports entertainment, but didn't realize the sport existed outside of his television screen. When his family relocated to Marietta, Georgia when he was 13, an independent wrestling event was held at the local high school, and the youngster was amazed at the up-close aspect an indy event provided. Around that same time, Guffey attended baseball practice one afternoon and spotted a legend on the field. The legendary "American Dream" Dusty Rhodes attended the practice with his son, Cody. The future Ring of Honor and NWA champion attended another school in the area and was also there for baseball practice. "The American Dream's" presence had a profound impact on Guffey and led him to pursue an opportunity to learn the craft.
"My first baseball practice at 13 years old, I saw Dusty Rhodes at the field then realized I was in a hot bed of wrestling. I quickly sought out a school and started training," he explained.
In 1999, after he learned the proper techniques of the sport at a local training center, Guffey made his professional wrestling debut, as the 16-year-old Mr. XTC, a masked persona he used in the early stages of his career. Within time, Guffey adopted a moniker that would become known around the globe as he proclaimed himself Jimmy Rave. He quickly earned praise for his natural ability inside the ring ropes, and aside from the Georgia indy scene, Rave garnered notoriety from magazines as one of the performers to watch in the new millennium. More specifically, NWA Wild Side, an affiliate located in Georgia, saw Rave win its Jr. Heavyweight title in 2001.

After he received praise for his combination of aerial ability and solid technical skills, Rave began to branch out around the independent scene in the years that followed, working for NWA-TNA during its formative years in contests that aired on syndicated "Xplosion" TV and the national pay-per-view broadcasts that took place in Nashville, TN.
In 2003, he began working for Combat Zone Wrestling and won the Iron Man championship. The north east exposure opened more doors for him and he began his original tenure with Ring Of Honor, which was prior to their nationally syndicated TV broadcasts, but ROH was considered the top independent group at that time. The smooth technician added a completely new layer to his persona, he became one of the most hated villains in the industry. By 2005, the smug, arrogant antagonist incited volatile reactions from ROH audiences as the "Crown Jewel" of the Embassy, a group led by Prince Nana, one of the best managers of his generation.

"Jimmy Rave was the one wrestler that made The Embassy a reality. Every moment of the process was put together in a team effort, similar to how WWE has a writing team. Only thing back then there was more trust and communication among the wrestlers and writers," Nana explained.
When "House of The Rising Sun" blared through the loudspeakers, Rave slowly made his way to the ring with his entourage with a look of disgust on his face directed at the diehard ROH crowd. In fact, fans had so much animosity toward him that pelting the ring with toilet paper became somewhat of a tradition. Regardless of the flying two-ply, his run as "The Crown Jewel" gave him the chance to evolve as a performer and his time in the stable featured some key highlights of his career.
"I would say definitely my feuds with CM Punk, AJ Styles, Nigel McGuinness and Generation Next. I loved being involved with things that had multiple layers to it. It really molded me into a great character wrestler. Before that I was just like every other kid trying to make it by doing the craziest stuff I could think of, but the Embassy run gave me stories and a character to sink my teeth into, best time of my career," Rave commented.
After a successful run in ROH, Rave took the chance of a bigger platform in 2007 and signed a deal with Total Nonstop Action. While its almost unanimously agreed that Rave was underutilized during his stint in TNA, he still considers his time there a valuable part of his two decades in the industry.

"I had so much fun during my time at TNA because I had so many friends there. I always thought that they could do more with myself, Lance Hoyt and Christy Hemme, but we totally tried making the best of the situation. It was a lot of work because we ran so many house shows then and it taught me so much about wrestling in front of different crowds."
After his release from TNA in 2009, Rave overcame an addiction problem and wanted to give back so he took a job as the as the director of a rehab center near Atlanta, which provided him with valuable lessons outside of the ring.

"I really learned how to empathize with people and how to work to make changes in communities. It also taught me how to work in difficult situations and how to work as a team," Rave said.
Since that time, he continued to wrestle on a regular basis on the independent scene, including occasional returns to ROH and Impact Wrestling. But, the art of professional wrestling is ingrained into who Jimmy Guffey is so recently, he relocated to Philadelphia, a move that allowed him to take the position of head trainer at the CZW training school. This new phase gives him the chance to use his knowledge to teach aspiring hopefuls that want to pursue the same wrestling notoriety that he achieved.

"That is something very recent, I've been at the CZW Dojo for about a month now and love every minute of it. Myself and the CZW try to give so many awesome opportunities to the kids we have and I'm super excited for the future there."
Obviously, professional wrestling is a dangerous sport, and even learning can be hazardous. During a recent training session, a student accidentally headbutted Rave, breaking the trainer's teeth. As a result, Rave has set up merchandise for sell on his Twitter page to help offset the cost of the expensive surgery to repair the injury. Despite the recent mishap, Jimmy Rave remains thankful for all the opportunities that professional wrestling brought him, including the chance to wrestle around the United States, as well as Japan for New Japan and Dragon Gate.
Recently I found out I am needing a very expensive surgery. I am selling Tshirts, Best of DVDs, pictures, and donations. Hit me up if you're interested! https://t.co/fnRJfflxHv

— Jimmy Rave (@TheJimmyRave) October 16, 2018
"I've definitely matured as a person and wrestler. I tend to be more thoughtful my next move and more helpful to others. It's been a long road but wouldn't trade it for anything," he said.
"Jimmy's growth over the years always made me proud. Hes trying hard to get it back and recover from his injuries. I always wish him the best and stay in contact with my friend," Nana commented.
Jimmy Guffey has quite literally grown up in the professional wrestling industry. From a 16-year-old that started on the dirt-stained canvases of the independent scene to an established veteran that has nearly done it all in the industry, Jimmy Rave is a true credit to the sport.
For more information on how to purchase Jimmy Rave merchandise you can follow him on Twitter @TheJimmyRave
You can follow Prince Nana on Twitter @princekingnana
What do you think? Comment below with your thoughts, opinions, feedback and anything else that was raised.
Until next week
-Jim LaMotta
E mail drwrestlingallpro@yahoo.com | You can follow me on Twitter @jimlamotta