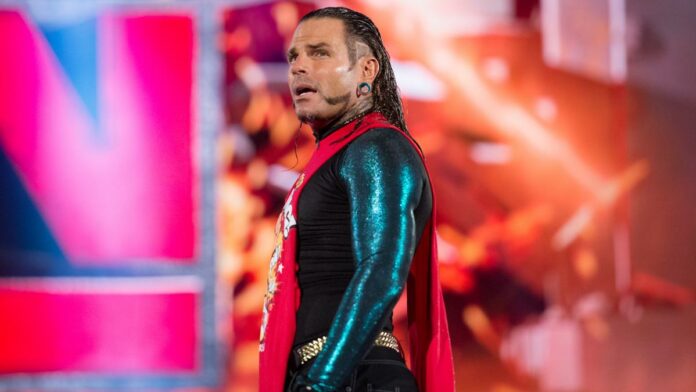 It was reported on Monday that Jeff Hardy has suffered a torn rotator cuff and will undergo surgery to repair it.
According to WWE.com, the former Raw Tag Team Champion sustained the injury during a Six-Pack Challenge on last week's Raw that was eventually won by Jason Jordan.
"Jeff is dealing with a rotator cuff tear right now," said WWE Senior Ringside Physician Dr. Stephen Daquino. "It's a full thickness tear of his supraspinatus tendon and a couple of other areas in the shoulder. He's going to go for evaluation and probably for surgery next week."
Dave Meltzer reported over the weekend on Wrestling Observer Radio that the injury actually occurred in July at the Great Balls of Fire pay-per-view during the 30-Minute WWE Iron Man Match against Cesaro and Sheamus —The Hardy Boys lost. Since the event, Hardy continued to work with the injury.
Hardy told WWE.com that he also tore his labrum and that he initially thought he dislocated his shoulder during the match.
"Once they get in there, they'll figure out more about what they have to repair," said Hardy. "But for sure, the rotator cuff has to be repaired, and then they'll look at the labrum when they get in there."
Hardy also revealed he would undergo the procedure next Tuesday, Oct. 3.
"It's depressing," Hardy told WWE.com. "More than any time in a career, it's those times that make you go, 'Wow, I love professional wrestling.' It sucks that I can't be involved in [a] match or can't get in there and do what I normally do because I'm injured, but I just have to get over that, stop worrying about it and look forward and push myself to get repaired and healed and come back better than ever with a brand-new shoulder."
Hardy will likely be out of action for six to seven months. Erick Rowan and Shelton Benjamin both underwent torn rotator cuff surgery last year and were out of action for a similar amount of time. Benjamin underwent surgery in August 2016 and was medically cleared to compete at the end of March 2017. Rowan underwent surgery in early October 2016 and returned in early April 2017, two days after WrestleMania 33. Assuming Hardy has a similar recovery time, that would put his return in April or May 2018.