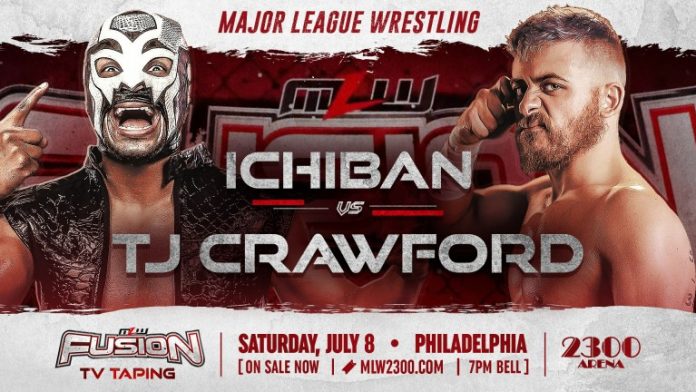 The opponent for Ichiban's Major League Wrestling debut has been announced.
It was revealed on Tuesday that the masked fan-favorite will be making his promotional debut at the MLW Fusion: Never Say Never taping against "The Silver Sniper" TJ Crawford.
MLW.com released the following announcement:
Ichiban vs. Crawford signed for July 8
Fusion TV taping bout inked for July 8
MLW today announced Ichiban vs. TJ Crawford for the FUSION TV taping portion of the July 8 Never Say Never event Saturday, July 8 at Philadelphia's 2300 Arena.
🎟 Grab tickets at MLW2300.com and the 2300 Arena box office. Tickets start at $15.
A wave of excitement hit social media upon the announcement of Ichiban's MLW debut. The buzz for Ichiban's debut turned a lot of heads… and caught the attention of many inside MLW, including the "Silver Sniper" TJ Crawford.
Crawford, who has proven to be a heavy hitting technician, doesn't think much of the hype for Ichiban. Wasting no time, Crawford demanded (and reportedly threatened) league officials for a match with the masked fighter and now it is official.
The Ichiban vs. Crawford middleweight bout is a part of the FUSION portion of the card.
Ichiban welcomes the challenge from Crawford. Determined to prove he is MLW's strongest warrior, Ichiban's mission is to climb the middleweight rankings and fight for gold.
What happens when The NumberOne Dojo's Kokujin Katana" rumbles "The Silver Sniper"?
Find out Saturday, July 8 in Philadelphia. Get tickets now at http://www.MLW2300.com.
DAY OF EVENT INFO
The schedule for the event is as follows:
5:30 p.m.: Early entry for front row ticket holders
6:00 p.m.: Doors open for general public (all ticket holders)
7:00 p.m.: Fusion Showtime
8:00 p.m.: MLW Never Say Never premium live event on FITE+
📝JUST SIGNED: ICHIBAN vs. "Silver Sniper" TJ Crawford • July 8 Fusion bout

🎟️ https://t.co/0qvY4rbwNl pic.twitter.com/oC2sjJvUAG

— MLW (@MLW) May 31, 2023