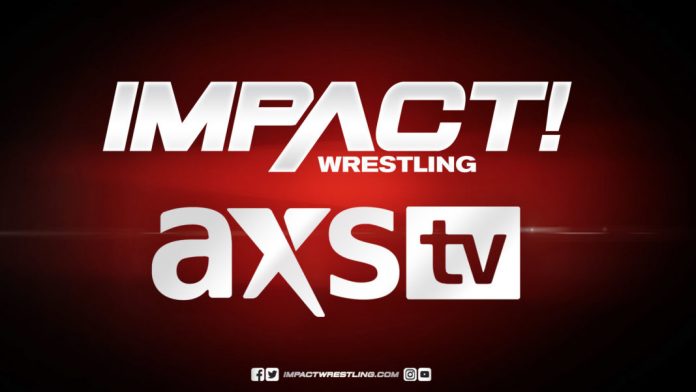 Impact Wrestling Results – June 3, 2021
Impact Wrestling on AXS opened with a continuation of the Iron Man match between X-Division Champion Josh Alexander and challenger TJP with the roster surrounding the ringside area.
TJP came off the ropes with a springboard elbow for a two count. They competitors nail clotheslines on each other at the same time. TJP nailed a sit-down Michinoku Driver for another two count. Lots of near falls. TJP cornered the champion and nailed a facewash. He nailed a running boot to the face in the corner but was snatched into an ankelock. TJP went for the Detonation Kick and scored it, but Alexander kicked out at two.
TJP nailed the Mamba Splash for a two count. He went for another but Alexander grabbed him in an anklelock. TJP tried to maneuver out but Alexander grabbed him for a near fall, only to see TJP lock on a grapevine submission. With two minutes left, Alexander tried to fight his way to the ropes but realized he couldn't make it. He somehow maneuvered TJP into another anklelock. TJP went for an enziguiri but Alexander ducked and cinched it in tighter. TJP kept trying to fight for the ropes but Alexander trapped his arm as well.
With a minute left, TJP was trapped in the center of the ring in the submission. With four seconds left, TJP was able to maneuever Alexander into a pinfall and scored the pin.
The time limit expired with the competitors tied 1-1.
They are going into sudden death overtime.
After recovering, they met in the center of the ring, firing back and forth with each other. Alexander got the better of the exchange, working him over in the corner. TJP missed several kick but went for a standing twisting splash only to miss. Alexander nailed a standing moonsault from the top and scored a two count. Alexander nailed a Project Ciampa for another two count. Alexander nailed the Jay-Driller and scored the pin.
Your winner and still X-Division Champion Josh Alexander!
This was an excellent match all the way through and well worth going out of your way to watch. This was tremendous.
Josh Mathews and D'Lo Brown reflect on the match, which Brown called an instant classic.
Backstage, Don Callis, Gallows and Anderson were thrilled they were able to manipulate Moose and Sami Callihan into fighting each other but realized the camera was watching them and chased it off.
Backstage, TJP thanked Josh Alexander for the match. Scott D'Amore thanked them and said he was happy and proud to have them on the roster. Alexander said he's the top champion and the king of the mountain in this company as long as the Impact title is around Kenny Omega's waist. He said he'll go every week in an Iron Man match if that's what's needed. He walked off as D'Amore told him Alexander made him proud to be a Canadian. Chris Bey tried to get himself a title shot, but Petey Williams, Ace Austin and Trey Miguel all began jockeying for their spot. They began arguing as D'Amore removed himself from the proceedings.
Rohit Raju vs. Jake Something – Tables Match.
They battled in the ring. Something was sent to the apron outside but hammered Raju. He tried to put him through a table but Rohit scampered away. When Impact returned from commercial, they were battling on the floor. Raju gained control as they returned to the ring and nailed a series of right hands and a headbutt to Jake.
Something went for a powerbomb but Raju blocked it, only to be nailed with a big lariat. He nailed a shoulderblock into the corner. He went for another move but Raju blocked the Black Hole Slam and nailed a double stomp. He smacked a chair over Something's back. Raju used the chair to assist a Divorce Court. Something tried to fire back with right hands but was cut off with a shot to the gut. They battled back and forth until Rohit grabbed the chair and drilled Jake in the shoulder. Rohit cinches in a crossface submission.
Rohit worked over Jake in the corner. He stomped the chair into him over and over, then hit a cannonball into the corner on a chair. Rohit, having hurt himself, went to the floor. Something nailed him and tossed him back into the ring. Jake moved a table into the ring and set it up in the ring. Meanwhile, Raju set up two chairs facing each other. Raju nailed a running knee strike to Something, who rolled to the outside. Raju waited for him to get to his feet on the apron and charged but was drilled down with a sledging pair of arms. He went for a powerbomb off the apron through a table on the floor but Raju shoved him backwards into the ring post. Raju nailed a DDT on the apron and placed Something on the table.
Raju went to the top but Something met him and drilled Raju. He went for a superplex but Raju blocked it and slid underneath. He went for a powerbomb but Something blocked. Raju drilled him into the buckles and went to the top again. He nailed a double stomp through the chairs on Something, which looked great. He charged Something with forearms and a big boot. He set up Something to drive him through the table in the corner but was caught with a Black Hole Slam. Something nailed a second one. Raju threw a chair in his face, but that only enraged Something. Something drilled him through the table with a spear.
Your winner, Jake Something!
This was a hell of a fun brawl with two of the company's hardest working rising stars.
W. Morrisey told Scott D'Amore he wanted a match with Rch Swann tonight. Scott D'Amore told him Swann wanted one with him too so it will be next.
Backstage, Rosemary was cutting a promo on Deonna Purrazzo when Havok showed up. She said they've been on the same side of fights lately, but Rosemary should make no doubt about it, her sights are on the Knockouts title. Rosemary said that Decay was hoping she would join the family but family has to learn to share. She said it seems that Havok wants to go to war one more time for the right to fight for the title. If Havok wants the title shot, she has to take it. Havok said she will.
Rich Swann vs. W. Morrisey
Morrisey attacked Swann as he was making his way to the ring from behind and wiped him out. Morrisey tossed Swann into the ring. Swann attacked him but was cut off with a big boot as the story was Morrisey was just a beast. Morrisey grabbed him but security hit the ring as the match had never begun. Morrisey began going after security, choking one in the corner.
Willie Mack hit the ring and nailed Morrisey with a steel chair to the back but it had no effect. Morrisey stood strong as security tried to get between him and Mack. Morrisey finally walked off.
Backstage, Tenille Dashwood and Kaleb with A K approached Rachael Ellering as she was warming up. Dashwood said that during the ten Knockouts tag, she felt that they were the only two out there and pitched the idea of them as a team. Jordynne Grace showed up and wondered why Dashwood was there. She said she was there to invite Ellering on her show next week as obviously they will be the Tag Champions by next week.
They aired a vignette from Brian Myers on "How To Be A Professional Wrestler." Myers covered up his ward with a Myers t-shirt.
Gia Miller informed Knockouts Champion Deonna Purrazzo that Havok will face Rosemary next week and if she wins, the Against All Odds title match becomes a three-way. Purrazzo said she's beaten them both in the past and it doesn't matter who she faces, the odds will be in her favor.
Knockouts Tag Team Champions Fire N' Flayva vs. Jordynne Grace & Rachael Ellering.
Tasha and Grace started with Grace using her power early. Steelz drilled her to avoid a clothesline. Steelz missed a kick and was rolled up for a two count. Grace spun Steelz in the air and slammed her to the mat. She nailed a series of shoulderblocks in the corner and slammed her down to the mat for a two count. Grace tagged out to Ellering, then slammed Steelz. Ellering nailed a running boot and hit a back senton splash for a two count. Steelz tried to go up and over in the corner but was caught on Ellering's shoulders. She grabbed Ellering's headband to pull her down. Hogan tagged in and the champs began tagging in and out, working over Ellering. They scored a near fall but Grace broke up the pinfall. Grace tagged in and the challengers did a cool move where Grace set up for a muscle buster but drove her backwards into Ellering, who nailed a sit-down powerbomb for a two count.
Steelz came back with a crucific bomb but Grace broke up the pinfall as Grace kicked out. Ellering was sent to the floor. Hogan went for a dive but was caught but turned it into a DDT. The champions doubleteamed Grace in the ring but she fought back. Grace was pulled down to the mat, held by Hogan, allowing Steelz to nail a frog splash for the pin.
Your winners and still Knockouts Tag Team Champions Tasha Steelz & Kiera Hogan.
Solid back and forth match. You can see they are doing a slow build to a Grace/Ellering spot.Backstage, Sami Callihan was cutting a promo when Don Callis showed up. He said he was in Sami's corner but he also knows it's hard when you get inside your own head. He said Sami was a journeyman who has always been the bridesmaid and it must suck to see that everyone is behind Moose. He told Callis to leave, then said he was going to take out Moose.
Backstage, Eddie Edwards told Satoshi Kojima it was good to see him.
They aired a video feature teasing the debut of Maclin, showing him having a stiff drink while sitting at a desk. He's the former Steve Cutler in WWE.
Fire N' Flayva went to Scott D'Amore to tout they are still the best in the world. They said they were looking for competition as they have beaten everyone. Scott said they have two people upset at them, revealing Kimber Lee and Susan. He announced a title match for Against All Odds. The champs weren't happy.
Satoshi Kojima vs. Deaner with Violent by Design.
They locked up and Deaner was backed into the ropes. Kojima broke clean but Deaner kicked him in the mid-section and grabbed a headlock. Kojima shot him off into the ropes and they hit shoulderblocks on each other but neither man budged. Kojima finally drove him down and sent Deaner into the corner. Deaner avoided the machine gun rapid-fire chops and kicked Kojima, then sent him into the buckles. He nailed a dropkick and ripped at Kojima's face.
Kojima made a comeback and caught Deaner with the chops in the corner. Kojima nailed an elbow off the top for a two count. Deaner nailed a neckbreaker, scoring a two count. Deaner went for a DDT but Kojima blocked and nailed a brainbuster for a two count. Rhino and Joe Doering got involved, with Rhino distracting the referee. Doering tried to interfere but Eddie Edwards caught him on the outside and prevented it. Kojima nailed a lariat and scored the pin.
Your winner, Satoshi Kojima!
Moose was trying to cut a promo backstage when Don Callis showed up and said that everyone was behind him. Everyone wants to see the two best athletes in the ring, him and Kenny Omega. He tried to get Moose to take out Sami once and before. Moose said that he knows what Don is doing and told him to tell Kenny to keep the Impact title shined up for him.
Violent by Design blamed Eddie Edwards for the loss tonight when Decay showed up and mocked them for their failure. Young told Crazzy Steve that he trained him to know better than to disrespect them. Steve challenged them for a Impact Wrestling Tag Title match at Against All Odds. Eric Young told them it was done.
Moose vs. Sami Callihan
Callihan attacked Moose and sent him to the floor, hitting a pair of dives. He worked over Moose, raking his back but Moose made a comeback and went to powerbomb him on the floor. Callihan fought him off with a boot to the face but Moose absorbed it and pulled him into a powerbomb on the apron.
Moose worked over Callihan on the floor, beating on his back, then using his boot to smother Callihan against the floor. He halted the referee's countout and returned to the ring, nailing a kick to the face. He repeated the feat, then sent Callihan into the ring post. Moose went for a spear on the floor but Callihan moved and Moose ate the guard rails. Callihan went after the arm and fingers, trying to snap them as the referee tried to break them up.
After a commercial break, Moose kicked off a Callihan charge but his arm was hurting. Callihan caught him on the ropes and nailed a DVDR for a two count. Callihan was going for a piledriver when Moose nailed him. Despite his injured arm, Moose battled on with headbutts. He tried to place Callihan on the top but was having trouble. He finally accomplished the goal and went for the superplex. Callihan began beating the arm to stop Moose and headbutt him in the face. Moose crashed down to the mat. He rebounded back up the ropes and nailed a superplex, scoring a two count. Callihan kicked up. The battled continued with Callihan nailing a series of boots. He went to the ropes but was nailed with a dropkick and hit with Go to Hell off the ropes for a close two count.
Callihan went after the shoulder again and nailed the Cactus Piledriver for a two count. Callihan went for another piledriver but Gallows and Anderson hit the ring and attacked Sami, nailing the Magic Killer.
Your winner by DQ, Sami Callihan!
Kenny Omega and Don Callis came to the ring, gloating. Omega stomped away at Callihan. He then went after Moose, stomping away. Gallows beat down Sami. They left Moose and Callihan laying.
Backstage, Scott D'Amore told Don Callis that since Callihan beat the number one contender, perhaps Against All Odds' main event should be a three-way bout. Callis said both AEW and Impact Wrestling have to agree on the match and there's no way Tony Khan would approve Callihan, who is on his black list, would allow this. D'Amore said he already spoke with Tony Khan, who will be here next week to discuss the situation.
Credit: PWInsider.com