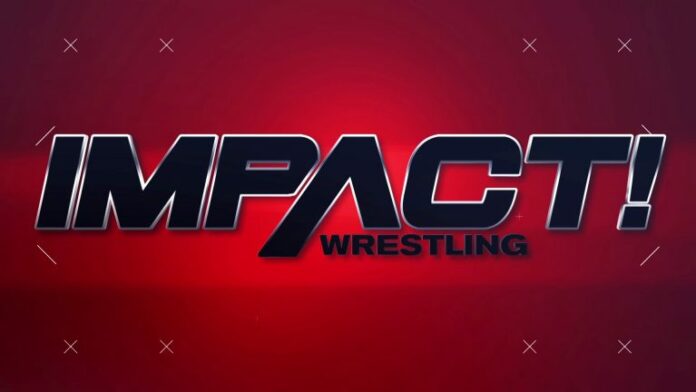 The show aired on Thanksgiving Day and with that, it paid tribute to some of the best Thanksgiving moments in IMPACT! Wrestling. Before that, the show kicked off with an exclusive tag team match between the team of Raj Singh & Shera vs the team of Yuya Uemura & Delirious.
Raj Singh & Shera vs Yuya Uemura & Delirious
The team of Raj Singh & Shera came into the ring first before Delirious and Yuya Uemura arrived. Soon after the match started, things became heated as Singh who was in the ring with Delirious took a moment to distract the referee thereby giving Shera an opening to take a cheap shot at Delirious.
Delirious finally broke free and tagged in Uemura but along the line, Singh shoves Uemura towards the ropes where his back met with the knee of Shera. Uemura fought through the pain and delivered a clothesline on Singh. Singh replied by dropping Uemura off throat-first onto the top rope.
Uemura tagged in Delirious who races at all corners of the rope to confuse Singh so he can hit Singh multiple times. Uemura later got back into the ring and delivers a sound German suplex to Singh. Uemura's victory was cut short when Singh and Shera lifted Uemura on both their shoulders and landed with a double back suplex—a move they both call Black Magic—which earned them a win.
The show began properly with Tom Hannifan and Matthew Rehwoldt welcoming us heartily into IMPACT! Thanksgiving Special, followed by a look back at some of the greatest, hilarious Thanksgiving moments on IMPACT!.
2008 Turkey Bowl Match — Rhino Defeats Alex Shelley & Sheik Abdul Bashir
.@fakekinkade was forced to wear the turkey suit in 2008 on IMPACT!#IMPACTWRESTLING pic.twitter.com/B5RZVjRmNO

— IMPACT (@IMPACTWRESTLING) November 25, 2022
The first Thanksgiving Special clip featured the 2008 Turkey bowl match between Rhino, Alex Shelley, and Sheik Abdul Bashir. The match is one in which the loser would be made to put on the infamous turkey suit, there's no getting out of it, the loser must wear the turkey suit.
When the bell rang, Shelley and Abdul Bashir ganged up on a two-on-one attack on Rhino. Rhino took everything thrown at him by Shelley and Abdul Bashir. Immediately Rhino saw an opening, he took it and hit Shelley with a Spear thereby earning himself a win.
Since Shelley was the one pinned, he has to put on the turkey suit. Shelley initially refused to put on the turkey suit but after Mick Foley walked down the ring and threatened Shelley's career, Shelley grudgingly wore the suit and even pranced around the ring with it.
Next, some IMPACT! Wrestling superstars list out the things they're grateful for, in this year's Thanksgiving.
Backstage, Eric Young was seen talking to Deaner about their loss to Sami Callihan in Death Machine's Double Jeopardy last week. Eric Young was heard telling Deaner, "Where does the beginning end? When does the ending begin? It's easy to get lost, be disoriented, to not know what part of the cycle you're in."
Eric Young went on to tell Deaner, "I think it's time to answer the unanswered questions, to reorient ourselves. To get to where we're going, you have to go back to where it all began."
What's next for Violent By Design?@CodyDeaner @TheEricYoung #IMPACTonAXSTV pic.twitter.com/YtlE1iuehl

— IMPACT (@IMPACTWRESTLING) November 25, 2022
2007 Thanksgiving Dinner Hosted By Kurt Angle
.@RealKurtAngle hosted Thanksgiving Dinner in 2007! #IMPACTonAXSTV pic.twitter.com/nVNHrBD8Yv

— IMPACT (@IMPACTWRESTLING) November 25, 2022
Another great Thanksgiving moment was relieved and it was the 2007 Thanksgiving which was hosted by Kurt Angle.
The clip showed the then-TNA World Heavyweight Champion Kurt Angle in his house. He was joined by superstars like Jeremy Borash and TNA World Tag Team Champions AJ Styles and Tomko. While Kurt Angle was leading the prayer before the meal, Aj Styles was busy stealing food into his mouth.
No sooner had Kurt and the others present at the table begun eating did Bobby Roode, Razor Rumor, Dudley Boys, Macho Man, and so many other superstars show up at Kurt's house. As expected, these kinda gatherings don't go down without a fight. It eventually ended in a food fight.
Mickie James Vs Deonna Purrazzo
.@DeonnaPurrazzo vs @MickieJames goes down NEXT WEEK on #IMPACTonAXSTV! pic.twitter.com/GWEfCaxc5g

— IMPACT (@IMPACTWRESTLING) November 25, 2022
A look back at last Friday night's Over Drive match between Mickie James and Taylor Wilde at the Last Rodeo was shown. The match was won by Mickie James to keep her career alive but, she wasn't allowed to celebrate as Deonna Purrazzo her long-time rival appeared to challenge Mickie to a match next Thursday on IMPACT!
In Purrazzo's words, "You're the one person, I give it to you Mickie, you're the one person I'm yet to beat here in IMPACT! Wrestling and that changes now." Purrazzo then went on to tell Mickie, "I'm not just looking to ruin your career, I'm looking to end it."
This Thursday, Mickie responds to Purrazzo's challenge saying, "Deonna Purrazzo, I should have known. I should have known, that I would not…I mean, I'm shocked that I've even gotten this far down the ride of this Last Rodeo without standing across the ring from you." Pausing to shake her head Mickie said, "Well, if that's the way it's gonna be…you and me, let's go."
2016 Turkey Suit Challenge — Robbie E Defeats Grado
.@gradowrestling embraced being the turkey on IMPACT!#IMPACTonAXSTV pic.twitter.com/z6UEy3mvha

— IMPACT (@IMPACTWRESTLING) November 25, 2022
Another special Thanksgiving moment was in 2016 when Robbie E and Grado went head to head for the Turkey suit. Just as in the 2008 turkey bowl match in which Rhino defeated Alex Shelley and Abdul Bashir, the match is one in which the loser would be made to put on the infamous turkey suit.
In this match, Robbie E defeated Grado, and as usual, putting on the turkey suit isn't always a thing of pleasure for the loser but Grado finally came to. He even danced around the ring with the turkey suit.
Bully Ray Attacks Josh Alexander
𝗕𝗥𝗘𝗔𝗞𝗜𝗡𝗚: @IMPACTWRESTLING #HardToKill is available for pre-order on #FITE.

🏆 Featuring @Walking_Weapon defending the World Championship against @bullyray5150.

Streaming Live on January 13th on #FITE.

👉 https://t.co/ohKFeKF3Do pic.twitter.com/crcqRx1Vqq

— FITE (@FiteTV) November 23, 2022
A look back at this past Friday's Over Drive saw Josh Alexander win Frankie Kazarian to retain his IMPACT World Title Championship. If the match had ended with Alexander just winning the match then all would have been well.
After Alexander's victory, Bully Ray walked down the ring to challenge Alexander to a match at Hard To Kill on January 13th of next year 2023. Bully Ray asked Alexander to shake his hand in acceptance of the match and Alexander did.
One would think that since Bully Ray secured a title match at Hard To Kill he will leave Alexander alone but, unfortunately, that was far from the case because, Bully Ray turned around and attacked Alexander with a chair, tied him up to the ring, and when Alexander's wife Jade who was at the front row screamed at Bully Ray to stop, Bully Ray dragged Jade out and threatened to powerbomb Jade if Alexander made a move.
Off-air, Executive Vice President Scott D'Amore confronts Bully at ringside as Rich Swann tends to Alexander and Jade. By next week Thursday, Rich Swann would take on Bully Ray in a bid to exact revenge on Alexander's behalf.
2013 Thanksgiving Dinner Hosted By Rockstar Spud
Rockstar Spud hosted the "Winner Winner Turkey Dinner" in 2013 on IMPACT!#IMPACTonAXSTV pic.twitter.com/b98rsnxuDB

— IMPACT (@IMPACTWRESTLING) November 25, 2022
Another Thanksgiving moment in 2013 was relieved, this time, it was hosted by Rockstar Spud with a team of winners who have won their various matches. Their gathering was centered on sharing individually, what they're grateful for.
Joining Rockstar Spud on the table were Bobby Roode, Christopher Daniels, Frankie Kazarian, Chris Sabin, Knockouts World Champion Gail Kim, Lei'D Tapa, and TNA World Tag Team Champions the Bromans.
Things were going well for them, there was fun and merriment ongoing until they were interrupted by Kurt Angle, Eric Young, James Storm, and Gunner. Then, all hell broke loose on Thanksgiving night! Foods were littered in the ring, bodies were left littered on the floor.
Kenny King's Attack On Mike Bailey
.@KennyKingPb2 is focused on @SpeedballBailey!#IMPACTonAXSTV pic.twitter.com/dN6qEINNBI

— IMPACT (@IMPACTWRESTLING) November 25, 2022
On Friday night's Countdown to Over Drive, Kenny King focused his attention on beating up Mike Bailey instead of attempting to win the X-Division 6-way. This Thursday heard King saying that his attack on Bailey is just the beginning.
King said, "I mean yeah man I guess…I could have pinned Jason Hutch, I could have pinned Rich Swann at Countdown to Over Drive…but I've not really told you…see, I'm not focused on winning right now, I'm focused on you Speedball Mike Bailey."
King also went on to state his reason, he said, "And the reason why I'm so focused is because I know, I know something that y'all don't know, and what I know is behind the mully, behind the manners, you're fake, you're a phony, you're a fraud. Because, Speedball, I can see it. I don't, call me Rowdy Piper baby because I don't need sunglasses or bubble gum to see who you are."
"So now, I wanna be on your head, I wanna be around your corner, Ama pop outta ya locker, I'm gonna be your best. Because I'm not gonna stop until I hit you so hard that you drop that mask and everybody sees you for the phony that you're. Because I'm not gonna stop until I expose and dispose of you, Mike Bailey. And then, everybody can thank me, and then I can focus on being a champion."
Eli Drake's 2017 Turkey Trot — Team Edwards defeats Team Fantasma
.@ChrisAdonis had no choice but to wear the turkey suit on IMPACT in 2017!#IMPACTonAXSTV pic.twitter.com/FwJqv7qvoQ

— IMPACT (@IMPACTWRESTLING) November 25, 2022
In the 2017 Thanksgiving, the then IMPACT World Champion Eli Drake created a battle of the Gravy Train Turkey Trot. The match was a team match that consists of Team Edwards, and Team Fantasma. The match is one in which the loser would be made to put on the infamous turkey suit.
Team Edwards comprises of Drake, Eddie Edwards, Fallah Bahh, Garza Jr, Allie, and Richard Justice while Team Fantasma includes El Hijo del Fantasma, Chris Adonis, KM, Lauren Van Ness, and Caleb Konley.
Team Edwards won Team Fantasma by pinning Chris Adonis. As usual, putting on the turkey suit was a big deal for Adonis who fled from the ring, but then again, a threat to his career had him wearing the turkey suit.
Steve Maclin Vs Franki Kazarian
.@SteveMaclin is BITTER after #OverDrive!#IMPACTonAXSTV pic.twitter.com/1IMJcZZxm1

— IMPACT (@IMPACTWRESTLING) November 25, 2022
Steve Maclin didn't mince words this Thursday while expressing his anger at Frankie Kazarian for taking his spot at facing Josh Alexander for the IMPACT Heavyweight Championship.
In Maclin's words, "I'm being held captive by my own company…Now all the experience that you have Frankie, it doesn't matter. You just stepped into a war that you have no idea what's coming to you. I'm not sorry for what I have to do…and just as it's been from the beginning, it is targum, bargum, and mayhem for all."
Steve Maclin and Frankie Kazarian are set to face off next Thursday at IMPACT!
2007 Turkey Bowl — Samoa Joe defeats AJ Styles & Chris Sabin
.@AJStylesOrg was the Turkey Of The Year in 2007!#IMPACTonAXSTV pic.twitter.com/hFWuwGrUNv

— IMPACT (@IMPACTWRESTLING) November 25, 2022
The 2007 Thanksgiving Turkey bowl was that which holds greater stakes than the other turkey bowls. In this case, the winner goes home $25,000 richer while the loser will be forced to put on the turkey outfit.
The match was between the Samoan submission magician Samoa Joe, the phenomenon AJ Styles, and Chris Sabin. Samoa Joe emerged the winner by pinning AJ Styles who shamefully wore the turkey suit.