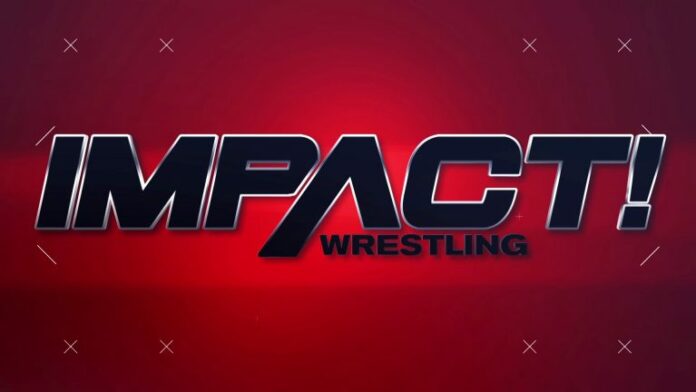 Impact Wrestling Results – October 27, 2022
– Following a video package highlighting the events of IMPACT Wrestling's 10/20/2022 edition, Mike Bennett and Matt Taven confronted Scott D'Amore backstage for creating IMPACT Wrestling an unsafe working environment. Scott D'Amore fired Taven and Benett for their acts in IMPACT. Taven and Bennett had previously been revealed to be signing with AEW, according to PW Mania.
– Following this reveal, Tom Hannifan and Matt Rehwoldt welcomed the audience to the broadcast before moving on to the first match.
X-Division Tournament First Round Match.
Trey Miguel vs. Alan Angels.
The two locked up at the start of the match before Angels locked Miguel in a wrist lock. Angels and Miguel traded wrist locks before Angels smacked Miguel with an arm drag. Angels hit a Casita flip on Miguel for a near fall. Miguel put Angels into a Victory roll, resulting in a near tumble. Miguel attempted a walk rope move, but Angels pushed him up the top rope, where he landed on his groin. Angels landed a chop and a forearm strike on Miguel, but Miguel returned the favor. Miguel flipped over Angels and hooked himself on the ropes, but Angels landed a shotgun dropkick on Miguel, sending him to the outside. Angels returned to the ring and hit a Northern Lights Suplex on Miguel for a near fall. Angels avoided Miguel's assault before striking him with a reverse Sling Blade for a near fall. Angels moved for the Half-Nelson, but Miguel grabbed the ropes and hit an arm drag. Miguel avoided Angels' lariat before landing a handspring enziguri kick. Miguel rolled over Angels before landing kicks and a double stomp on Angels' neck. Miguel landed a near-falling Meteora on Angels. Miguel attempted a Meteora from the top rope, but Angels escaped and hung Miguel in the middle turnbuckle. Angels hit a shotgun dropkick and draping DDT on Miguel while he was locked on the middle rope for a near fall. Miguel was placed on the top rope by angels. Miguel, though, slid under Angels and trapped him in the corner before hitting an upside-down superkick on Angels, followed by a top rope Meteora on Angels for a near fall. Angels landed a back-elbow and a La Mistica on Miguel before converting to a Brutalizer submission, which Miguel reversed with a crucifix for a near fall. Angels turned a kick into a half-and-half suplex followed by a Frog Splash on Miguel for a near fall. Angels attempted a discus lariat, but Miguel caught him with a kick before hitting the Lighting Spiral for the pinfall victory. On a later night, Miguel will face the winner of Kenny King vs. Mike Bailey.
Winner: Trey Miguel.
Chris Bey and Ace Austin confront Tommy Dreamer and Bully Ray were accosted by Austin. Ray apologized to Bey and Austin backstage, emphasizing that he did not abuse Austin last week, but Austin and Bey were not convinced. Ray claimed that Moose did it, but Bey and Austin were furious before Bey challenged Dreamer to a match later that night. Ray was warned by Dreamer not to get involved in his match unless Austin did, as doing so would land Ray in deeper danger.
– Gisele Shaw and VXT (Deonna Purrazzo and Chelsea Green) cut a backstage promo before their bout later in the night against IMPACT Knockouts Champion Jordynne Grace, Mickie James, and Taylor Wilde. Shaw said that they would form a tremendous trio and that once Mickie James retires, they will focus on reclaiming the IMPACT Knockouts Tag Team Championships.
Tasha Steelz (w/ Savannah Evans) vs. Rachelle Riveter
Steelz started the match with a devastating boot on Riveter. Before leaving the ring, Steelz hit a cutter on Riveter. Steelz grabbed a microphone and slammed IMPACT Management for placing her against Riveter. Riveter was disqualified when Evans hit a vicious lariat on him. Evans executed a jack-knife powerbomb on Riveter before she and Steelz surrounded her.
Winner: Rachelle Riveter
– Motor City Machine Guns (Alex Shelley & Chris Sabin) confront Heath & Rhyno backstage, demanding a title match against them. Heath agreed with their reasoning and directed them to contact ScotD'Amore in order to make the match official.
– Sabin and Shelley were on their way to D'Amore's office when they were met by The Major Players (Matt Cardona and Brian Myers), who made their case for being the IMPACT Tag Title challengers. The two teams argued before D'Amore emerged from the office and scheduled a match between Alex Shelley and Matt Cardona for later in the night.
Tommy Dreamer (w/ Bully Ray) vs. Chris Bey (w/ Ace Austin)
Bey and Dreamer traded left-arm arm locks. Bey avoids a pair of clotheslines and they lock eyes. Before they lock up again, Dreamer shoves Bey. Dreamer avoids a spinning kick. They continue to shove each other until both Bully and Ace step onto the apron. After the break, Dreamer and Bey compete in a strength test. Bey throws a few punches. Dreamer lands a fallaway slam. Cover, Bey kicks Dreamer down and lands a backflip. When Bey dodges, Dreamer collides with the post. Dreamer connects on a cutter for a near-fall. From the top rope, Dreamer suplexes Bey. Moose appears and confronts Bully. Moose trips Bey and goes away, leading Bey to believe it was Bully who did it. Dreamer takes a spin kick followed by the Art of Finesse.
Winner: Chris Bey
– NJPW Openweight Tag Team Champions Aussie Open (Kyle Fletcher & Mark Davis) issued a challenge to any tag team for their return to IMPACT Wrestling in the next week.
– Bully After winning the Call Your Shot Gauntlet, Ray threw a temper tantrum backstage, claiming he was unhappy that people thought he wasn't here to do the right thing. Dreamer attempted to calm Ray down, but Ray said that Dreamer already knew what he would do to Moose the next time he saw him.
Matt Cardona (w/ Brian Myers) vs. Alex Shelley (w/ Chris Sabin).
Cardona jumps all over Shelley as he passes through the ropes. When the bell sounds, Cardona sends Shelley out. Cardona follows Shelley out before they return in for Shelley to momentarily take control. Cardona continues to hammer Shelley down for a while. Cardona holds Shelley in a headlock until she loses consciousness. Shelley falls for a quick cover as a result of the back elbow. Shelley manages to avoid Cardona's Reboot. They both get back up and trade blows. Sabin sneaked in a double-team maneuver. Cardona pokes Shelley in the eye and presses Radio Silence, but she refuses. Shelley snatches the Digital Media title as Myers slides it in. Shelley is rolled up by Cardona. Shelley punches Cardona with a DDT near the end of the match. Myers smacks Shelley with the championship. Cardona rolls him up for the three.
Winner: Matt Cardona
Myers and Cardona pummel MCMG until Heath and Rhino come to the rescue and clear Major Players out.
Gail Kim interrupts Rich Swann and Josh Alexander's conversation. She reminds Josh of Bully Ray's advice not to trust anyone in the company. She urges him to keep his back to the wall, which is followed by an attack from Steve Maclin. Security drags Maclin away, and Kazarian attempts to intervene. Gail departs, and Frankie and Josh talk. Frankie claims to be looking out for Josh's best interests and wishes for him to make it to OverDriveDrive. Josh won't have to be concerned about Frankie until then. Josh pitches a one-night collaboration to face  Aussie Open.
Joe Hendry vs. Raj Singh (w/ Shera).
Before the match, Hendry presented a monologue. Hendry placed Singh in a wrist lock before executing a snap-mare. Hendry landed a running shoulder tackle and a standup suplex on Singh. Singh struck Hendry with a back elbow and told him he didn't believe in him, but Hendry delivered the trust fall. Singh taunted the audience with a flipping kick, but Hendry jumped up and hit a wicked lariat followed by the Standing Ovation (One-Hand Spinebuster) for the pinfall win.
Winner : Joe Hendry
– Eric Young & Deaner talked to a mystery person backstage before saying that he hoped he would see what he would do to Sami Callihan next week.
– Gia Miller conducted a sit-down interview with Eddie Edwards, who stated that Honor No More was no longer in existence. Edwards stated that there was nothing that could be salvaged and that he wanted to keep his troubles with Alisha private. When asked if he would do it again, Edwards responded that he would since he was attempting to demonstrate the lack of honor in the profession. Edwards referred to PCO as a "little bitch" before stating that he would pay for what he has done.
Jordynne Grace, Mickie James & Taylor Wilde vs. Gisele Shaw & VXT (Deonna Purrazzo & Chelsea Green).
Shaw and Mickie start with lockups. Mickie dropkicks and attempts a cover. Wilde and Deonna tag in. Wilde does an arm drag and strikes Deonna in the corner. Grace comes with corner clotheslines, cover. Wilde hits Chelsea with arm drags, followed by a dropkick and cover. Chelsea tags Deonna, who eats a head scissors takedown. Wilde kicks Deonna down, kicks to the chest, covers. Chelsea comes back in, but Wilde rolls VXT over with a combo move. Gisele breaks up Wilde's pin. All six women come in and scrap. The babyfaces stand tall before the break.
We come back to see Wilde attempt a cover on Green. Green shoves Wilde into Purrazzo for a forearm, Chelsea dropkicks, cover. Deonna comes in with a boot and strikes. Shaw tags in and does knees to the head, cover. Mickie tags in and clotheslines Shaw before knocking Deonna off the apron. Deonna trips Mickie, allowing Shaw to kick Mickie in the face, cover. Shaw unloads with strikes on the mat. Mickie is tossed into the heel corner as Deonna comes in with kicks to the gut. The heels take turns getting cheap shots in while the ref is away.
Green pins Mickie for two. Shaw hits a running uppercut, covers. Mickie powers out of a hold and hits a neckbreaker. Jordynne gets the hot tag, as does Deonna. Jordynne lands a spinebuster, cover. Chelsea plants Grace. Everyone comes in and takes turns hitting finishers until Grace and Deonna come back together. Grace drops Deonna on her face. Mickie tags in and hits a seated senton. Green hits a blockbuster while Deonna holds Mickie up. Grace and Wilde are tossed aside. Shaw grabs the KO title and holds it up until Grace clobbers her. VXT hold Mickie up, but Wilde breaks it up. Mickie lands Chelsea with a DDT and covers for the win.
Winners: Mickie James, Taylor Wilde & Jordynne Grace
Set for next week:
X-Division Tournament: Yuya Uemura vs. PJ Black on BTI
X-Division Tournament: Kenny King vs. Mike Bailey
Eric Young vs. Sami Callihan for the first time ever
Aussie Open vs. Josh Alexander & Frankie Kazarian