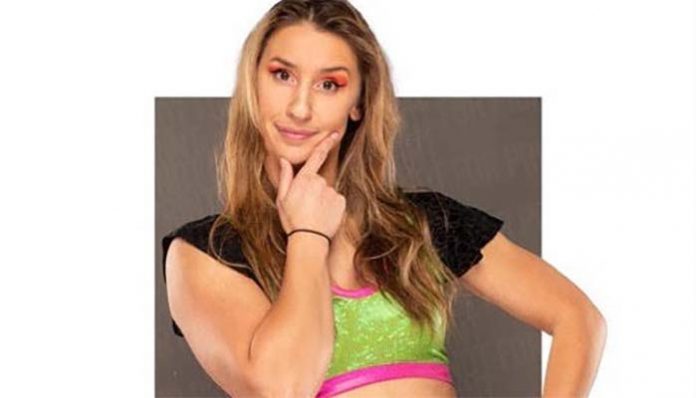 On the very first edition of Independent Wrestling Spotlight, I had the chance to sit down with one of the best young independent wrestling stars around today, Erica Leigh. Leigh's start was a bit different from most other independent wrestlers, but she has come such a long way in such a short time. The future is indeed bright for her.
Growing up, Erica Leigh didn't watch wrestling. Leigh didn't watch wrestling until she was an adult. However, as soon as she saw what wrestling is, she was enamored with it right away. "No one in my family watched it," says Leigh. "So, I never got involved with it at all."
When Leigh was shown wrestling, her first takeaway from it was that it was very "self-aware." She enjoyed the comedy, drama, and athletic side to it and it was all very intriguing for her. "I thought I could do it when I was watching it, and I wanted to get in there," Leigh states. "Once I watched it and gave it a fair chance, I fell in love with it."
Leigh recalls that the first person who drew her into wrestling was Jerry "The King" Lawler. "I heard him yelp on commentary, and I thought that was funny," says Leigh. "People who feed into the character that makes you want to see them get beat up, that's what I kind of aspire to be like."
Erica Leigh Begins Training
Leigh grew up in New Jersey, which is full of indy wrestling and schools to be trained at. However, she didn't get into wrestling until she moved to Virginia where there were a lot fewer schools. "When I decided I wanted to start training, I googled schools near me," states Leigh. "The first thing that came up was MCW, and I was like that's three hours from me, anything else?"
Another school showed up for Leigh that was in her town, but unfortunately, it had just closed, so Leigh didn't know what to do. "Through a weird series of events, I realized I was mutual friends with someone who was a pro wrestler, Jordan Blade," recalls Leigh. "I messaged Jordan, who I would end up sharing many career milestones with, and said I would like to be in a wrestling ring and see how we could make it happen."
Erica Leigh would end up going with Jordan Blade on her first day of training. "She's been a huge part of my development as a performer, and as a person," states Leigh. "It was as easy as sending a Facebook message."
Leigh recalls showing up to training and it being in a barn in the middle of nowhere. "It was cold in the winters, and hot in the summers," exclaims Leigh. Some of the first shows Leigh did were outdoor shows. "So Mania weekend in 2021, a lot of people weren't used to the Tampa heat," says Leigh. "I will say I was more prepared to wrestle in the heat under the sun than other people were. Wrestling in a barn, the heat was never not an option. I was like alright, I got this."
Leigh's first day was intimidating. However, it wasn't intimidating in a wrestling sense, but just it was a "new experience" that Leigh hasn't had in a long time. "Starting as an adult, it was my first day of activity that hasn't happened to me in a few years," says Leigh. "All of this was unfamiliar, I didn't know anyone there. I was with Jordan but I didn't know her that well at the time. I just tried to take it all in."
Leigh also mentions that since she started watching it as an adult, she didn't have a lot of the mechanics and instincts that people who watched and played around with it as a kid did. "Everything was teaching a baby how to walk," states Leigh. "There were some tough nights where I would get to my car and just cry. That was always the goal though, no matter how hard training was, I wouldn't cry until I got to my car, my personal goal."
Leigh goes on to talk about how wrestling isn't a friendly business. "People are trying to weed out the people who don't belong," exclaims Leigh. "There's not always an objective on who doesn't belong. It's very subjective and it's up to the people whom you train with. I was trying to not get weeded out and tried to keep up the best that I could. I guess I didn't because I'm still here."
Leigh's first match came, and it was against Jordan Blade. "My first match was incredible," says Leigh. "My first match was way better than it had any business being." Jordan had been training for a couple of years before Leigh, and working for about a year before their match. The referee in the match was Chris Sharpe, who is a referee for NXT UK now.
"Talk about people not getting their due," states Leigh. "Pro Wrestling referees can take your match from bad to good, to great, or in the other direction. Chris is so world-class and has worked for basically every company, besides AEW. He coached us through it."
Leigh also sold 43 tickets to her first match, which helped her a lot. "40 plus people were invested in my match," says Leigh. "Earl Hebner was in attendance as well, so I got to speak with him after. It had no business being that good. I was very, very lucky and I wouldn't trade it for the world."
Erica Leigh On Working With Jordan Blade
"A lot of people have the experience where they seem to work with one person a lot, she was the person I worked with the most early on," states Leigh. "Even after the first year, we keep running into each other. I think it's pretty cool we hit some milestones kind of parallel. Even though we have completely different styles, looks, and backgrounds, it's cool to keep coming up and looking and seeing here we are again, step-by-step. Love working with her every time I get to."
Erica Leigh On Working With Tasha Steelz in 2020
"I had the best Covid of anyone," says Leigh. "Wrestling Tasha was great. It was an opportunity that came out of nowhere. That's somewhat because, in 2020, not everyone was working or taking as many bookings. I don't think any of us expected the next month of bookings to be guaranteed. Things were getting canceled all the time, and people canceled all the time. But working with Tasha, someone from Impact was intimidating. I was like, I can't kick her in the face, then I did. I remember being kind of nervous and not wanting to mess anything up and then boom, kicked her in the face. It was a great experience to pick someone's brain after and get feedback from someone who has a ton more experience than me."
Erica Leigh On Working With Masha Slamovich
"Masha is one of those people who is going to bring it to you," says Leigh. "All you can do is bring it right back. It's less how hard she hits, and more how hard you can hit her back. I held my own, punch for punch. Masha, more than hard-hitting, is hard working. She had like 500 matches one year, and that just feels impossible. She's one of the most hard-working people in the business. She'll go anywhere, work with anyone, and be her best version every time. That's what got her signed to Impact."
Erica Leigh On Working With Wheeler Yuta
"At Flying V in Maryland, we had a match," says Leigh. "I love working there, great promotion and a great match. There was another plan for that night, but Yuta and I are what ended up happening and I'm very happy it did. He's such a sweetheart and it's funny to say because you watch him demolish and wreck people, but he's such a sweetheart and so amazing to work with. He's very smart, calm, and very down to earth and just such a joy to work with."
Erica Leigh On Her Time Working With AEW
Leigh has also gotten to work with AEW in her young career. She worked with Tay Conti, Anna Jay, and The Bunny. "The Bunny was one of the nicest people I've met," states Leigh. "She's super considerate, friendly, and very, very sweet." Leigh enjoyed working with AEW and says the atmosphere was very fun. "Both great experiences, for sure."
Wrestling at AEW was different than what Leigh was used to. "50 people vs 5,000 people," says Leigh. "I thought I would be nervous, but as soon as I hit the ring, I knew I belonged. I thought to myself, this is it. Hearing the noise 5,000 people make, I was very into that. It was amazing."
GummiBoar
Erica Leigh is currently tagging with Boar. Boar is another independent wrestler who has been wrestling for the past 11 or 12 years. "Boar and I have been friends for a few years," says Leigh. "We became close friends over time and we realized we had very similar ideas about wrestling and what we enjoy about it. We have fun together and figured why not start a tag team."
Being in a tag team with Boar has been the most fun thing Leigh has done in wrestling, she says. "It's my favorite thing, he has been wrestling for almost 11 or 12 years and has a ton of experience and a brain for wrestling," says Leigh. "He's also huge, so it's not bad backup. I love that pig."
What's Next for Erica Leigh?
This weekend, Erica Leigh will be competing at Pride and Vibe. "This will be the goodbye to Billy Dixon, but it will also be the most fun party of the summer," says Leigh. The show will be available at a later date on IWTV. Erica Leigh will be in a tag match when she and Boar take on Kings of the District on the first night. The second night she'll be in a scramble match.
Also, on June 25th at ECWA, Leigh will be defending her Legacy Championship against long-time rival, Killian McMurphy. "Killian and I did a series of shorts for youtube with Pro Wrestling Magic," says Leigh. "The idea is that he's after my title and struck a deal with Magic to make it a 24/7 deal He was trying to kidnap me to get me to the building to make the match happen. We put a ton of work into those."
This was another one of Leigh's favorite things she's done. "I can't speak highly enough of Killian and The Goons," exclaims Leigh. All of these are available on Killian's Youtube Channel, and Candy Coded Kingdom on IWTV. "That was a very fun back and forth."
Erica Leigh has had a lot of matches with Killian McMurphy over the years in quite a few different promotions. "Now we face off again for my ECWA Legacy Championship in my first title defense of what I think will be a long string of defenses," says Leigh. "I plan to prove I'm the best Legacy Champion ever, so I hope to face all the former champions and beat them one by one."
At the end of the day, Erica Leigh has one goal in mind for the future. She used to want to just see as far as she can get in professional wrestling. However, now she wants to get that big contract. "I want to be on television, have the big matches, and I'm going to keep hustling until I get there and do just that."
If you want to support Erica Leigh, you can buy her merch here.
You can also follow her on Instagram and Twitter @EricaWrestles where you can support her there as well.