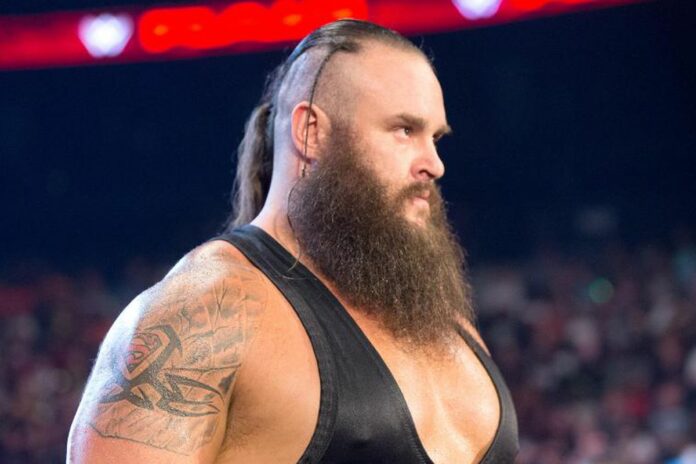 The Universal Championship Match is officially set for the Royal Rumble.
At WWE TLC, Braun Strowman beat Raw "General Manager-Elect" Baron Corbin in a Tables, Ladders & Chairs Match to earn a Universal Championship Match against Brock Lesnar at the Royal Rumble.
The story of the match is that Strowman came out with his arm in a sling while Corbin was trying to win via count-out/forfeit. Strowman pointed out that there was no disqualification since it was a Tables, Ladders & Chairs Match. One by one, all of Corbin's adversaries appeared from the crowd, each brandishing steel chairs: Apollo Crews, Raw Tag Team Champions Bobby Roode and Chad Gable, Finn Balor and, finally, Kurt Angle, who Corbin deposed as General Manager. One-by-one, they all brutalized Corbin with steel chairs and finishing moves. Heath Slater, who had thrown his ref's shirt in "The Lone Wolf"'s face in an act of defiance, put the zebra stripes back on and counted as Strowman placed one foot on Corbin's chest.
Due to the holidays, Raw won't air live next Monday night. Following last night's Raw broadcast from Sacramento, California, WWE taped next week's show, which will air on Christmas Eve. Strowman appeared on the show and did not have a sling on his arm. Click here to find out what he did (contains spoilers).
While Strowman can appear at events while he recovers, a WWE source told WrestleVotes that he will not be cleared to resume wrestling until the Royal Rumble.
As we said, Strowman wouldn't compete. Source says he's not cleared until the Rumble. https://t.co/4k2z3yrPpA

— WrestleVotes (@WrestleVotes) December 17, 2018
On the November 19 episode of Raw, there was an angle where Corbin, Bobby Lashley, and Drew McIntyre attacked Strowman's elbow. It was to explain Strowman legitimately needing surgery for bone spurs in his elbow, and WWE announced on November 27 that Strowman had undergone surgery.
The Royal Rumble takes place at Chase Field in Phoenix, Arizona on January 27, 2019.