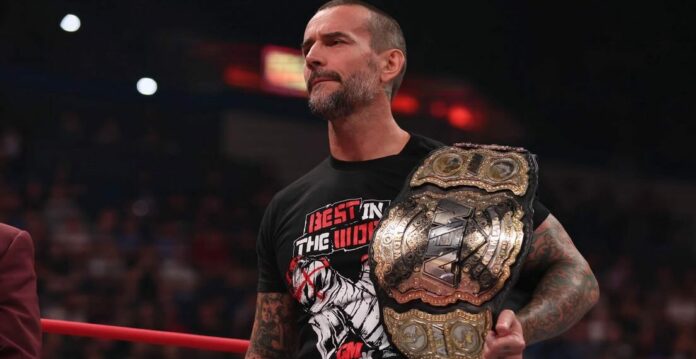 CM Punk is still CM Punk.
The former AEW and WWE champion made headlines again for more backstage drama following comments he made after Collision went off the air this past weekend, insulting Adam Page, while patting himself on the back for being a merchandise seller. This was just two months after Collision, a television show that was essentially created for Punk to have a place to play the top star that he never quite achieved in the WWE, debuted on TNT, which saw Punk again credit himself as he took a jab at The Young Bucks in his first promo since his return from a triceps injury that required surgery.
Most thought that it was Punk's way of getting his receipt after The Elite mocked the backstage brawl in immature fashion for their return to TV several months earlier. However, CM Punk is still CM Punk.
Despite being given his own show and now his own championship, which he spray painted in the most cutting edge segment since the New World Order did it more than 25 years ago, Punk dragged the baggage of last year's backstage drama into the headlines again. Outside of the fact that it was more proof that Punk is there to stroke his own ego, not to benefit the pro wrestling industry as he claimed when he originally inked an AEW contract, it's an indication of a much bigger problem within the company.
CM Punk made some comments about Hangman Adam Page tonight in Greensboro after AEW Collision. Were they really necessary? I was there tonight and got this video. If you use it please credit me, thanks. #cmpunk #aew #aewcollision #adampage #hangmanpage #hangmanadampage pic.twitter.com/iZOMCGOYi9

— Jordan (@brettno97) August 13, 2023

The infamous press conference and subsequent brawl from last year at All Out was well-documented so let's assuming anyone reading this is up to speed on the particulars of that situation. Clearly, Punk wanted to make it known to the fans, customers that the company might want to eventually pay to see Adam Page in a featured spot, as well as management that he is more important than Hangman to the organization.
Given Punk's political posturing and list of injuries, that point is debatable.
In the aftermath that saw the controversy that was stirred up again, it was reported by The Wrestling Observer's Dave Meltzer that Page was actually supposed to be booked to film a segment backstage at Collision for upcoming AEW programming, but was told not to go to the building because Punk didn't want him there. Bryan Alvarez followed up the initial report, claiming that Page isn't the only one that CM Punk can prevent from attending tapings for the company that they work for. Alvarez added that Ryan Nemeth, who Punk confronted at the debut taping of Collision about a tweet in response to an ESPN interview that Punk did to promote the launch of the Saturday show, was also sent home. Alvarez added that Matt Hardy and Christopher Daniels, both friends of The Young Bucks, are also persona non grata on the Saturday show.
Nemeth is probably a great guy, but the harsh reality is, he's known more for being Dolph Ziggler's brother than anything else so as insignificant as it might be in the grand scheme of things, if sending him home appeases one of the highest paid wrestlers on the roster than it's not worth the hassle for anyone to argue on Nemeth's behalf. That said, the fact that Christopher Daniels, who is supposedly the head of talent relations isn't allowed at Collision tapings is ludicrous. Perhaps, it doesn't matter to him as long as he keeps getting a check from Tony Khan, but how exactly is Daniels going to do his job? In 2023, Matt Hardy is mostly cannon fodder, as he's past his prime and tows the company line to get a pay check, but should Phil Brooks have the power to dictate who gets to show up to work?
Phil Brooks is playing Hogan-level politics within AEW.
CM Punk might not think so, but the reality of the situation is that he's not as big of a star as John Cena, Steve Austin, or The Rock. He doesn't have the star power to justify his own show, his own championship, or his own roster. The numbers have more or less remained stagnant for the organization, which highlights the fact that the core AEW fan base is willing to spend money on the product regardless of his involvement. Punk's presence, even after his debut with the organization in 2021, didn't cause some major shift in the industry.

As much praise as Tony Khan deserves for providing a spark to the industry with his decision to fund a wrestling project when it would've been much easier for him to buy an island to drink ice tea, the middle school drama of the CM Punk/Elite fiasco lends credibility to some of the criticism that this is more of a vanity project for Tony than a business venture. Khan is a diehard wrestling fan, and there are some positives to that, but at the same time, more often than not, you get the impression that he might've started All Elite as an opportunity to be friends with the wrestlers, not their boss.

As sad as it might sound, the vast majority of those that might claim to be friends with Tony will only do so as long as he's paying them. That's not a knock on the roster, but a harsh reminder that the wrestling business is often a shark tank. The TNA roster had nice things to say about Dixie Carter as long as she could sign checks for them, but when Bob Carter stopped funding Dixie's ability to be a TV star, you don't hear nearly as many compliments about how TNA was run in its heyday.
In a similar fashion, if Tony allows CM Punk to decide who's going to be allowed to show up to the building then it's a textbook scenario where the inmates run the asylum, which is directly from the WCW playbook, and we all know how that story concluded.
At a time when the focus of All Elite Wrestling should be on the record-breaking crowd they will have for Wembley Stadium, the narrative of the organization is about the backstage drama again. CM Punk made sure that he put the focus on himself, not the biggest show in the history of the company. Bryan Alvarez reiterated that Punk's comments weren't a work, and that The Elite have no interest in working with Punk. The fact that they should be their difference aside to draw the most money possible is irrelevant, because by all accounts, The Elite refuse to work with him.
The bottom line is, Tony Khan can't fracture his organization just to be friends with everyone on the roster. From the way it looks, if all of the drawing power of the company is going to be put to the best use possible, Tony will eventually have to choose between CM Punk or The Elite. Granted, there are some rightful criticisms of The Elite, but as is always the case with Phil Brooks, CM Punk is about CM Punk. Since The Elite just re-signed with the company, prehaps Punk will only be on the roster until his current deal expires, but either way, I truly don't think star power of CM Punk is worth the hassle of Phil Brooks for the company.
The follow-up reports claim that Punk sent Adam Page an apology via text message. It's ironic that he buried Page in public, but opted to apologize privately. It's also ironic that went Punk ranted at the infamous All Out press conference, he claimed this was the wrestling business, but his most recent temper tantrum only distracted from that. Punk might base his matches on Bret Hart, but his political games make him a lot more like Hulk Hogan.
What do you think? Share your thoughts, opinions, feedback, and anything else that was raised on Twitter @PWMania and Facebook.com/PWMania.
Until next week
-Jim LaMotta
E mail drwrestlingallpro@yahoo.com | You can follow me on Instagram, Facebook, & Threads @jimlamotta89