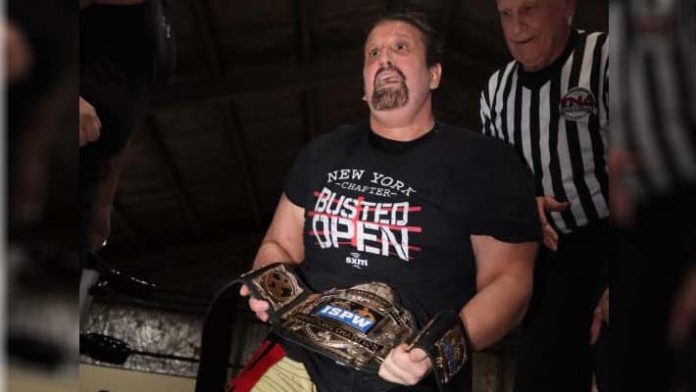 TOMMY DREAMER CAPTURES ISPW HEAVYWEIGHT TITLE LAST NIGHT IN AVENEL, NJ; DECISION OVERTURNED AFTER EARL HEBNER GETS INVOLVED
Results from Friday night's ISPW St. Valentine's Vengeance in Avenel, NJ:
1) TJ Epixx pinned Rey Calitri
2) Eric Corvis defeated Bulldog Pittman
3) Justin Corino beat Vargas by DQ
4) Yoscifer El beat Anthony
5) HC Loc captured the ISPW Tri-State Championship defeating Vik Dalishus and "Main Event" Michael Mars in a Triple Threat Match
6) Hale Collins pinned GKM
7) Crowbar defeated "The King of Rock" Rick Recon (with Dave LaGreca). After the match, Crowbar put Recon over to the crowd calling him a future star and the two embraced. Recon then low blowed Crowbar and left him laying. Crowbar demanded a rematch the next time ISPW returns to Avenel on Friday, April 28th in a No Holds Barred Match against Recon with Dave LaGreca barred from ringside!
8) Tina San Antonio retained her ISPW Women's Title in a Street Fight Match against Vicious Vicki due to outside distraction from Maven.
9) Tommy Dreamer (with "The Superstar" Danny Morrison) captured the ISPW Heavyweight Title defeating Bull James (with Maven) after referee Pat Savino was knocked out and the legendary Earl Hebner came out to count the three for Dreamer. After the match, Maven said due to Hebner not being the legal referee in the match the decision had to be overturned due to the ISPW rule book and Savino agreed.
ISPW returns on Saturday, March 11th at Westwood Regional High School in Twp of Washington, NJ with Tommy Dreamer vs Rick Recon (with Dave LaGreca) and Crowbar against Afa Jr and also on Friday, March 24th at the ISPW Arena (Totowa PAL) in Totowa, NJ for Living in The Now when the red hot Hale Collins (with Vik Dalishus) challenges Bull James (with Maven) for the ISPW Heavyweight Title and former WWE Star Snitsky!
ISPW returns to Avenel on Friday, April 28th with the in-ring return of "The Superstar" Danny Morrison and already signed Crowbar vs. Rick Recon in a No Holds Barred Match!
For more info on ISPW, please visit ISPWWrestling.com or Email ISPWWrestling@gmail.com
FOLLOW ISPW ON SOCIAL MEDIA
Facebook: ISPW Wrestling
Twiter: ISPWWrestling
Instagram: ISPWWrestling